Games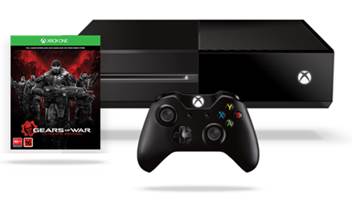 Published on July 10th, 2015 | by admin
Xbox Newsbeat – 10 July 2015
Xbox One Gears of War: Ultimate Edition Bundle and Behind-the-Scenes Video Unveiled at Comic-Con
Ultimate Edition is the landmark original game at its very best.
During a jam-packed panel event at San Diego Comic-Con, Xbox and The Coalition shared insights on the development of Gears of War: Ultimate Edition, the stunningly remastered and modernised version of the shooter that defined the first generation of HD gaming. The team also debuted a behind-the-scenes look at how they recreated some of the most iconic cinematics in the game.
In addition, speakers at the panel revealed the Xbox One Gears of War: Ultimate Edition Bundle, available for pre-order today and launching in Australia starting Aug. 18 while supplies last. The bundle will be available at select retailers, including microsoftstore.com, and includes an Xbox One 500GB Console and full digital game download of Gears of War: Ultimate Edition (available for pre download before the game's official launch in Australia on 25 August), early access to the 2016 Gears of War 4 Multiplayer Beta, the Superstar Cole multiplayer skin, and a 14-day Xbox Live trial.
Gears of War: Ultimate Edition remasters the classic Xbox 360 game that kicked off the Gears series. Relive the first pulse-pounding adventure starring Marcus Fenix and Delta Squad, his battle-hardened brothers in arms. Everything that made Gears such an instant classic is back, along with plenty of gameplay improvements from the series' more recent instalments, in a beautiful HD package.
Available at $499 AUD, the Gears of War: Ultimate Edition bundle offers an incredible value for fans with a feature-rich game rebuilt from the ground up in breathtaking 1080p, including 60FPS competitive multiplayer with 19 maps and six game modes, as well as five campaign chapters never released on console. In addition, with recaptured and rebuilt cinematic sequences, remastered 7.1 surround audio, and seamless matchmaking, Gears of War:
For more details about Gears of War: Ultimate Edition and other news shared at SDCC, stay tuned to Xbox Wire.
More Cars Ready to Roll This Week in "Forza Motorsport 6" Garage
Including the 2014 Volvo S60 STCC car and 1999 BMW Motorsport V12 LMR 
Last week, we kicked off the "Forza Motorsport 6" Garage by announcing 40 cars that will be part of the more than 450 cars in the game at launch, including the entire paddock of Formula E cars that are racing today. This week, we keep the garage door open and line up another 39 cars that will be a part of the biggest and best Forza game yet.
Take a look below for this week's spotlight cars:
2014 Volvo #13 Volvo Polestar Racing S60 STCC
Three time Scandinavian Touring Car Championship Champion Thed Björk, three time champion Fredrik Ekblom and Prince Carl Philip Bernadotte of Scandinavia are the lucky pilots of the Volvo Polestar S60 in the STCC. The Polestar name has been synonymous with winning since Volvo took on Jan "Flash" Nilsson to run the factory Volvo race team in 1996. The wins started in the inaugural year of the STCC and have kept coming. The #13 won the 2014 championship adding to the already long list of wins and titles acquired by Polestar racing and Volvo. With its 3.5 litre 6-cylinder making 420 HP and pushing the rear wheels the S60 is one capable racer one that it will let its track record speak for itself.
1999 BMW #15 BMW Motorsport V12 LMR
With the demise of their partnership with McLaren as the F1 GTR was reaching the end of its racing career, BMW decided to delve into open-cockpit prototypes. The first attempt, the V12 LM, was underdeveloped, but this subsequent LMR version fixes many of the issues with the earlier car. The chassis is provided by constructor WilliamsF1, and the engine is a derivation of the same 6-liter V12 found in the racing versions of the McLaren F1 GTR. A simple car in theory, the carbon fibre open monocoque is very lightweight and boasts a proven engine. This #15 car was incredibly quick during its career, winning the 24 Hours of Le Mans outright in its first year of racing to provide BMW with their first win as a principal (rather than just as an engine supplier). Mission accomplished, the V12 LMRs went to compete in ALMS racing and BMW went into Formula 1 with Williams F1.
For more information and all related assets, check out Xbox Wire.
Gears of War: Ultimate Edition: Beta Findings and Fixes
Thanks to your feedback, the development team have implemented fixes and improvements.
From June 15 to June 23, The Coalition invited players to participate in an Open Beta for Gears of War: Ultimate Edition. Hundreds of thousands of you answered the call, logging over a million matches in a week. The most dedicated players played dozens of matches – one of you even finished over 500 games!
While we certainly hope you enjoyed your time in the Beta (and hopefully scored the multiplayer characters or one of the seven different weapon skins we awarded), we'd like to share some details on how you've helped improve Gears of War: Ultimate Edition for its launch next month.
Please note that this is just a summary, not an exhaustive list:
Multiple fixes and tuning for the Gnasher Shotgun
Multiple fixes for Frag Grenades, Boomshot, and Torque Bow
Tuning for footstep audio and other sounds around a player
King of the Hill improvements, including ability for The Coalition to adjust more settings for competitive play
Removed active down from Active Reloaded Longshot sniper rifle and added/tuned active bonus for sniper bloom/aim.
Bug fixes and tuning for skill-based matchmaking
Tuned red/blue colours for team shaders (Locust/COG)
Improved look of blood and gore in gameplay
Improved game performance to reduce screen tearing
Bug fixes and tuning for Controller Sensitivity Settings
Various bug fixes on maps, weapons, matchmaking, audio, and controls.
Gears of War: Ultimate Edition launches August 18, and you can look forward to all 19 maps, all of the original game modes (plus Team Deathmatch and King of the Hill) split-screen support, party support, LAN support, private matches on dedicated servers, and more.
For more stats on the Gears of War: Ultimate Edition beta, stay tuned to the Xbox Wire.
Announcing Minecraft: Windows 10 Edition Beta
Including a bunch of cool extras and new features
A whole new version of Minecraft is on its way. This time, it's for Windows 10 – Microsoft's new swanky operating system that's due for release on July 29th. It's called Minecraft: Windows 10 Edition Beta.
Just like the first release of Minecraft all those years ago, this version will develop and evolve over time with the help of your feedback. That's why it has "Beta" in the title – because it's not quite finished, and will become even more fun over time.
If you're one of the 20 million players who have the PC edition of Minecraft you'll be able to download Windows 10 Edition Beta from the Windows 10 store for free.
In Minecraft: Windows 10 Edition Beta, you'll recognise some Pocket Edition features, along with potpourri of cool extras. Here are some highlights:
Craft, create, and explore online with up to seven friends playing Windows 10 Edition Beta, through local multiplayer or with your Xbox Live friends online.
Play online and local multiplayer with other Pocket Edition players thanks to a free update, due to arrive soon after launch.
Support for multiple inputs – switch between controller, touch, and keyboard controls with little to no effort
Record and share gameplay highlights with built-in GameDVR.
Help shape the future of Minecraft: Windows 10 Edition Beta with built-in player feedback mechanisms
Chickens, zombies, pigs, boats, armed skeletons, potatoes, zombies, baby squids, enchantment tables, villagers, naked sheep, iron golems, potions, ghasts, pickaxes, carrots, and all the weird and wonderful goodness you've come to expect from Minecraft
For more information, check out the Xbox Wire.