Games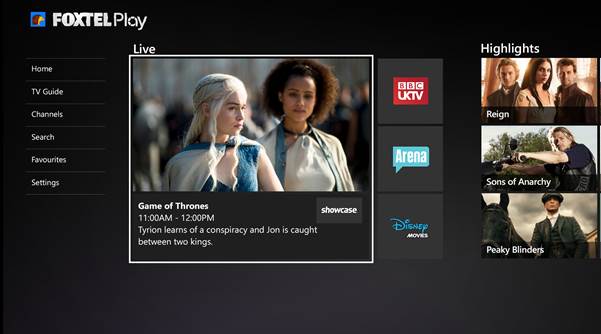 Published on April 10th, 2015 | by admin
Xbox Newsbeat – 10 April 2015
Game on as Foxtel Play comes to Xbox One
Arrival on Xbox One comes as Game of Thrones season five readies to air
We are delighted to announce that as of today, Foxtel Play will start streaming on Xbox One. Xbox One owners can now download the Foxtel Play app to their console from the Xbox store, subscribe to Foxtel Play and begin enjoying the best in entertainment, sports, comedy, kids programming and drama, including the Emmy® and Golden Globe-winning fantasy drama, Game of Thrones season five, which airs Monday April 13 at 11am, same time as the US.
Xbox has a long association with Foxtel on the Xbox 360 so now bringing the best of entertainment to the Xbox One is a natural evolution in the partnership. Jeremy Hinton, Business Lead at Xbox Australia, said, "Now with the snap mode only Xbox One users can enjoy both watching and playing Game of Thrones at the same time, ensuring they have the very best experience with the content they love."
Foxtel Play offers Xbox One owners instant access to great entertainment within minutes of signing up and enables them to both subscribe by the month and pay as they go. With no lock-in contract and no installation costs, subscribers can stop and start their subscription month-to-month, to suit their circumstances or viewing choices.
For all the latest entertainment news and content on Xbox, please visit the Xbox Wire.
Eight Incredible Cars Coming to Forza Horizon 2 with Furious 7 Car Pack for Xbox One
Make way for the "Furious 7" Car Pack on Forza Horizon 2 for Xbox One!
Featuring a line-up of awesome cars appearing in Universal Pictures' latest action film, "Furious 7," the "Furious 7" Car Pack is worthy of its own star on the Hollywood Walk of Fame. The "Furious 7" Car Pack is now available for AU$6.65, and will feature eight amazing cars to collect, drive, and race in Forza Horizon 2 – that's two additional cars over the standard monthly Forza Horizon 2 car pack.
Living life a quarter mile at a time starts with the 1970 Dodge Charger R/T, but the rest of the cars in the "Furious 7" Car Pack more than hold their own. From the menacing luxury of the 2014 Maserati Ghibli S to the armoured beast that is the 2014 Jeep Wrangler Unlimited, these cars have to be seen, heard, and driven to be believed. All of the cars in the pack have been authentically recreated, including details never before seen in a Forza game – like the awesome functioning blower in the 1970 Dodge Charger R/T. And let's not forget this month's free car – the 1998 Toyota Supra, which is available to all Forza Horizon 2 players at no additional cost. Watch them grind in theatres beginning on April 3 and then drive them yourself in Forza Horizon 2.
For a closer look at the "Furious 7" Car Pack and a range of media assets, please visit the Xbox Wire.
Quantum Break Set to Launch in 2016
Top-of-the-line live action elements into one revolutionary entertainment adventure
This week, Microsoft Studios announced that the highly-anticipated action-adventure Quantum Break will launch in 2016.
"We've got the strongest games line-up in Xbox history right now, with 2015 blockbuster exclusives like Halo 5: Guardians, Rise of the Tomb Raider, Fable Legends, Forza Motorsport 6, and more we'll announce in the coming months," said Shannon Loftis, Head of Publishing. "With so many games launching this year, moving Quantum Break to 2016 extends our incredible portfolio into next year with a monster new IP."
Quantum Break is created by Remedy Entertainment, the critically-acclaimed studio behind "Max Payne" and "Alan Wake."
"We're really proud to be part of the incredible Xbox One line-up," said Sam Lake, Creative Director at Remedy. "We thank our fans for their patience, and want them to know that the team is taking advantage of this opportunity to polish and fine tune the game to create the kind of standout entertainment experience they've come to expect from us."
For more information, go to RemedyGames.com or keep tuning into Xbox Wire for the latest on Quantum Break, Xbox One and more.
The Star Wars Digital Movie Collection Arrives on Xbox
Exclusive Xbox Live avatar and Star Wars Pinball Pack for fans who purchase the saga on Xbox Video 
It's almost time to revisit that galaxy far, far away: Disney, Lucasfilm, and Twentieth Century Fox have just announced the availability of the Star Wars Digital Movie Collection – all six epic Star Wars films for the first time on Digital HD, and with all new never-before-seen bonus material. We're thrilled to reveal that Xbox is a digital distribution launch partner and we're offering exclusives for Xbox customers who purchase the Saga on Xbox Video!
For the first time ever, all six epic films in the Saga will be available as a complete digital movie collection or individually digitally on April 10. "Star Wars: The Phantom Menace," "Star Wars: Attack of the Clones," "Star Wars: Revenge of the Sith," "Star Wars: A New Hope," "Star Wars: The Empire Strikes Back," and "Star Wars: Return of the Jedi" are now available for pre-purchase on Xbox Video, the digital service for new movies and next-day air TV from Microsoft.
Microsoft is offering two exclusive incentives for fans who purchase the six-film bundle on Xbox Video. First, they will receive everyone's favourite scrappy astromech droid, R2-D2, as an Xbox Live avatar companion that flashes characteristics of classic R2-D2 from "A New Hope." Also, they will receive the action-packed Star Wars Pinball Pack for the free-to-play game Pinball FX 2, for Xbox One or Xbox 360. The Star Wars Pinball Pack lets players relive the greatest moments of the Star Wars universe on a set of brand new pinball tables.
In addition, Disney is offering a Star Wars featurette video for Xbox customers; only by pre-purchasing the Saga on Xbox Video will you receive a roughly 60 second sneak peek at the bonus material included in the Star Wars Digital Movie Collection. Customers will receive the Xbox featurette when they pre-purchase the "Star Wars" saga bundle on Xbox Video, then all six epic films in the Saga will be added to their collection in all their high-definition glory on April 10.
Xbox Video is available today as a free download on Xbox One, Xbox 360, Windows 8/RT, Windows 8.1, and Windows Phone, and is also available online at www.xboxvideo.com*.
To find out more, visit the Xbox Wire.
Xbox One April System Update: Game Hub Links and More Now Available
Xbox One has got something for everyone this month.
The April system is now available and is bringing you another round of new features that will make your favourite Xbox One experiences even better whether you want easier access to game content, troubleshooting help with party chat or improved achievement notifications.
Check out the full list of features rolling out below:
Party chat improvements – Over the past few months, we've added additional icons and notifications within the party chat experience to help you understand your connection and microphone status. This month, party chat is being improved with troubleshooting guidance for Xbox One owners. The party app will help you get your microphone enabled and show you when privacy settings or networking issues are blocking communication with particular party members.
Game hub links – In February, Xbox introduced game hubs where you can be the first to get news on upcoming updates, featured game clips, behind the scenes content and more. With this update, you can more easily discover game hub content from activity feed items. You'll see activity feed items when any of your friends follow a game, and you'll also be able to get back to a game's hub from activity feed posts related to the game – including feed items about the game's achievements, game clips and screenshots. Finally, Xbox has added a link to game hubs from the game's page in the achievements app.
Achievement notifications – Achievement notifications today display the achievement name and the gamerscore you just earned. With tonight's update, you'll also see the achievement's description in the notification so you know what you did to earn this achievement without having to open the achievements app.  Based on feedback from preview program members, we increased the time that an achievement notification is displayed and we also made some performance improvements to make loading the achievements app from a notification faster.
With many more great features coming your way on Xbox One please continue to send your feedback, and stay tuned to the Xbox Wire for more details on the latest updates to the platform.