Hardware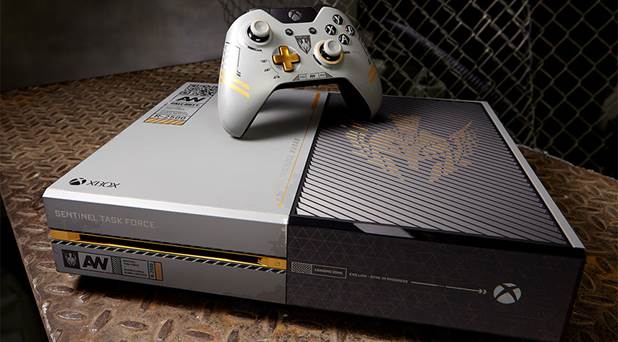 Published on November 7th, 2014 | by admin
Xbox Newsbeat 1-7 November 2014
Limited Edition Call of Duty: Advanced Warfare Bundle for Xbox One Available
'Call of Duty: Advanced Warfare' and Limited Edition console available now.
The holiday keeps getting better for Xbox fans. The Xbox One Limited Edition Call of Duty: Advanced Warfare Bundle for RRP $599AUD is now available in Australia, through both EB Games and JB Hi-FI. Stock is limited however, so get in quick! The Xbox One Limited Edition Call of Duty: Advance Warfare bundle features a 1TB hard drive, custom console, custom controller and Limited Edition exoskeleton, plus a digital copy of the Call of Duty: Advanced Warfare Day Zero Edition. You can learn more about the custom console design in this Making Of video.  Call of Duty: Advanced Warfare delivers a new era of Call of Duty and brings a new vision to the blockbuster franchise. Developed by Sledgehammer Games and published by Activision Publishing Inc., Call of Duty: Advanced Warfare boasts true next generation visuals and jolts players forward in a ground breaking experience that's ripped-from-the-headline-of-tomorrow, envisioning a future where both technology and tactics have evolved to create a new era of combat for the franchise. Based on plausible tech and extensive research, the narrative begins in the year 2054. The Atlas Corporation, a private military corporation (PMC), has emerged with the power to rescue humanity after a global attack on its military and infrastructure. Empowering players with an advanced arsenal with new weaponry, vehicles and high-tech gear, players can join the ranks of a highly-trained, specialized unit committed to restoring order.
For everything Call of Duty: Advanced Warfare, and for any assets you may require, please visit the Xbox Wire.
Games With Gold For November
Free titles available now for all Xbox Live Gold members
For the month of November, Xbox One owners in Australia can look forward to downloading the full version of Powerstar Golf for free!
Powerstar Golf takes your game to new heights with innovative new features never before seen in a golf game. Enjoy beautifully stylized 18-hole courses in exotic locations, playing as a variety of characters and utilizing a huge range of gear. Each unique character has strengths to leverage, customized gear to obtain, and a special ability all their own. With hundreds of clubs, balls, and unique sets of gear, you'll find a million ways to step up your game and impress your friends!
For the Xbox 360 crowd, Viva Piñata: Trouble in Paradise is on offer in November. This sequel to the wildly popular Viva Piñata places you once again at the helm of your own personal garden paradise, where your job is to create a home for your piñata companions.
Finally, Xbox 360 players also get access to Red Faction: Guerilla. On Mars circa 2125, players find that the Earth Defense Force – the original good guys from the first two Red Faction titles – have become corrupt, and are exploiting the miners and the good people of Mars. Using a variety of weapons and vehicles, players must take down the oppressive regime and set up new power structures in its place.
For more news on these and future Games With Gold titles, stay tuned to the Xbox Wire.
Get Your First Look At the 'Halo 5: Guardians' Beta at HaloFest on Tuesday
In addition, tune in to watch the premiere of Halo: Nightfall
Just in case you haven't been keeping up to date: Halo: The Master Chief Collection launches exclusively for Xbox One on November 11. This amazing collection lets you experience (or re-experience!) the awesomeness of the four Halo games starring everyone's favourite Spartan, with the fully remastered Halo 2: Anniversary (and its six reimagined multiplayer maps) as the star attraction. And, make no mistake, the Master Chief looks amazing on next-gen hardware. To see what we mean, check out the hot new launch trailer at the link below! We're just getting started, though. On November 9 and 10, we're holding the Halo: The Master Chief Collection Launch Invitational, where 32 of the world's best Halo players will compete for their share of a $50,000 USD prize pool in an epic eSports extravaganza, presented by ESL. The action starts at 9:00 AM AEDT on Sunday, November 9 – check it out at Halo's official Twitch channel to see just how good the professionals are. You'll also learn more about the future of Halo eSports as we dive deeper into the recently announced Halo Championship Series.
Once those festivities conclude, join us for HaloFest on November 11. This is the first place you'll get to see the Halo 5: Guardians Multiplayer Beta ahead of its December 29 launch, as well as the world premiere of episode one of the "Halo: Nightfall" digital series, and exclusive interviews with the minds behind Halo at 343 Industries and talent of "Halo: Nightfall." Tune into HaloFest on Xbox Live, Xbox.com, or on our official Twitch channel, beginning at 3:00 PM AEDT on Tuesday, November 11.
We're excited to bring you so much awesome Halo stuff. So tune in, check out what we have in store, and then pick up your copy of Halo: The Master Chief Collection on November 11, exclusively for Xbox One!
To keep up with all the latest Halo happenings, check out the Xbox Wire.
Forza Horizon 2 'Falken' Car Pack Now Available
Six new cars can be all yours for $6.65 AUD
Whether you like your cars with curves resembling something straight out of a Degas painting or you want something more straight-laced, the Falken Car Pack for Forza Horizon 2 on Xbox One has something for you. Available today for $6.65 AUD in the Xbox Live store, the Falken Car Pack features six cars for Forza Horizon 2 that are waiting to be customized and sent out to the highways and byways of southern Europe. For the modern sports car lover the new Alfa Romeo 4C and BMW M4 await. Are you looking to shred tires at an alarming rate? The Chevy SS is a Hoonigan in sheep's clothing. If time travel is your thing, take a trip back and feel the rumble of the Lamborghini Jalpa or that most European of JDM classics, the Toyota 2000GT. Also available today for free for all Xbox One players is the classic 1990 Subaru Legacy RS, which will release alongside the Falken Car Pack for Forza Horizon 2.
To see these cars in action or read more about them, check out the Xbox Wire.
More Ways, More Reasons to Love 'Upload' on Xbox
All-new ways to view and share the best user-generated content
Upload brings you the best of Xbox One, by gamers, for gamers, and you're going to love what we have in store for you this month. We're excited to take Upload beyond Xbox One and bring it to the Web and Xbox 360. And we're thrilled to add exclusive clips from Node, the gaming channel created by Freddie Wong and Brandon Laatsch, available first on Upload. Fresh, funny and coming first to Upload The Node team is about to take gaming to a whole new level in the coming weeks on Upload. Tune in for hilarious and do-not-try-this-at-home stunts, plus Node's inimitable LAN Parties and Let's Plays for some of your favourite Xbox One games, and much more – all available first on Upload. We've got a lot in store with these guys and they're just getting started! Be sure to tune into Upload in the coming months for new content rolling weekly.  More Upload viewing in more places There are also more ways to view the content on Upload within Xbox.com as well as a viewing app on Xbox 360 dedicated to the best Upload clips.
Xbox.com/upload – You can already view your own clips from any game via your profile page on Xbox.com, but now a brand new Upload section at Xbox.com/upload will give everyone the ability to access the best of Upload from anywhere.  You can view the best creators, the best featured content, and Official Upload coverage of new launches and events. It's even easy to share clips with anyone you want by sending them the clip URL directly.
Upload on Xbox 360 – We're excited to announce the launch of the Upload 360 viewing app. Upload 360 lets you view some of the best Upload clips including featured content from exclusive Xbox One titles such as Sunset Overdrive and Forza Horizon 2.
We're always looking for more ways to bring you the features you want, so stay tuned for more updates!
To read more about Upload, check out the Xbox Wire.