News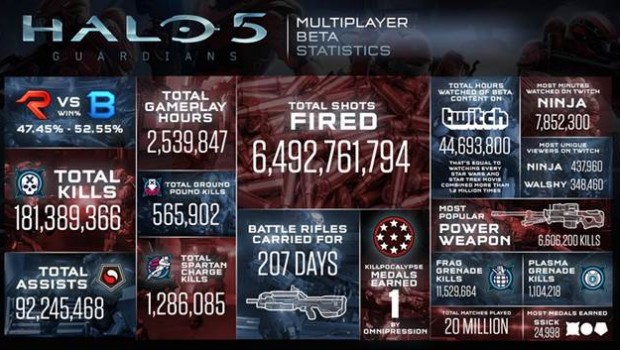 Published on February 7th, 2015 | by admin
Xbox Newsbeat – 06 February 2015
"Halo 5: Guardians" Multiplayer Beta Records 2.5 Million Hours and 20 Million Matches Played
343 Industries details how data and player feedback from the beta will improve "Halo 5: Guardians"
Twenty million matches played. Almost 290 years of gameplay logged. More than 181 million kills confirmed. This is just a sampling of the data 343 Industries recorded from the "Halo 5: Guardians" Multiplayer Beta as players from around the world engaged in three weeks of intense Ground Pounding, Spartan Charging, Red on Blue action.
"This was a huge endeavor for everyone on the Halo 5 team and one that we approached with nervous excitement," said Josh Holmes, Executive Producer on the "Halo 5: Guardians" Multiplayer Beta. "We're thrilled with the results – the level of engagement and response from our community shattered all of our expectations."
A detailed infographic showcasing some of the key data tracked during the "Halo 5: Guardians" Multiplayer Beta is available on Xbox Wire.
While the "Halo 5: Guardians" Multiplayer Beta proved to be a hit among fans, the treasure trove of gameplay data and player feedback it provided is an invaluable resource that 343 Industries is using to make the game's multiplayer experience even better.
"Throughout the beta we monitored feedback channels including web forums, reddit, Twitter, Facebook and our newly launched Halo Community Feedback Program. From these sources we tracked literally thousands of pieces of detailed feedback," said Holmes. "The team has spent the past few weeks pouring over player feedback from the aforementioned sources and from this we have developed an extensive list of improvements for the game, including adjustments to Spartan Abilities, Weapons, Competitive Skill Ranking and much more."
For more detail on how 343 Industries is already using player feedback to fine-tune aspects of multiplayer in "Halo 5: Guardians," please read Josh Holmes' letter to the "Halo" community on Halo Waypoint.
For more information on the latest games with gold offering and a range of media assets, visit the Xbox Wire.
DJR Team Penske extends partnership with Xbox for 2015 V8 Supercars Championship
Xbox to feature on Ambrose's car at every event this year as an associate sponsor
The DJR Team Penske #17 Ford Falcon driven by Marcos Ambrose will roll out onto the track in the Xbox livery it ran as a 'wildcard' entry at the 2014 Sydney 500 when testing begins in earnest for the 2015 V8 Supercars Championship this weekend at Sydney Motorsport Park.
DJR Team Penske is delighted to announce an ongoing partnership with Xbox, one of the world's leading gaming and entertainment brands. Xbox will be featured on Ambrose's car at every event this year as an associate sponsor. This weekend will be the first official outing of the new look DJR Team Penske and, in turn, the first run of the new Ford Falcon FG X. The partnership with Xbox was established at the same time as the 2014 'wildcard' entry for Ambrose was announced back in September.
The media blitz that surrounded the return of Ambrose to Australia, plus an extensive activation program centred on the Forza Motorsport game, provides an ideal platform for Xbox to continue right through the 2015 season with DJR Team Penske.
"It is fantastic to have Xbox on board for the season," commented DJR Team Penske Managing Director Ryan Story. "Although the Sydney event in 2014 was an individual activation, the Xbox team were very committed to doing everything possible to ensure the partnership was a success. They understood that we were there to learn, and having them back this year allows us to build on that momentum."
Jeremy Hinton, Xbox Business Lead, says, "This year is truly exciting for us – a continuation of our ongoing partnership with the V8 Supercars, an innovative partnership with Ford and Forza Motorsport 6 and now with Marcus Ambrose and the DJR Team Penske team. There's never been a better time to be a motorsport fan with Xbox in Australia."
The two day test will see Marcos Ambrose begin the 2015 campaign after his full time return to Australia. Ambrose has spent a lot of time with the DJR Team Penske crew covering off all the learning's from Sydney and building a package to commence the season. He will run a former David Wall Falcon at the test and in early rounds as the team takes more time to bring the #66 Falcon he ran in Sydney up to FG X spec.
For all the latest Forza news, visit the Xbox Wire.
Forza Horizon 2 Top Gear Car Pack Now Available
Available now, with something for every kind of car fan
There's nothing like a sweet pack of cars approved by the folks at Top Gear to brighten up your week. The Top Gear Car Pack for Forza Horizon 2 on Xbox One is available now, and it's got something for practically every kind of car fan.
We kick things off with the latest Lexus sport coupe, the 2015 RC F, which is one-part luxury, one-part pavement shredder. Next, the BMW M235i brings lithe form and an impressive rear wheel drive engine to bear. If you're in search of a land speed record while driving in exotic style, the Jaguar XJ220 awaits. Extreme cross country events will never be the same with the presence of the "Rambo Lambo" and the heraldic trumpeting of the Ferrari 458 Speciale will bring glory to practically any setting.
This month's free car, the Ford Lotus Cortina, is also waiting to be tossed around Storm Island or to model for you Forzatographers.
Check out the full rundown of each of the cars in the Top Gear Car Pack. Is it the best Forza Horizon 2 DLC pack…? IN THE WORLD (as Top Gear's own Jezza might say)? That's up for you to decide.
The Top Gear Car Pack for Forza Horizon 2 for Xbox One is now available for $6.65 AUD on the Xbox Store or through the Forza Hub app for Xbox One. The Top Gear Car Pack is included free for Forza Horizon 2 Car Pass owners. And don't forget – the new Season of Top Gear UK is on air now, so check out Xbox Video or your local listings to tune in to all the fun.
For the full video, the full list of cars and all the latest Forza news, visit the Xbox Wire.
Chatting With the Genre-Busting Designer of #IDARB
Find out more about this genre busting multiplayer game that got its start on Twitter
One of the most innovative, off-the-wall, and addictive titles to be released in years, #IDARB is a multiplayer game that got its start on Twitter, through the mind of designer Mike Mika. While the game is genre-busting to the max, a description might include platforming, casual fighting games, European handball, and Team Fortress 2, all rolled into one.
#IDARB is free this month on Xbox One, to any and all Xbox Live Gold members, via the Games with Gold program. Not only is this a great game in its own right, it's a great way to meet other gamers, make friends with them, and add to your growing collection of party games, all at the same time. The game design approach drew from interactions with its audience, and as a result, this is a game about interpersonal relationships as much as it is about reflexes and quick thinking.
But then, #IDARB is a game about a lot of things; its pop culture references are even more numerous than its gameplay hooks and control-scheme shenanigans. We sat down with Mika for a brief Q&A, to get at the core of what #IDARB is really about – and to learn a few things about his rather unique design approach.
Xbox Wire: If you had to pick one genre for #IDARB, what would it be?
Mike Mika: It still hurts my head when I try to figure it out. It was crowd-designed for the most part, [based on] suggestions from the Internet. It's a sports game, I think… maybe. And you do jump around on platforms, so it's kind of a platformer. You can make characters, songs, and logos, so it's a creative suite. It also allows thousands of people to participate in your game through their favourite social media. So it's a social game… and you unlock real-world recipes, so it's also a recipe book. All said, it's a crowd-designed sports platformer creative suite, fuelled by social media and party food. When you say it like that, it sounds awful. If I could pick any genre, to make it easy, I'd say Nuclear Power Plant Simulator.
Xbox Wire: How does the large number of local multiplayer participants actually work, in practice? The game plays at a very fast pace, so will players need to communicate a lot, or is it be more of a "putting the team on my back" individualistic thing?
Mike Mika: The best way to play it is like a real sport. Right now, a lot of people – especially traditional gamers – act like my son's soccer team, and just rush the ball all the time. That doesn't work; it produces chaos, just like in real life. Larger teams should decide what roles each individual should play, and stick with it. Some of the best games I've played have been six- or eight-player games, where people know how to play on a team like a real sport.
Xbox Wire: How do you ensure a game like this is properly balanced? Do you do a lot of playtesting, or do you rely on the community to provide feedback?
Mike Mika: It's a bit of both. We play the game a lot. One of the guiding principles is that if there is anything that's going to affect a player or a team, it has to do it equally to both teams, or the whole system collapses. Hashbombs cannot be beneficial to only one team or person. Everyone playing should have a fair shake at a game and not be handicapped in any way. We also have a strong and vibrant community of players already! These are people who have invested a heck of a lot of time in the game, and they have been providing a lot of suggestions to help make #IDARB more balanced and fair. All of these suggestions are being addressed for future title updates. I think we'll be looking at a much stronger game as time goes by, thanks to all of the people who have been playing and providing feedback.
Xbox Wire: How did the idea to generate QR codes for custom characters come about?
Mike Mika: We love the Kinect hardware, and were excited to play with it. When we started to develop #IDARB on the Xbox One, we simply looked at every feature and asked ourselves what we could do with it. At that point, we had not really created any characters for the game, so I plugged in a rudimentary character creator. The characters were small – mainly so that it would be easy to create many quickly. At some point, someone joked about the data being so small, you could fit it in a QR code; two days later, we were zapping in QR codes of characters. Later, we would add logo and song support to the QR code system.
Xbox Wire: What's the craziest – or most detailed – group of player-created characters you've seen so far?
Mike Mika: Someone on Twitter who goes by the name @SECTION_23 declared that he would make 100 sprites over the course of a few days. Look up #goingfor100sprites – I was following him for days. He's really good, and created a diverse set of characters. I was very impressed.
Xbox Wire: If there was one thing that very few people know about #IDARB that you'd want them to know right now, what would that one thing be?
Mike Mika: When I created the arena effects, like the glowing arrows and the score effects, I was watching "Jurassic Park" and happened to look up near the beginning, and noticed that there was a cardboard cat sitting on a shelf behind Sam Neill and Laura Dern in their trailer. I thought, at the time, "How odd!" I'll never forget that moment. Ever. Also, if you pull down and slam onto someone's head in the game, you reverse their controls temporarily. A lot of people don't know that.
For all the latest Xbox and #IDARB news, visit the Xbox Wire.