Games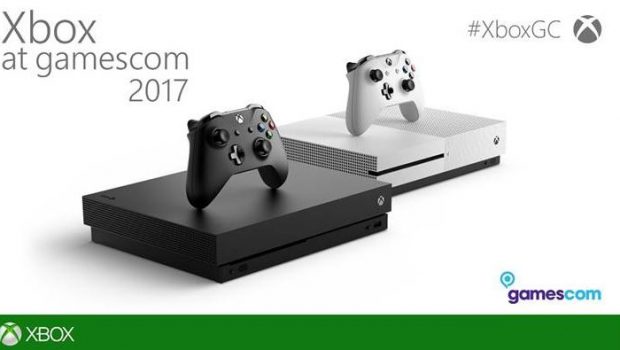 Published on July 17th, 2017 | by admin
Xbox at Gamescom, new platform updates and Destiny Beta on Xbox One
Check out the latest news about XBox from Gamescom 2017: Here at Xbox, we're still buzzing from our fans' reaction to our news at E3 – from the unveiling of the Xbox One X to the 42 games shown on our stage. But we're only just getting started. Today, we're happy to announce that in August we're coming to Cologne, Germany for gamescom 2017. This will be the first time Xbox One X will be on the ground in Europe and we'll have a huge line up of 27 playable games for the Xbox One family of devices and Windows 10 PC from developers around the world, including Forza Motorsport 7, Age of Empires: Definitive Edition and Sea of Thieves.
Here's a rundown of what we'll be up to throughout the week:
Xbox @ gamescom Live
Tune in on Sunday, August 20, at 9:00pm CEST (05:00am AEST, Monday, 21st August) to a special Xbox @ gamescom live show to get latest news and announcements on Xbox One X.
The show will be hosted by Graeme Boyd (aka @AceyBongos) and Xbox Germany's Maxi Graeff (@GMaxee). They'll have news to share, games to show off, will sit down to talk with developers from fan favourite studios and play some of the year's hottest games yet to be released. There will even be a few surprises and giveaways along the way, so be sure to tune in on mixer.com or watch via the Mixer app. 
Age of Empires @ gamescom Live
On Monday, August 21, starting at 9:00pm CEST, 12:00pm PDT, Microsoft will celebrate the 20th anniversary of the Age of Empires franchise with a special livestream event in Cologne, alongside some of our biggest fans. The livestream will celebrate the rich history of the beloved PC game series, as well as give fans a first-look at Age of Empires: Definitive Edition, the beautifully remastered edition of this bona fide classic we announced at E3 last month. We'll be talking all things Age of Empires with some of the legendary developers who worked on the games as well as sharing some exciting news that fans will not want to miss – watch on mixer.com or through the Mixer app.
We'll share more details on how you can attend in person very soon. 
Xbox FanFest @ gamescom
We will again be hosting an Xbox FanFest experience for our fans who are attending gamescom 2017. FanFest will begin on Tuesday, August 22nd. We will be sharing more details on our plans soon and look forward to seeing you there! 
Xbox Booth @ gamescom
When gamescom officially opens at the Koelnmesse on Tuesday, August 22, gamers in Germany will be able to get hands on Xbox One X for the first time at the Xbox booth. We're back in Hall 8 of the Koelnmesse, North entrance, this year and you won't want to miss the opportunity to play a wide collection of the games coming to Xbox over the next 12 months. See below for the show opening times:
Tuesday, August 22 – 9:00 a.m. until 7:00 p.m. CEST (press/trade only day)
Wednesday, August 23 – 9:00 a.m. to 8:00 p.m. CEST
Thursday, August 24 – 9:00 a.m. – 8:00 p.m. CEST
Friday, August 25 – 9:00 a.m. – 8:00 p.m. CEST
Saturday, August 26 – 9:00 a.m. – 8:00 p.m. CEST
And throughout the week, we'll be tweeting, live streaming and sharing news and content via social media – twitter, snapchat, Facebook, Mixer, etc., most often using the hashtag #XboxGC. Whether in person or online, you won't want to miss what we have in store this year!
See you there!
Check out the full article via the Xbox Wire.
Custom Gamerpics, Console Co-streaming, Arena Updates and More Roll Out to Xbox Fans Today
Fan feedback is an important part of how we've built Xbox over the years, and this month's update, which we expect to roll out later today, is all about addressing feedback from the community:
Upload custom Gamerpics to your Xbox profile; choose how you want to express yourself.
Mixer Co-streaming is now on console, for everyone: With just a few clicks, you and up to three of your friends can stream together in a single broadcast. Plus, never miss your friends' streams inside your Club and Arena Tournaments.
Sign-in to your Xbox One with just one press of the Xbox button on your controller. Now you can make your controller truly your own.
New user-generated tournaments for Killer Instinct on Xbox One means it's never been easier to go to battle with your friends.
Xbox App on iOS and Android updates bring support for LFG Sharing, Game Pass Browsing, an updated Language/Location Setting and an Android-only feature supporting Messaging Chat Bubbles.
Read more about all the updates coming to Xbox in the latest update here.
Destiny 2 Open Beta Early Access Begins July 19 on Xbox One
Guardians! The time is nigh to join the fight in Destiny 2. Today, Bungie announced that Open Beta Early Access for Destiny 2 on Xbox One will begin Wednesday, July 19, giving players admittance to the opening moments of the new cinematic story campaign, three-player cooperative multiplayer on the Inverted Spire, and two competitive multiplayer modes, as well as a chance to try out the new social space.
To join the fun on July 19, pre-order your copy of Destiny 2 today to ensure your place in the Open Beta Early Access. Once in, here's an overview of the features you can expect to see and play: 
Experience the New Cinematic Campaign
Play the opening mission and experience the explosive cinematics from the opening moments of Destiny 2's campaign. We had a chance to play this mission at E3 last month and we can't wait for you to try it yourself. 
Play Countdown, the New Multiplayer Mode
Battle it out with other Guardians in this brand-new multiplayer mode. Enter the Crucible to attack or defend your base on a map built from the ground up exclusively for this mode. 
Fight on a New Multiplayer Map
What's old is new again in Destiny multiplayer combat — albeit with several changes that we'll get to try out for the first time. This too will be a brand-new map built for this objective. 
Battle on the Inverted Spire
Gather your friends and attack a Vex stronghold. Or try out the new matchmaking system to find a Fireteam to complete this challenging objective. 
Try the New Subclasses
Dawnblade Warlock, Arcstrider Hunter and Sentinel Titan classes will all be playable during the Open Beta, making it the best time to figure out which path and fighting style you'll want to try first when Destiny 2 comes out 
Help Test the Farm
For one day only on Sunday, July 23 at 10am PDT (Monday 24 July at 3am AEST), all players will be invited to see the new social space. No, you won't be able to buy anything from the vendors or try out any of the services, but you'll be encouraged to log in to help Bungie test how many places the space will handle at once.
Make sure you pre-order your copy of Destiny 2 today to ensure your place in the Early Access Open Beta on July 19. And be sure to visit Bungie.net for even more details about Early Access and Open Beta for Destiny 2 and stay tuned to Xbox Wire for all the latest gaming news for Xbox One and Xbox One X.