Games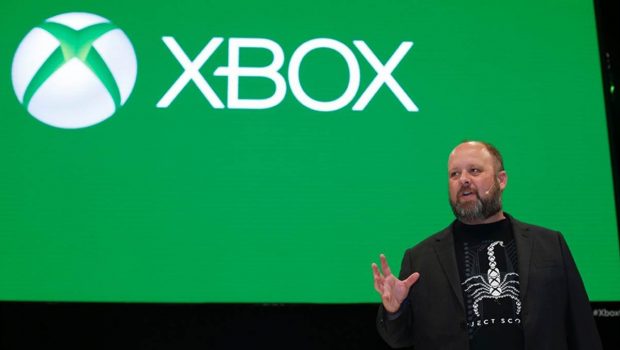 Published on August 19th, 2016 | by admin
Xbox @ Gamescom 2016 News Wrap
Looking Back and Looking Forward at gamescom 2016
By Aaron Greenberg, GM of Games Marketing at Xbox
This week we're at the largest consumer gaming event in Europe – gamescom 2016 in Köln, Germany. Earlier today, I had the honor of kicking off our presence at the show by speaking with members of the press, key influencers and some of our biggest fans from the Xbox booth ahead of the official show open tomorrow. I shared what's been a memorable year thus far for Xbox – as well as giving everyone a glimpse into of some of the exciting things to come.
A Quick Look Back
At E3 in June, we talked about our commitment to let gamers play without boundaries giving more choice in how and where they can play. We showcased Xbox Play Anywhere, a program that lets you buy a digital game once and then play it on both Xbox One and Windows 10 PC, and we revealed new features coming to Xbox Live – Clubs, Looking for Group, and Arena – that make it even easier to find, play and compete with other gamers.
We talked about Gaming for Everyone and how we're working hard to ensure that players are able to choose and customise their own gaming experiences to make them even more fun, competitive and respectful.
And we announced some new hardware – Xbox One S, which began launching earlier this month. Xbox One S is the smallest, most advanced Xbox to date. With HDR technology, your games look better than ever before and it's the first and only console with 4K Ultra HD Blu-ray and video streaming capabilities. With Xbox One S, you get a great value as one of the top 4K UHD Blu-ray players on the market.
For Aaron's thoughts on Windows 10, ID@Xbox, and more, please visit the Xbox Wire
Halo Wars 2 Comes to Europe: Thoughts from Creative Assembly
By Alistair Hope, Creative Director of Halo Wars 2 at Creative Assembly
The team at Creative Assembly is incredibly excited to be bringing Halo Wars 2 for the first time to Europe at gamescom 2016! As game developers, having fans get hands–on with in-progress versions of the game are always awesome moments. We get to hear your feedback from playing the game, helping us to build and tune an even better game experience, together.
Fans in Europe will get the first look and first hands-on with our brand new Halo Wars 2 multiplayer map, Rift, on the Strongholds multiplayer mode. At the heart of this exciting new map sits a monolithic Forerunner structure that harnesses the power from the subterranean networks beneath the Ark's surface. Whilst one half of the map is unsullied by war, the other is pitted with large breaches in the surface as the Banished tunnel downwards to plunder the core's precious resources. Rift is a visually stunning and memorable battleground providing a huge range of cool strategic and tactical options. We can't wait for fans to fight it out in this new map and to hear their thoughts.
The original Halo Wars is a greatly beloved game and the team are thrilled to be developing not only a contemporary sequel, but a new chapter in the Halo story. Earlier this summer we revealed Halo Wars 2 gameplay for the first time ever at E3 on Xbox One and Windows 10. This was a huge moment for us and the response from fans has been fantastic.
To read about the new villain in Halo Wars 2, and to find out how the recent beta went, please visit the Xbox Wire
Thoughts from the Sea of Thieves PC Design Lead
By Ted Timmins, Sea of Thieves PC Design Lead at Rare
I've been a lifelong Rare fan, so I felt very privileged to recently come aboard (don't worry, we're not short on pirate puns!) to work as the PC Design Lead for Sea of Thieves. Being a First Person Adventure game, Sea of Thieves immediately feels right at home on the PC. When you combine this with a fantastical world full of 24/7 player-driven stories, it gives us a great opportunity to take full advantage of what a platform like Xbox Live offers to us as world builders and game developers, and allows us to create an experience catered for the needs of each platform.
Sure, I could sit here and recount to you stories like that time I fell from the crow's nest into the sea and watched my crew sail into the distance, or the time I got so drunk I was referred to as the "new worst ship-mate on the team" (thanks, Gregg!), but these stories don't exclusively cover the Windows 10 version of the game and yet that's exactly the point. Your hardware choice shouldn't be a barrier. The team made some great decisions early on in development to adopt Unreal Engine 4 which natively supports the PC, and also made the choice to develop the Windows 10 version of Sea of Thieves in parallel with the Xbox One version from the beginning. This ensured our ambitions for both platforms were the same, and that we could deliver a consistent and awesome pirate adventure to fans.
To hear more about the journey to create Sea of Thieves, please visit Xbox Wire
Gears of War 4 Showcased in Glorious 4K at gamescom
By Adam Fletcher, Director of Community at The Coalition
Starting today on the gamescom show floor, we're excited to give fans their first opportunity to play Gears of War 4 on Windows 10 PC. Gears of War 4 is powered by a completely new rendering engine, with the Windows 10 version supporting comprehensive video settings, increased texture resolutions, dynamic resolution support up to 4K and more.
In this short gameplay demo through the "Rescue" chapter of Gears of War 4, our heroes JD, Kait and Del are chasing a large unknown enemy through an old COG fort. Along the way, they encounter two fierce Swarm enemies – Drones and Pouncers – for the first time, and have to battle their way through them before it's too late. You can watch the video at the link below, or view it on YouTube.
In addition, we've also announced the minimum, recommended and ideal specs for playing Gears of War 4 on Windows 10 PC
To see the first footage of Gears of War 4 running in gorgeous 4K on Windows 10, please visit the Xbox Wire
Customise and Collaborate with Your Dragon in Scalebound
By Jean Pierre Kellams, Creative Producer at PlatinumGames
Since introducing Scalebound to the world, we've focused on showing Drew and Thuban together. At gamescom this year, we wanted to dive deeper into dragons. Specifically, how you'll be able to customise Thuban and what it means to work together with him in combat. Creative Director Hideki Kamiya (@PG_kamiya) and I have had a great time explaining it to people here in Germany.
Dragon DNA is the system that covers all of the customisation you can do in Scalebound: It is comprised of three different tools – morphing, parts and armor – that allow each player to build a truly unique partner in the world of Draconis.
We've already shown off our three core dragon types to choose from – the Rex, Tank and Wyvern – but the possibilities are much grander with morphing. These types are connected in an evolutionary circle and by using gems at a dragon shrine, players will be able to blend both their physical and visual attributes, whether it's the strength of the Tank or the swiftness of the Wyvern. You can even make our personal favorite – fat Rex. He's a blend of a Tank and a Rex that is a bit slower than a normal Rex, but can also take and deal more damage.
Next up is dragon parts. These are permanent buffs (you are changing the dragon's DNA, after all) that alter the physical appearance and boost the elemental characteristics of Thuban (you'll see an example below). Appearing in Berserker Mode, which is like Dragon Form for Dragons (worst name ever™), you can imagine these parts as organic and animalistic extensions of Thuban's body. These cover offensive buffs, while armour covers defensive.
To read more about the new gameplay in Scalebound, and to check out the dragon armour, please visit the Xbox Wire