Comics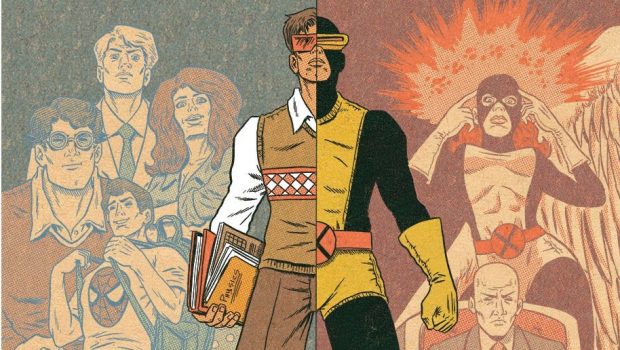 Published on September 16th, 2017 | by Dana Folkard
X-MEN: GRAND DESIGN BY CARTOONIST ED PISKOR!
"Ed Piskor is one of the most exciting cartoonists working today and seeing the iconic X-men filtered through his singular vision is the sort of comic book project that you can usually only dream about. But this dream is real, and it is a thing to behold!" — Jeff Lemire (DESCENDER, MOON KNIGHT)
Marvel Comics and Eisner Award-winning indie cartoonist indie Ed Piskor are teaming up for an unexpected, unprecedented, and uncanny undertaking. Best known for documenting the history of hip hop with the award winning HIP HOP FAMILY TREE graphic novels, Ed Piskor will sample and distill more than 8,000 pages of superheroic storytelling to create a definitive remix of the first 280 original issues of X-Men comic books and 30 years of complicated continuity into one seamless masterpiece of superheroic storytelling. Piskor will write, draw, ink, color and letter all six 40 page issues of X-MEN: GRAND DESIGN, which Marvel will publish over three years as three separate but interconnected mini-series — X-MEN: GRAND DESIGN, X-MEN: GRAND DESIGN-SECOND GENESIS and  X-MEN: GRAND DESIGN-X-TINCTION.
"X-MEN: GRAND DESIGN is a tribute to everything comic book fans love about the X-Men from Stan Lee and Jack Kirby's original run and Chris Claremont's, epic 16-year stint as the series' writer," said Piskor. "It's a compelling and complete story with a beginning, middle and an end, featuring everything from Xavier's School for Gifted Youngsters, Cerebro and the Danger Room to the Mutant Massacre, the Reavers, Gambit, and Genosha."
"Ed Piskor is a singular talent," said Marvel Editor-In-Chief Axel Alonso.  "And he is unleashing the same passion, craft and attention to detail that fuels his award-winning HIP-HOP FAMILY TREE on a five decades worth of X-Men stories."
On December 9th, 2017, Marvel will publish the debut issue of X-MEN: GRAND DESIGN. On April 17, 2018, Marvel will collect both issues of X-MEN: GRAND DESIGN, as an oversized paperback collection in the same size and format as HIP HOP FAMILY TREE, and will also include the first issue of X-MEN by writer Stan Lee and artist Jack Kirby masterfully recolored by Piskor, and a host of recolored classic pinups. Each X-MEN: GRAND DESIGN trade paperback will feature a classic X-MEN comic book, recolored by Piskor.
What people are saying about X-MEN: GRAND DESIGN:
"X-MEN: GRAND DESIGN is genius – an epic love letter to my favorite childhood comic. It's pop culture journalism and comics history filtered through the imagination of a master storyteller. It's a unique interpretation of the Marvel Universe and a pleasure to read. Every page is a thrill."—Jim Rugg (STREET ANGEL)
"Seeing a creator achieve a lifelong dream by pouring his heart and soul into a project is both rewarding and encouraging…. Ed's retro artistic style and his love of the classic X-Men is going to propel GRAND DESIGN to the top of the selling chart and become a classic itself."—MOVIEPILOT
"Piskor's art is at the height of its powers in these pages. New readers and old guard comic book fans will appreciate GRAND DESIGN's streamlining and distillation of the X-MEN's epic, but convoluted saga. We will discover Piskor invented a new approach to present legendary past stories. Instead of starting a news series at issue #1 we're better off in the retelling and refining of wonderfully raw past material we adore. It worked for Homer why not comics."—Benjamin Marra, (NIGHT BUSINESS, TERROR ASSAULTER: O.M.W.O.T.)
"Unprecedented."—PITTSBURGH CITY PAPER
"Ed is crazy enough to take thousands of X-Men pages and filter them through his own vision. He's passionate enough to pull it off, too, as this isn't simply an archival exercise. By tying all those pages together, Ed skillfully equips the material with a logic that was absent before, thus meeting our obsessive culture's modern expectations. It's a blast, this comic."—Michael Fiffe (COPRA, ZEGAS)