Comics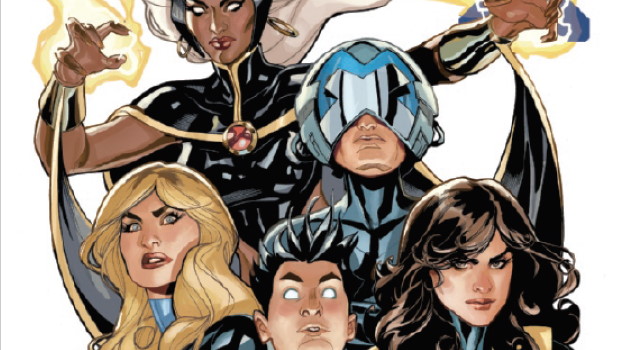 Published on February 11th, 2020 | by Chris O'Connor
X-Men/Fantastic Four (2020) #1 Comic Review
Summary: All mutants have made their way to Krakoa, all but one. Franklin Richards is urged to make his way to the world of Mutants... but his family may not agree it's where he belongs.
Mutants of the world have made their way to Krakoa, their new home. All the mutants bar one have made the voyage… now the last one is being encourage to make his way, but Franklin Richards is about to find himself in a tug of war between the Fantastic Four and the X-Men and things will never be the same again.
Writing
Families can be an interesting dynamic. With children going through hormonal changes their attitudes can be all over the place, with parents under the pressure of work and responsibilities they can be less than patient. Throw into that mix super powers and things can get extra interesting. Now add mutants who feel that the best thing for the child of the family is to be taken from his parents and moved to a new home and things can get positively explosive. Any parent (well anyone with a decent amount of empathy really) will understand the resistance to a child being taken away, even if it's supposedly for their own good, or the good of the world at large. The Fantastic Four are not a group to be messed with lightly, but then the X-Men are no strangers to conflict themselves and putting these two groups up against each other has, and no doubt will continue to, create some interesting drama.
Artwork
I've decided I'm quite a fan of the Dodson's work. Their names have popped up enough times now to stick in my mind (which is a decent achievement as my memory is usually pretty bad, especially for names). The line work is nice and clean and often gives a nice bold outline to really accentuate features and make panels easy to follow, there's no confusion as to what is going on. The colouring is also top notch with some lovely shading and tones that give the pages a lovely warm feel to them.
Final Thoughts
It's a pretty bold start to a series to pit The Fantastic Four against the X-Men (or vice versa depending on how you view it). For anyone who likes a good deal of conflict in their comics… this series is primed and ready to deliver and this particular issue has it's fair share of drama.
I'd say grab this issue and see where the story is headed.
Publisher: Marvel
Writer: Chip Zdarsky
Artist: Terry Dodson , Rachel Dodson
Cover Artist: Terry Dodson, Rachel Dodson
Genre: Superhero
Format: 36pgs, FC, Ongoing
Release Date: 5th February, 2020