Comics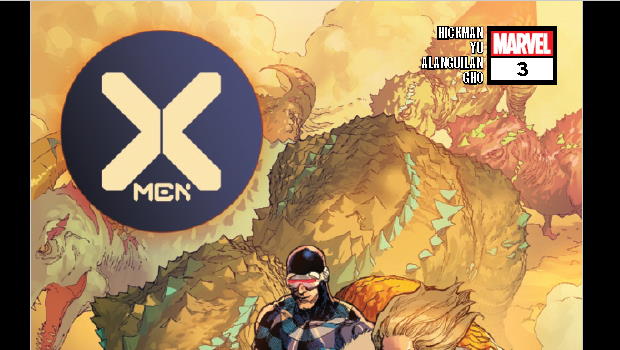 Published on December 18th, 2019 | by Chris O'Connor
X-Men #3 Comic Review
Summary: An unexpected threat presents a challenge to The Savage Land and Krakoa, Cyclops, Emma Frost and Sebastian Shaw look into the intrusion and attempt to set things right.
4.3
Generational conflict
Mutants have flocked to the island-nation of Krakoa, looking to be part of the first mutant society. But it seems there's no rest for mutants and even when they try and find their own little place to live peacefully… trouble finds them, in this case in a very unexpected form.
Writing
We live in a time of big budget comic book movies that do well at the box office and please fans. It wasn't always this way but comic writers have often had an interesting voice and Jonathan Hickman writes like someone who could have crossed those borders between comic writing and script writing at any stage. Mr Hickman's dialogue has a character all it's own… the players on his pages fire witty comments back and forth with speed and humour that makes a nice change from the more action intense comics. The strange "villains" of this story speak with certain "limitations" that give them great character and also adds a particular style to the humour of their dialogue.
Artwork
The line work and colouring throughout here is striking. Images are clean and easy to discern what's going on, the colours run the gamut from clear, bold distinct shades and tones, to more blended mixed shades. The odd interlopers have a lovely look to them… somewhat of a plague doctor, steampunk aesthetic that fits perfectly with who they claim to be.
Final Thoughts?
I like my action super hero comics… but I also love a bit of humour and this issue has a good deal of both (arguably leaning more towards the latter… but still both are present). The dialogue is easily the stand out… especially that banter between the intruders. What I also love about this issue is it can work as a stand alone story… it feeds into a larger arc, sure, but it doesn't end on a big cliff hanger or something that makes you feel you absolutely have to get the next issue. Perhaps that's seen as bad for longevity but personally I'm far more likely to pick up a comic if I don't feel like I've only been given a few pages of a much larger tome (I know I'm weird like that). This is certainly a fun addition to any comic collection.
Comic Details
Publisher: Marvel
Writer: Jonathan Hickman
Artist: Leinil Francis Yu
Cover Artist: Leinil Francis Yu
Genre: Superhero
Format: 28pgs, FC, Ongoing
Release Date: 4th December, 2019