Comics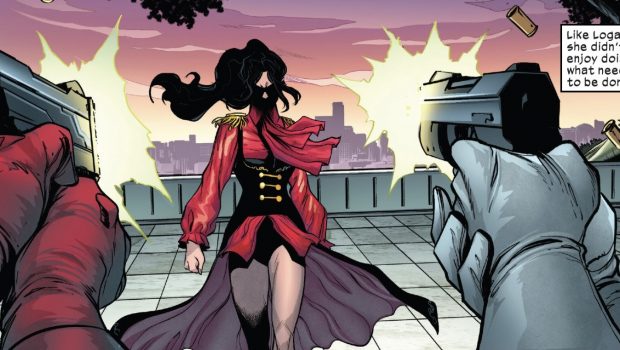 Published on August 14th, 2023 | by Howard Smith
X-Men #25 REVIEW
Summary: There is a lot to unpack in this issue and it's done in a way that feels natural for all readers to process. Might be getting darker from here for the X-Men.
4
Kitty Pryde like never before
Shadowcat Reborn
The X-Men have retreated into hiding from Orchis forces and patrols. As mutants appear to be on the brink of extinction, an old alias resurfaces from a brutal past in X-Men #25. Shadowcat returns as she uses her ability to pass through the gates to infiltrate and gather intel about Orchis. Kitty is only the mutant able to walk through the gates and this is the one secret that just may turn the tide. Meanwhile, Kamala visits home after coming to terms with her resurrection. She attempts to figure out a way to cope by telling her family the truth about what happened in Washington, but Emma Frost intervenes psychically. A team-up of both the X-Men and Avengers is brewing. Simultaneously, Doctor Stasis continues with his plan to remove all mutants from the planet and the Children of The Vault awaken from their imprisonment. The X-Men have their hands full on this one.
After tragedy had struck at the Gala, Gerry Duggan (Solo, The Uncanny Avengers, Wolverine) manages to include a plethora of viewpoints affected by the event. The aftermath of the Gala displayed in X-Men #25 gathers so many characters into one comic book that it feels like a band of rebels gearing up for an epic showdown. In this issue of X-Men, we see the return of a character that hasn't been present for many years. The fact that Duggan decides to bring back this side of Kitty that she thought she would never have to become again comes at the right time. In fact, the whole idea of Kitty not being able to pass through the gates when they were activated and then able to when they are decommissioned adds a lovely expansion to her character development. How Duggan writes this story lets readers know that Kitty has returned to her dark self, but simultaneously showcases turmoil and strife for almost everyone involved.
While the writing may be good, the artwork by Stefano Caselli (Avengers, Hack/Slash, Fantastic Four) orchestrates the vision Duggan has produced. At first glance, Caselli's art style within X-Men #25 strikes as impressively detailed. Panels riddled with detail that would otherwise be unnecessary, but it adds an aesthetic that embodies what readers are supposed to experience in a comic book. While the situation for the X-Men may be melancholy, Caselli understands that his expertise calls for detailed structures, characters, and backgrounds that bring value to the overall story. On top of that, Caselli's work is also pleasant to see on the pages and readers will appreciate his efforts in making the best visuals he can for the comic book.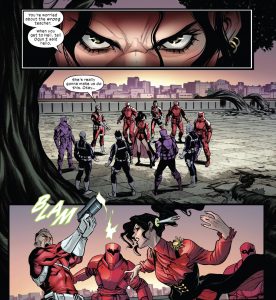 Speaking of visuals, Marte Gracia (Amazing X-Men, Eternal, Hulk) performs an excellent job at coloring this comic book with a robust and vibrant range of colors. Anyone who enjoys reading X-Men comic books knows that excellent coloring is a must when it comes to a roaster of characters occupying a shared space. Gracia's coloring contribution collectively holds together the scenery displayed for each page. It's hard to put the comic book down seeing how good his colors bring forth a feeling of excitement. The amount of coloring work Gracia put into X-Men #25 paid off so well. Comparatively, Clayton Cowles (Alien, Batman, Black Bolt) accomplishes quality lettering skills that service the comic book with well-placed narration captions, dialogue, and sound effects.
The cover by Joshua Cassara (King In Black, Secret Empire, The Thing) and Marte Gracia has a vigorous illustration that gives readers a glimpse of what to expect. Additionally, the cover embodies the state of the X-Men and what they are prepared to do if need be. However, since this issue mostly focuses on Kitty it's a perfect choice to illustrate.
X-Men #25 has unpacked a lot of emotions and doesn't seem to let up. A broken X-Men is better than no X-Men at all. While this may be another issue of X-Men, this comic book sets up future interactions coming soon. Before that happens be sure to pick this one up at your local comic book shop or purchase it online wherever copies are sold. A reckoning is coming and it's going to be good.
Comic Details
Writer: Gerry Duggan
Artist: Stefano Caselli
Colorist: Marte Gracia
Letterer: VC's Clayton Cowles
Cover Artists: Joshua Cassara, Marte Gracia
Editor: Jordan D. White
Publisher: Marvel Entertainment