Films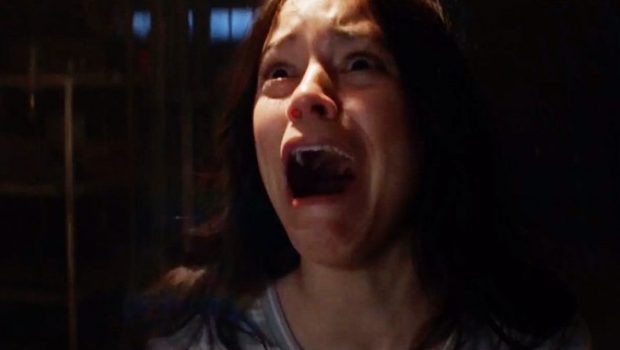 Published on March 24th, 2022 | by Harris Dang
X – Film Review
Reviewed by Harris Dang on the 23rd of March 2022
Roadshow Pictures presents a film by Ti West
Produced by Ti West, Jacob Jaffke, Kevin Turen, and Harrison Kreiss
Starring Mia Goth, Jenna Ortega, Martin Henderson, Scott Mescudi, Brittany Snow, Owen Campbell, Stephen Ure, and James Gaylyn
Cinematography Eliot Rockett
Edited by David Kashevaroff and Ti West
Music by Tyler Bates and Chelsea Wolfe
Running Time: 106 minutes
Rating: R18+
Release Date: the 24th of March 2022
X is the latest film from Canadian genre filmmaker Ti West. He is best known for directing the demonic piece House of the Devil (2009), the supernatural film The Innkeeper (2011), the found-footage tale The Sacrament (2013), and the dark comedy western In a Valley of Violence (2016). After a six-year absence, West dives back into horror with his latest project, a thriller simply titled X. The title refers to the classification rating over in America that is related to films venturing into graphic violence and of course, extreme prurience. Will X be as good as West's prior work and return him to the spotlight?
Set in 1979's Texas, X follows a small film crew who travel to the filming location of an outhouse in a farm. The crew consists of smooth-talking film producer Wayne Gilroy (Martin Henderson), flaunting lead diva Bobby-Lynne (Brittany Snow), rising starlet Maxine Minx (Mia Goth), leading man/flirtation device Jackson Hole (Scott Mescudi), pretentious film director RJ Nichols (Owen Campbell), and the reticent boom mic operator and RJ's girlfriend Lorraine (Jenna Ortega).
The plan is to shoot a porno film (without letting the owners knowing about it) and to make it a big success during the rise of the home video market. Little does the crew know that the location they are shooting on has a few dirty secrets of its own. A standout of a Ti West film is the character progression and world-building of his storytelling. West bides his time on the terror and bloodletting by letting the audience know the characters first. They see what their motivations are or what makes them remarkably human. X's characters mark what could be some of West's best characterisations.
Despite the inherent nature of a film crew making pornography and reverence to genre tropes (including stereotypes like the final girl, the scream queen, blaxploitation iconography, the sexpot, the ingenue etc.), West still upend expectations. He imbues characterisations with small nuggets of humanity that makes them sympathetic.
In the case of the nominal leading role of Maxine, she refuses to be institutionalised in a box of expectations and strives to be more. Then we have the fully realised characters like Bobby-Lynne and Jackson who are comfortable in their own skin (both in a professional sense and a liberating sense).
The self-institutionalized characters, including Lorraine and RJ, are pivotal. Lorraine gains a sense of self-discovery as her curiosity sparks excitement after witnessing the prurient acts of the cast during filming. RJ cannot comprehend the empowerment Lorraine experiences on set as well as the content being seen for what it is and not what he wants it to be i.e. an art film.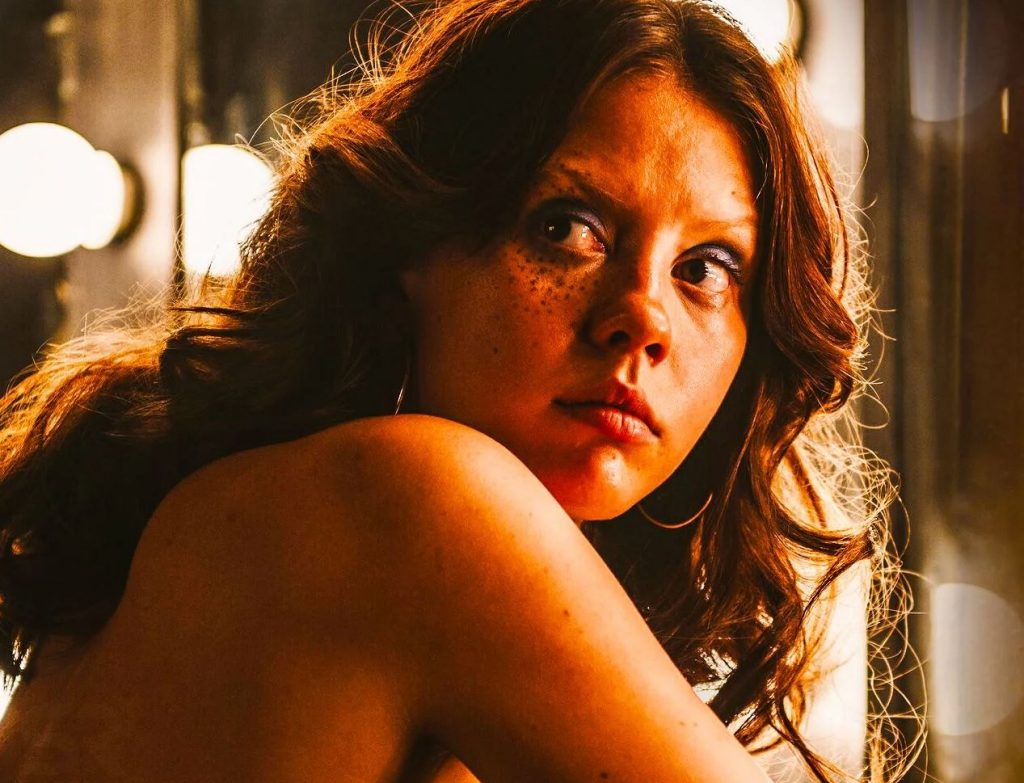 These characters would not work as effectively without an array of talent behind them. Mescudi and Snow are wonderfully carefree and exuberant in their roles as they engage in witty banter, light pathos, and of course, bumping uglies [sic]. They may play into stereotypical roles but they add enough warmth to make them engaging and likable. Jenna Ortega, whose star is rising after her acclaimed roles in Scream (2022) and The Fallout (2021), makes a strong impression as the initially reticent role of Lorraine. Her character arc of gradual liberation proves rewarding and genuine.
Both Campbell and Henderson avoid making their flawed characters abhorrent in their presence by adding either empathy and charisma to their performances. Henderson in particular is a total hoot as the slimy yet startlingly understanding producer.
The real highlight of the film is Mia Goth. No stranger to roles in peculiar films, including Nymphomaniac Part 2 (2013), A Cure for Wellness (2016), Suspiria (2018), and High Life (2018), Goth captures the duality(?) of being vulnerable and ferocious as she struggles to overcome the obstacles of the expectations of others and herself. The cast handles the physicality of the horror and salaciousness with ease, which makes proceedings believable.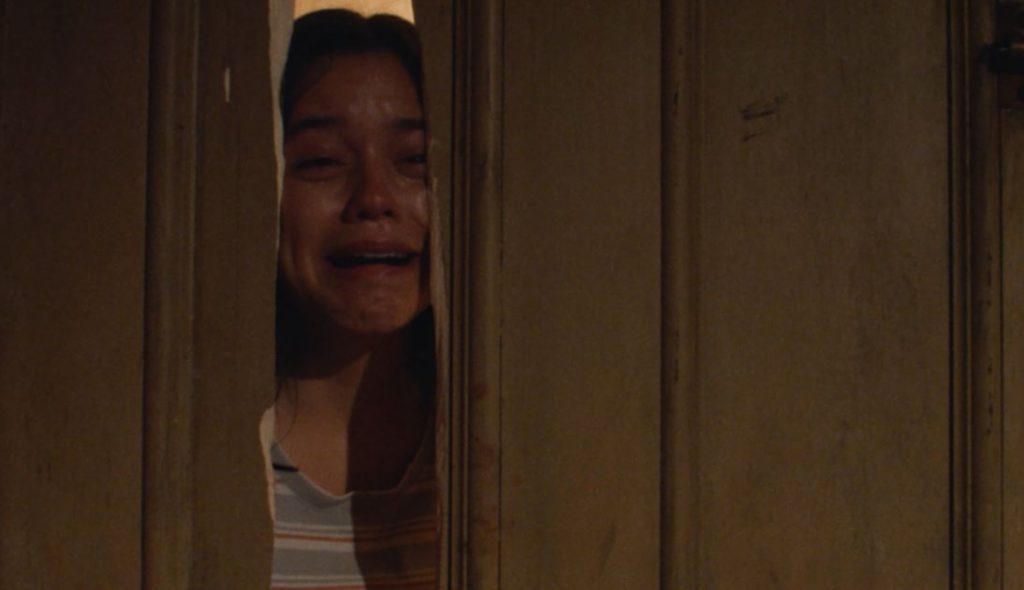 On the horror front, West is balanced in honouring and satirising the genre. From the opening shot, West playfully teases the audience by misleading them over the aspect ratio, which immediately sets the tone.
The film plays with visuals, music, and editing hearkening back to 1970s iconography and culture, including the home video/pornography craze, indoctrination/fanaticism, filmmaking culture (Francois Truffaut gets an amusing shout-out), and the portrayal of the backwoods world.
West and crew (including the tactile, rough-hewn cinematography from Eliot Rockett; the misleadingly intricate yet seemingly shoddy editing by David Kasheveroff and West) have created a world lovingly reverential and satirical to the horror genre and thematically resonant in its openness about both sex and religion and the hypocritical attitudes that stem from the volatile combination.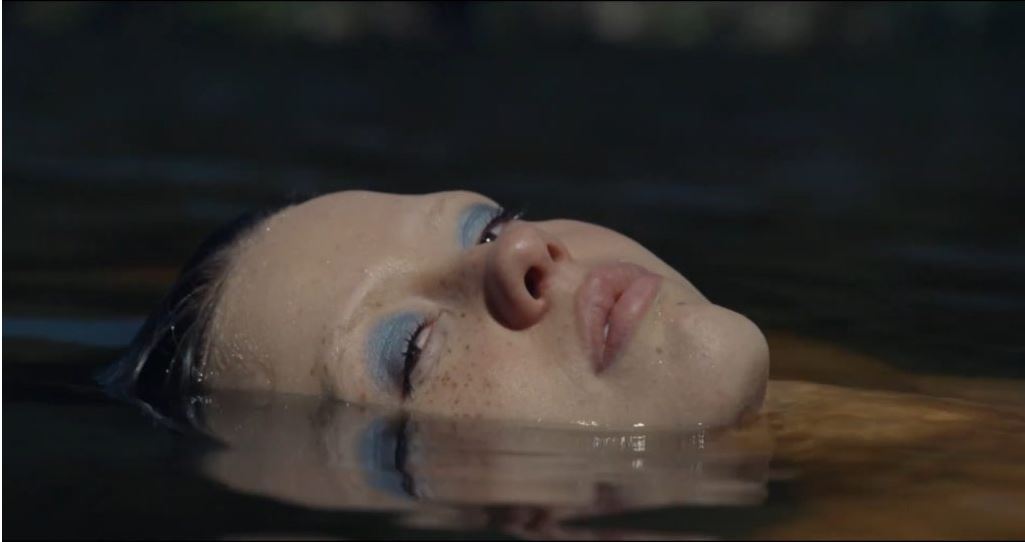 West also withholds being blatant with his scares and relies more on broiling tension. In a particularly inspired sequence, Maxine is seen skinny-dipping and she takes her time in climbing up on the jetty, unbeknownst that an alligator is pursuing her from behind. The lack of aural presence as well as West's sharp eye keeps the audience on edge that gently teases and provokes them with deft skill.
All this suspense must lead to a payoff, and West succeeds on that front admirably. Much like his earlier work, he balances unleashing blood and gore, including household implements and tools never used for their original purpose, with macabre humour to amazing effect.
There are also surprisingly moments of stark beauty, particularly the characters' worldviews characters (the film is amazingly sex positive) and even through flights of fancy. The antagonists are handled well in being menacing in their presence but almost empathetic in their intent. West further excels with his portrayal of Pear when she dances in a light of crimson red after a gruesome kill that hints of her upbringing.
Overall, X is a triumphant return to horror for filmmaker Ti West. It will satisfy genre fans with its well-rounded characters, impressive bloodletting, succinct world-building, and its loving reverence. Highly recommended.
Summary: A triumphant return to horror for filmmaker Ti West that will satisfy genre fans with its well-rounded characters, impressive bloodletting, succinct world-building, and loving reverence.