Blu-ray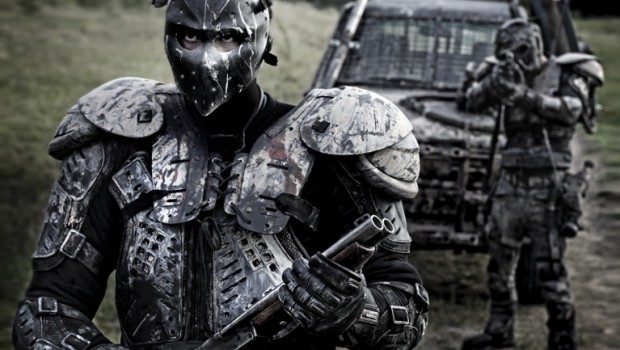 Published on March 6th, 2015 | by admin
Wyrmwood – April 2, 2015
Universal Sony Pictures Home Entertainment is releasing Wyrmwood – available to own on Blu-ray™, DVD & Digital with UltraViolet™ from April 2, 2015.
Written, produced and directed by the immensely talented Australian brothers Kiah and Tristan Roache-Turner, Wyrmwood: Road of the Dead is a thrilling post-apocalyptic horror film that follows a survivor of a zombie plague preparing to face a horde of flesh-eating monsters in an attempt to rescue his kidnapped sister.
Featuring a talented ensemble cast including Luke McKenzie (Wentworth, Winners & Losers), Bianca Bradey (Wrath, Turbines), Jay Gallagher (All Saints, To Become One), Leon Burchill (Stone Bros, Redfern Now) and Yure Covich (Feed, Red Dog).
A comet passing by the Earth breaks up and infects most of Australia's population with a deadly disease that turns people into zombies. Few survive, and those who do quickly discover all existing fuel sources have been rendered unusable by the plague. Trapped in the Australian Outback filled with the living dead and unable to travel to any safer location, the survivors have little to live for.
Among the survivors is Barry (Gallagher), a talented mechanic and family man whose life has been torn apart by the zombie apocalypse. The only person Barry has left alive is his sister Brooke, who has been kidnapped by a sinister team of gas-mask wearing soldiers to be experimented on by a psychotic doctor who turns his test subjects into zombies.
While Brooke desperately plans her escape, Barry goes out on the road to find her and teams up with fellow survivor Benny (Burchill). Together they must arm themselves and prepare to battle their way through a swarm of zombies in the harsh Australian bushland. Will Barry make it in time to save his sister?
A refreshingly original zombie film brimming with Australian larrikin humour, Wyrmwood: Road of the Dead is available on Blu-ray™, DVD & Digital with UltraViolet™ from April 2, 2015.