Events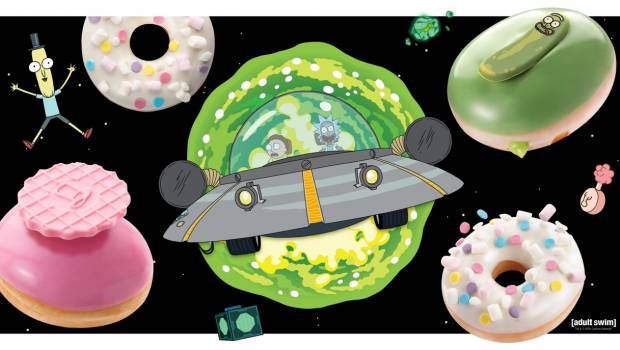 Published on February 18th, 2020 | by Admin
WUBBA LUBBA DUB DUB! KRISPY KREME DROPS OFFICIAL RICK AND MORTY RANGE
In a collaboration out of this multiverse, Krispy Kreme announces that an official Rick and Morty range will launch in Australian stores on 18 February.
Krispy Kreme has conjured up three sweet new doughnut flavours and a shake inspired by the cult animated Netflix series from Adult Swim.
Fans can rub their tongues against Pickle Rick, Strawberry Smiggles & Simple Rick's Wafer Cookie doughnuts and slurp a Fleeb Juice shake – which tastes berry-tasty and not at all like Fleeb excretion. We promise.
And there's more, friends. Krispy Kreme is giving away 100 collector's edition Rick & Morty bucket hats, so you can proclaim your ultimate fandom. Jump onto Krispy Kreme Australia's Instagram or Facebook page, tag a friend on the competition post and comment with your favourite Rick and Morty catchphrase**.
Pickle Rick Doughnut
Filled with lemon crème and topped with a white choc 'Pickle Rick'.
Simple Rick's Wafer Cookie
Filled with vanilla crème, dipped in strawberry truffle and topped with a white choc wafer disc.
Strawberry Smiggles
An iconic Original Glazed® doughnut with strawberry filling topped with mini marshmallows, crunchy meringue pieces and confetti.
Fleeb Juice shake
Our delicious milkshake combined with raspberry and blue heaven flavours

RRP: AU$4.95 (regular) / $5.95 (large)
And that's the wayyyyyy the news goes!
Rick and Morty doughnuts are $3.60 each / $12.95 4x pack / $27.95 dozen
Catch the range in-store*, via click and collect and on UberEats until 16 March 2020.
To find your local store, visit: https://www.krispykreme.com.au/our-stores and enter the co-ordinates into your portal gun.