Games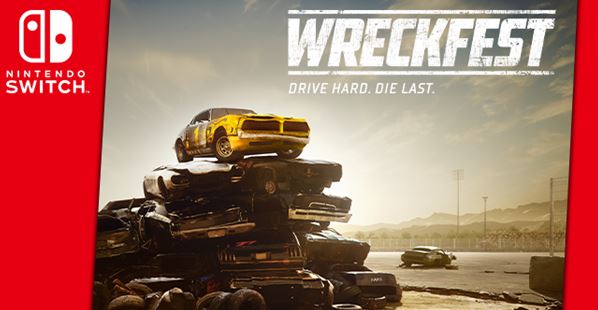 Published on March 23rd, 2022 | by Adrian Gunning
Wreckfest Coming to Nintendo Switch June 21st, 2022
Spectacular vehicle destruction, demolished car parts and a truckload of fun – with squealing tires, Wreckfest is coming to Nintendo Switch™ on June 21st, 2022. Dozens of vehicle options give you the chance to get creative when you wreck your friends online and aim for demolition dominance. Whether you pick a lawn mower, school bus or crop harvester, this game is all about having a good time, breakneck racing and over-the-top crashes.
Besides a considerable amount of unusual and normal vehicles you can choose from, Wreckfest offers its players multiple racing tracks and meaningful customisation for good looks and armour upgrades. This demolition derby themed racing game will leave you in awe of the awesome looking vehicular destruction, so start the engine and get ready for the release.
Wreckfest will feature an up-to-16-player online multiplayer mode as well as offline tournaments with steady 30 FPS. The Nintendo Switch™ version offers two season packages: Season 1 package includes 20 crazy and iconic vehicles, 20 insane roof decorations, and a car customisation pack with new armour, rims and more. Season 2 package grants you access to 12 additional cars. The SRP for both, the digital and the retail edition is $59.95.