Games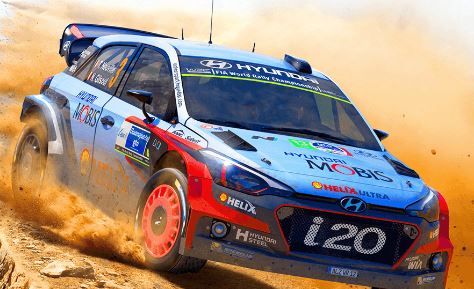 Published on October 7th, 2016 | by Admin
WRC 6 – PC SPECS AND COMPATIBLE STEERING WHEELS REVEALED
Sydney (AUSTRALIA), October 7th, 2016 – Just a week before the Australian release of WRC 6, the official game of the 2016 FIA World Rally Championship (WRC), Bigben and Kylotonn Racing Games have announced the PC configuration and list of compatible steering wheels required to ensure the best gaming experience.
With its realistic graphics and optimised driving sensations, WRC 6 represents a turning point in the history of the franchise. The latest version immerses players into the heart of the most dangerous and demanding of motorsports.
To ensure the best gameplay, here is the minimum configuration required to play WRC 6 on PC: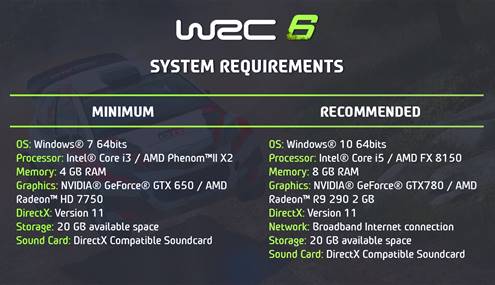 In terms of game controls and gameplay, WRC 6 has been developed to ensure excellent performance with a controller. But the experience is even more realistic and there is more precision when a steering wheel is used. WRC 6 is compatible with a wide range of peripherals from Thrustmaster (the official partner of the game), Logitech and Fanatec. For both PC and consoles, the installation procedures have been simplified.
To see the list of compatible peripherals, please visit www.wrcthegame.com .
ABOUT WRC 6
The official game of the 2016 WRC season, WRC 6 provides players with a realistic and immersive driving experience, as well as the sensation of speed and danger at all the world's most famous rallies. The game includes all the hallmarks associated with WRC (special stages, drivers and cars) and has a wide variety of new features such as split-screen multiplayer, longer special stages and more realistic vehicle behaviour.
As an exclusive bonus, players who pre-order WRC 6 from EB Games will receive the YARIS WRC Test car, developed by Toyota Gazoo Racing) for the Japanese manufacturer which will make its eagerly-awaited return to WRC next season.
WRC 6 will be available on October 14th on PlayStation®4, Xbox One and PC/Steam.
WRC is now available for pre-order. For more information, please visit www.wrcthegame.com