Films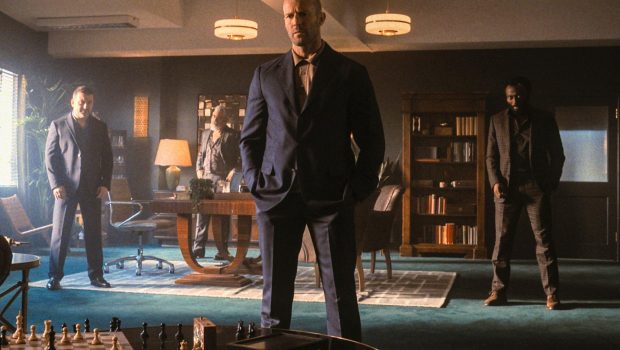 Published on May 2nd, 2021 | by Tim Chuma
Wrath of Man (2021) Film Review
Summary: Nothing really wrong with this movie but there are just better ways to spend your time.
Jason Statham plays the mysterious H who joins an armoured car company seemingly with good references and experience but nobody knows anything about him. When one of the vans is robbed and H guns down the robbers like a machine without a scratch they begin to have serious doubts but the federal investigators are told to leave him be. H has his own reasons for being there and it is not really a secret what it is but I am not going to give away even as much as the trailer does.
While there is nothing really bad with this movie it is so completely "fold tab A into slot B" that it could be any action movie this actor had been in during the last 10 years and you would not notice. The movie itself is a remake of the French movie Le Convoyeur with the director of that movie being one of the writers.
It does try to set things up to have some deeper meaning with the titles and the chapter format and time skipping during chapters but it doesn't really seem to be in service of anything larger. What made Lock Stock and Two Smoking Barrels such a breakout was the humour and casting Statham at that time who had only been a dancer and extra in a few music videos. Everything here seems so serious and even the melodrama doesn't match up to levels of Korean crime dramas, have the funny parts like a Japanese Yakuza movie or the turbo macho ease of a Hong Kong triad movie.
I had to laugh at Jason Statham having a "knockdown clause" in the Hobbs vs Shaw movie so he didn't end up looking bad. I asked the director of the Night Comes for Us if they had a similar clause:
"The actors were like two dogs fighting over a bone, but as soon as we call cut it was all smiles and back slaps".
(That would be no then.)
Fans of action movies have had the post-Raid era that influenced a lot of other movies and more especially the stuntpeople and fight choreographers. This movie feels a lot older than that and is trying to cross HEAT with the Usual Suspects that does not really work.
I suppose the action is adequate and the gun-based shootouts seem to be well done but you do not really gut enough of it. They completely kill off characters without a second thought that there has been some investment into.
The main bad guys are not that well developed apart from being an ex-special forces unit and you don't really get why they are taking such big risks apart from money. If you really want money work for a bank they rob more people and get away with it. Armed robbery is a mug's game.
H's gang is so bland I hardly remember anyone in it. Supposedly his gang was also robbing armoured cars but he treats money like it doesn't really mean anything to him personally so why would he still want to get it?
When this comes out on streaming services it might be worth your time if you have seen all of Jason Statham's earlier work and have run out of movies of his to watch.
Trailer:
Film details:
Director: Guy Ritchie
Writers: Nicolas Boukhrief, Éric Besnard
Screenplay: Guy Ritchie, Marn Davies, Ivan Atkinson
Starring: Jason Statham, Holt McCallany, Rocci Williams, Josh Hartnett, Jeffrey Donovan, Scott Eastwood, Andy Garcia, Deobia Oparei, Laz Alonso, Raúl Castillo, Chris Reilly, Eddie Marsan, Niamh Algar, Tadhg Murphy, Alessandro Babalola, Post Malone
Country: USA
Genre: Crime/Action
Length: 118m
Bonus videos of Jason Statham dancing: