News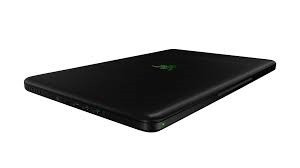 Published on October 1st, 2013 | by admin
The World's Thinnest Gaming Laptop Arrives in Australia … the RAZER BLADE
The new Razer Blade and Razer Blade Pro available in Australia from 18 October
AUSTRALIA – October 1, 2013 – Razer™, the world leader in high-performance gaming hardware, software and systems, today announced the availability of the new 14-inch Razer Blade and the Razer Blade Pro in Australia. Updated with the latest Windows operating system, the world's best gaming laptops will be available in Australia from 18 October at JB Hi-Fi stores and Razerzone.com from AUD$2699.00.
The Razer Blade, designed for ultra-portability, measures in at just 0.66-inches thin and packs more power-per-cubic-inch than any other laptop in the world. Available in 256GB of total solid-state storage, the Razer Blade also comes with Dolby® Home Theatre® v4, featuring immersive audio-quality output that is custom-tuned to deliver a cinematic sound experience.
The Razer Blade Pro, also available in 256 GB SSD, is the third iteration of Razer's ground-breaking ultra-portable laptop. Faster and more powerful than ever before, the Razer Blade Pro has been refined to increase performance while staying true to portability. At 0.88 inches thin and weighing 6.5 pounds, the Blade Pro is the most portable 17-inch gaming laptop in its class. Every detail is sleek, slim and light, all the way down to compact power supply, making the Blade Pro the best choice for gaming performance and creative work on-the-go.
Both Razer Blade and Razer Blade Pro will be available from October 18. For more information, go to http://www.razerzone.com/gaming-systems/razer-blade.
About Razer Blade:
The Razer Blade, almost the same size as a five cent coin, packs more power-per-cubic inch than any other laptop in the world. The Razer Blade is powered with a future 4th gen Intel® Core™ processor, the latest NVIDIA® GeForce® GTX 765M GPU and utilizes solid-state storage technology with boot speeds of up to four-times faster than a traditional 5400-RPM notebook hard drive. The Razer Blade has a rigid all-aluminium chassis, with a stunning 14-inch LED-backlit HD+ display and features a custom-designed trackpad and backlit gaming grade keyboard. For more information about the Razer Blade, please visit www.razerzone.com/blade.
Product features:
      •      Intel® Core™ i7-4702HQ Quad Core Processor
•      8 GB Onboard Memory (DDR3L – 1600 MHz)
•      NVIDIA® GeForce® GTX 765M (2 GB GDDR5) & Intel HD4600
•      Latest Windows Operating System
•     JB HiFi: 256GB SATA III SSD / Razerzone.com: 128, 256, 512GB SATA III SSD
•      Qualcomm® Killer™ NIC N1202 (802.11a/b/g/n + Bluetooth® 4.0)
•      14.0 in. HD+ 16:9 Ratio, 1600 x 900, with LED backlight
•      Built-in stereo speakers
•      3.5 mm audio microphone/headphone combo jack
•      Array microphone
•      (3x) USB 3.0 port (SuperSpeed)
•      HDMI 1.4a audio and video output
•      Dolby® Home Theater® v4
•      7.1 Codec support (via HDMI)
•      Built-in full HD webcam (1.3 MP)
•      Compact 150 W Power Adapter
•      Built-in 70 Wh Rechargeable lithium ion polymer battery
•      Razer™ Anti-Ghosting Keyboard (with adjustable backlight)
•      Razer™ Synapse 2.0 Enabled
•      Kensington Lock
•      13.6 in. / 345 mm (Width) x 0.66 in. / 16.8 mm (Height) x 9.3 in. / 235 mm (Depth)
•      4.135 lbs. / 1.876 kg
Price:
AUD $2699.00, inclusive of all taxes
Availability: 18th October
Images: