Events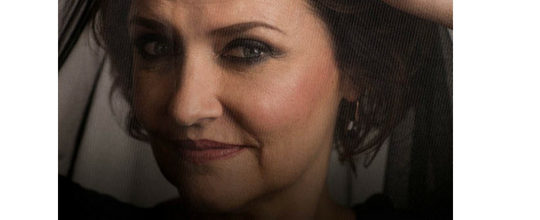 Published on June 14th, 2018 | by Admin
World premiere of The Space Between
Australia's sharpest creative minds have joined forces to reimagine opera for the twenty-first century in The Space Between, which makes its world premiere at Arts Centre Melbourne from 13 to 23 September 2018. Created by Paul Grabowsky and Steve Vizard, The Space Between is performed by Australia's most highly-awarded soprano Emma Matthews.
A diva sings her final note and is plunged into an abyss of memory and madness. Can she find the thread of meaning to her existence that will lead her back out of the maelstrom?
A song cycle that resonates far beyond the theatre walls, the performance marks a major new monument in the landscape of Australian theatre.  Drawing its breath from the many great female roles across opera history, The Space Between follows a diva whose own history is just as full of parts: performer, singer, lover, wife, mother, daughter.
To Emma Matthews' prodigious talents are added the unique abilities of jazz master Jamie Oehlers, musical polymath Paul Grabowsky, celebrated wordsmith Steve Vizard and director Leticia Caceres.
Together this powerhouse team pays tribute to the history of the opera heroine while dragging the form into our own age.
"Paul and Steve have written me a stunning, theatrical song cycle. It's profound, angry, sexy, and incredibly challenging. Two opposing art forms coming together, in a way that's truly compelling. I'm thrilled to be joining forces with my WAAPA friend and colleague Jamie Oehlers, and to be a part of creating a new musical language," said Emma Matthews.
"The creative team on The Space Between combines cross generational vision with vastly diverse and deep immersion in many performance styles and media. As composer I am inspired by three major factors: the beautifully lyrical libretto of my friend Steve Vizard, the virtuoso improvisatory talents of Jamie Oehlers, and especially by the consummate musicianship and superb artistry of the great Emma Matthews. This project brings together various passions into one Space," said composer Paul Grabowsky.
"There is such overwhelming beauty and bravery witnessing the heartfelt revelations of an artist, like Emma Matthews, as she bares all in such an intimate, revealing and powerful musical confession," said writer Steve Vizard.
Commissioned by Arts Centre Melbourne in 2016, the idea for the performance came about through a chance meeting at the G20 Summit between Paul and Emma, who were two of the 20 artists chosen to perform for world leaders attending, including President of the United States Barack Obama, Russian President Vladimir Putin and UK Prime Minister David Cameron.
Emma Matthews is a highly acclaimed and awarded soprano who has received more Helpmann Awards than any other individual artist. She has received nine Green Room Awards, seven Helpmann Awards, the Mo Award and the Remy Martin Australian Opera Award and Limelight Awards for Music Personality of the Year 2010, Best Performance in an Opera 2012 and Australian Artist of the Year 2016. She has performed with all the state opera companies and the major Australian symphony orchestras, and at the Sydney, Melbourne, Perth, Adelaide and Huntington Festivals, with conductors including Vladimir Ashkenazy, Marko Letonja, Sir Charles Mackerras and Simone Young.
Career highlights include her Royal Opera House Covent Garden debut in the title role of The Cunning Little Vixen under the baton of Sir Charles Mackerras, Mahler's Symphony no. 4 with Orchestre Philharmonique de Monte Carlo conducted by Yakov Kreizberg and with the Sydney Symphony Orchestra and Vladimir Ashkenazy, appearing as a special guest with José Carreras at the Sydney Opera House and Ismene (Mitridate) for Sydney Festival.
Paul Grabowsky is one of Australia's most distinguished performing artists – an acclaimed pianist, composer, arranger and conductor. He has written the scores for over twenty films including Innocence (Paul Cox, director), Shiner (John Irvin, director), Last Orders and The Eye of the Storm (both Fred Schepisi, director).  Works for the theatre include Love In The Age Of Therapy, commissioned by Opera Australia, A Banquet Of Secrets for Victorian Opera and Presidents Land, commissioned by the Queensland Music Festival.
Steve Vizard is a distinguished writer, performer and producer who has worked across film, radio, theatre and television and in the arts, major events and public affairs. Steve's shows have received more than twenty Logies, a dozen AFI, Television Society Awards, and an International Emmy nomination. He has won a Gold Logie and been nominated four times, and has won several Television Society Awards, four Australian Writers Guild Awards and a Variety Award. His most recent works for theatre includes the opera, Banquet of Secrets, and the award winning musical Vigil, recently nominated for five Green Room Awards.
To see the video, click here 
Arts Centre Melbourne presents
Emma Matthews
The Space Between
Arts Centre Melbourne, Playhouse
13 – 23 September 2018
Book:  artscentremelbourne.com.au or 1300 182 183