– Personalised News in an Interactive Digital User Experience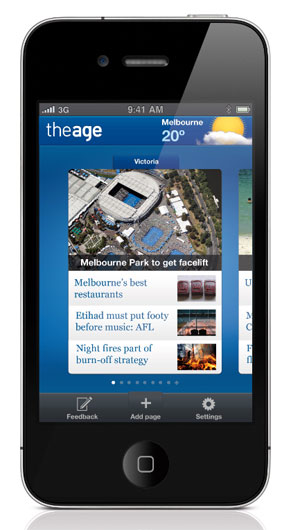 SYDNEY, 29 September 2010: Australian consumers can now revolutionise how they receive and interact with their news through new innovative iPhone apps from Fairfax Media. Consumers can completely personalise their mobile news experience with a range of additional viewing, video and sharing features as well as access to wider content from the smh.com.au, theage.com.au, WAtoday.com.au and brisbanetimes.com.au.
Making full use of the range of gesture and viewing features available with the iPhone, the apps let consumers interact, change the order of display and even remove news from more than 100 different sections of content from the Fairfax news titles.
Laden with features including photo galleries, full-screen video and localised weather, users will be able to customise their entire news experience. For example, someone interested only in sports and business news can set their news stream to reflect their preferences. Other customisable aspects include viewing options (horizontal and vertical options), adjustable font sizes, and video preferences.
Each of the apps cost just $2.49 for 31 days of access, while six month subscriptions come at the discounted rate of $12.99. As the app is charged on a '31-day' cycle, this effectively adds a free week of access over the course of a year.
Fairfax Media Chief Executive and Managing Director, Brian McCarthy, said, "It's the first move by Fairfax Media to charge for its online news content on a mobile phone. The development of the apps is a milestone in our ongoing strategy around the delivery of content through digital platforms."
The apps have been developed internally over the past six months by a team of developers from its digital media division, Fairfax Digital.
Fairfax Digital Chief Executive, Jack Matthews, said, "If you look at our overall traffic for the past three months, we're already leading the mobile category. We're confident we'll extend that lead further by giving our readers choice, convenience and most importantly, innovation."
Fairfax Digital Director of News and Platforms, Darren Burden said the brief for developing the app was to deliver a simple and customisable user experience.
"Our philosophy has been to listen to what people want from a mobile news service and deliver this in a completely personalised form. Over six months of development, we've looked at the best features of other popular applications and incorporated that thinking into a clean and comprehensive user experience that changes the way we interact with news."
From today, users will be able to provide suggestions for future development through a feedback module. Further releases and automatic updates will regularly be made available to subscribers. Development is also underway for other smartphone platforms as the market for apps continues to grow in Australia.