AMD Press Launch – Vision Technology & 5800 Series of Graphic Cards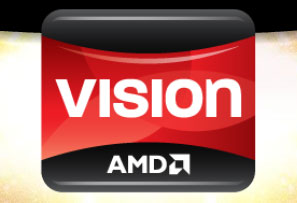 Sydney Australia, 29th of September 2009

Vision Technology
AMD showcased a new direction for consumers today with the launch of their new branding for laptops and their soon to be released 5800 series of graphic cards. The AMD representatives of the day included Garrath Johnson (Technical Manager, ANZ), Caleb Leung (Country Manager, ANZ), SeeGhee Tan (Marketing Director, South Asia) and Jacky Wong (Technical Marketing Specialist) who were on hand for the media to answer a wide range of questions.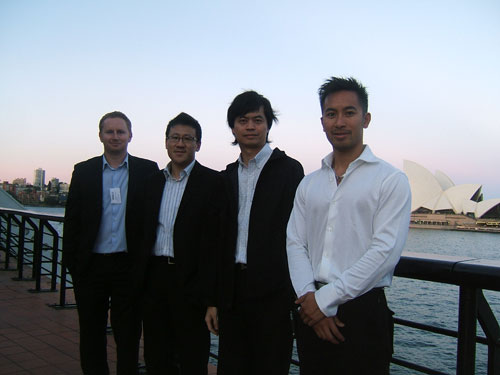 Pictured: Garrath Johnson (Technical Manager, ANZ), Caleb Leung (Country Manager, ANZ), SeeGhee Tan (Marketing Director, South Asia) & Jacky Wong (Technical Marketing Specialist)
The first speaker from AMD was Caleb Leung (Country Manager, ANZ) who introduced a new branding system from AMD, allowing consumers to easily identify which laptop best suits their needs. With a release date to coincide with Microsoft Windows 7, ASUS and HP have already embraced this technology that may revolutionize computing as we know it. With three models entitled "Vision" (Everyday Use), "Vision Premium" (Media Consumer) and "Vision Ultimate" (Content Creation), these laptops are not only powerhouses when it comes to performance but they are easily identifiable by the consumer with their unique branding. Best of all, these laptops will be available in all good computer outlets such as Dick Smith, Harvey Norman, Bing Lee and WOW to name just a few of the stores.
AMD have also targeted the visual capabilities of laptops and according to a Notebook Tracking Study in 2008, "66% of consumers say they want a PC that will deliver the best visual experience available", SOURCE AMD. With that in mind, AMD have created a true multimedia experience through their motto of "See, share & create", ensuring that these laptops can perform a wide range of functions. With Windows 7 available on these laptops, consumers can experience a new way to work and play, thanks to the various facets of Vision Technology.
A key point by AMD was Messaging Alignment which focuses on the visual experience with Windows 7 and Vision Technologies, ensuring for high definition playback of movies, TV and games. Further to this was Retail Alignment that is designed to make the purchases of laptops easier for consumers and finally Technology Alignment which has all AMD CPU's featuring AMD Virtualization Technology for Virtual PC Mode support.
Best of all, these ultra thin laptops support HDTV and are quite affordably priced with a HP model available for around $1000AUD. As a variety of developers have taken this technology onboard, users can expect to see a variety of different laptops, each with a particular purpose with different screen sizes and true multicore performance which once again highlights the HD entertainment experience for users and high end gaming.
Another innovative move by AMD is the AMD Fusion Utility for Mobility which allows for a wide range of modes from airplane, web, max battery and custom modes for example. Apart from an easy to use interface for this program, it supports a simple one click power optimization interface, based on what the user needs plus advanced profiles if needed.
With AMD continuing to be a leader in the development of CPU's and GPU's, this new branch into laptops is truly an exciting time for the end consumer that offers better software speeds, compression rates, rendering, clear images of up to 1 billion colours, smooth life-like gaming experience, high definition videos, 7.1 Audio and even HDMI to HDTV connection with a one cable solution.
Definitely exciting times to consumers and businesses alike.
For more information on Vision Technology, please visit http://www.amd.com/vision
5800 Series
Following on from AMD's presentation of their exciting new range of laptops entitled Vision Technology, AMD showcased their latest and greatest graphic cards plus the future direction of their company. Before going into specifications and statistics of their cards, SeeGhee Tan (Marketing Director, South Asia) played a snippet of the upcoming game by SEGA, Aliens vs Predator which featured state of the art graphics that was quite reminiscent of the movies with impressive special effects and realistic lighting. This was a glimpse of things to come and with that ladies and gentlemen, I introduce you to the 5800 Series of Graphics card from AMD.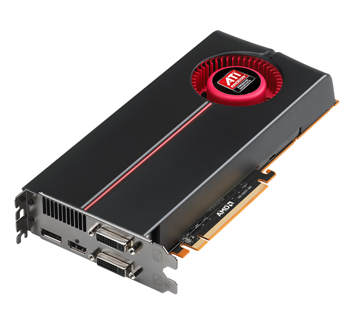 As AMD continue to be a innovator in the field of graphic cards, it should be noted that AMD was the world's first company to have a TeraFLOP FPU, the world's first company to use GDDR5 and once again, the world's first company to go beyond 1GHz. Their latest 5800 series move on the 4800 series that boasts 40nm technology, more energy efficient, faster, more powerful and yet again, the world's first and only card that supports DirectX 11 for the GPU to ensure maximum graphical capabilities and features.
AMD highlighted the three new technologies of their cards that include ATI EyeFinity, DirectX 11 and ATI Stream to give the user one of the most powerful and visually compelling experiences that has not been seen in the PC world for quite some time. For those users old enough, consider it the move from EGA (16 colours) to VGA (256 colours), however this is the move to high definition movies and graphics.
As this new series of cards support DirectX 11, this means better performance for the gamer and with the inclusion of Tessellation, it allows for a higher count of polygons, more detailed characters, realistic textures and highly detailed terrains. Add in some other "cool" and "geeky" technologies such as OIT, Post-processing Shadows and HDR compression to name a few and the new range of AMD cards once again moves the goals for its competitors.
Another highlight was DirectX Compute which allows for better physics and even artificial intelligence in gaming. As the old analogy of the "proof is in the pudding", AMD showed a tech demonstration of a real-time demo which showed more tessellation that was visually impressive and extremely smooth in terms of frames per second.
Other capabilities of the new cards include depth of field, motion blurring, tone mapping, edge detection, smoothing and sharpening for example and to showcase this, a movie was shown of a lady beetle that was like a Digital-SLR camera zooming onto the insect with the insect crystal clear and the background blurry. Technologies like this will eventually transfer to gaming for some truly spectacular effects. For a more hands on experience, I suggest you check you Aliens vs Predator, Stalker and Colin McRae DiRT 2.
Of course the bells and whistles don't just stop there and ATI EyeFinity Technology goes beyond just gaming and joins gaming with productivity and entertainment. For the end user, this means better games, the ability to add more screens to your computer besides "2" and of course high definition gaming and workspace.
Whether it's connecting 3 screens, 6 or even 12, this will redefine gaming and productivity that will also have repercussions in the business world, even medical and engineering. For gamers, this allows for increased visuals of the gaming environment and for racing games, it shows more of the 3D landscape, rids you of blind spots and gives you a definite edge over the competition that in essence gives more visual cues to the user.
Tom Clancy's HAWX was shown to the media which had 6 screens connected to the game, truly allowing for a visceral flight simulation experience. The only downside to connection so many screens beside the cost is the bezel size or borders of the monitors which does distract a little, however designers such as Samsung are creating new screens to support this technology.

Samsung ultra-small bezel LCD
What does this mean to the user? Basically, extreme entertainment! Imagine playing a game on one screen, watching TV on another, surfing the net on another and video conferencing on another screen and things that were once the realm of science fiction are now readily available to the consumer and best of all, LCD screens for PC's have considerably dropped in price over the last few years.
This also enhances productivity for office personnel and designers with increased workspaces. The configurations of these screen are quite diverse from 3×1 monitors used to display landscape, 3×2 to display portrait and for something even more outrageous, 1 PC with 4 Cards powering 24 monitors. And yes, the PC with 24 screens was used to showcase a LINUX flight simulator. Needless to say, it has some impressive configuration options.
The next highlight is ATI Stream Technology that offers end-users the following benefits;
Performance – ATI Radeon HD series unrivalled GPU compute power
Standards – Driving innovation with OpenCL & DirectCompute 11
Solutions – Accelerate Games, Video and Productivity apps
As AMD is the only company in the world that does both CPU and GPU, this has allowed them to truly harness the power of both for combined processing with Windows 7. Apart from gaming, this power can also be used for non-gaming applications such as Cyberlink Media Show 5, PowerDirector 8, ArcSoft SimHD plug-in for TotalMedia Theatre and Roxio Creator 2010. Needless to say, this will definitely give AMD a huge competitive edge over Intel. To prove the power of this combination, a demonstration of a StudioGPU was shown that displayed some powerful real-time rendering.
In the next six months, AMD are releasing a bevy of processors that include the Cypress (mid range gaming), Hemlock (high end gaming) and the Juniper, entry level gaming which will have a cost between $100 to $200USD. Lastly, there is the Redwood/Cedar in the first quarter of 2010 that will once again offer users some impressive performance for both gaming and application use. In essence, AMD have taken 177 Deep Blue Super computers which were launched in 1996 and have combined this power into one very impressive card.
Offering the latest technological and software advances such as DirectX11 Support, 40nm technology and GDDR5 memory, these cards are more efficient in terms of GLOPS and less watts but offer twice the horsepower. Best of all, current games will also benefit from this technology and once again, AMD outshone its competition with the latest 5800 series of cards. With DirectX 11 and DirectCompute support, these cards offered 20% improvement from Windows Vista to Windows 7 and with two cards (Crossfire), the performance was up to 70% in terms of improved performance. This is perfect for users who multitask or high end gamers.
At the end of the day, it's a good day to be someone involved in productivity or gaming and AMD have once again proven why they are the number one developers of graphic cards. ATI are also releasing a HD5870 EyeFinity6  Edition which will allow more monitors to be connected and finally the card codenamed "Hemlock" which will be released sometime next year that will burst a few more bubbles. With Windows 7 just around the corner, it's a good time to be a PC owner.
Expand.. accelerate… dominate, AMD has definitely delivered!