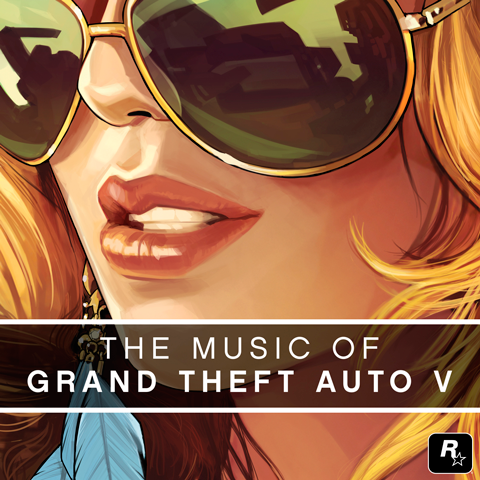 Today we're pleased to announce that The Music of Grand Theft Auto V, a trio of distinct albums from Grand Theft Auto V, are available on iTunes for $16.99 each or as a full compilation for $44.99.
The first volume of this compilation is a collection of brand new music from a wide array of artists including Wavves, Twin Shadow and Tyler, The Creator – along with The Chain Gang of 1974's "Sleepwalking", which was featured in the game's Official Trailer.
GTAV is the first entry in the series to feature a dynamic original score composed and engineered to be completely responsive to the player's actions within both missions and open world gameplay. The score was composed in a one-time collaboration between a team of legendary producers and composers including vanguard German electronic band Tangerine Dream, Woody Jackson (Red Dead Redemption,L.A. Noire) and renowned hip-hop producers The Alchemist and Oh No. For The Music of Grand Theft Auto V: Volume 2, the stems of the game's interactive score are layered, mixed and arranged into an album of songs by acclaimed producer and DJ, DJ Shadow.
The collection of music in GTAV is the biggest and most ambitious in the history of the series. Volume 3 features select songs from across the game's unique in-game radio stations. Snippets from all 17 in-game radio stations are also now available for your listening pleasure on the Music page on the GTAV official site. Featuring tracks by Bootsy Collins, Flying Lotus, Bob Seger, Jai Paul, Toro y Moi, Waylon Jennings and more.
Check out each volume's full tracklist below and see more at www.rockstargames.com/V/music.
The Music of Grand Theft Auto V – Volume 1: Original Music
1. Oh No – Welcome To Los Santos
2. BJ The Chicago Kid – Smokin' and Ridin' (feat. Freddie Gibbs & Problem)
3. Twin Shadow – Old Love / New Love
4. Neon Indian – Change Of Coast
5. Wavves – Nine Is God
6. Gangrene – Bassheads
7. Flying Lotus – Stonecutters
8. HEALTH – High Pressure Dave
9. OFF! – What's Next?
10. Tyler, The Creator – Garbage
11. Nite Jewel – Nowhere To Go
12. A$AP Rocky – r – Cali
13. Age Of Consent – Colours
14. Marion Band$ – Hold Up (feat. Nipsey Hustle)
15. 100s – Life Of A Mack
16. Favored Nations – The Set Up
17. Yeasayer – Don't Come Close
18. The Chain Gang Of 1974 – Sleepwalking
The Music of Grand Theft Auto V – Volume 2: The Score
Tangerine Dream, Woody Jackson, The Alchemist & Oh No, DJ Shadow
1. We Were Set Up
2. A Legitimate Business Man
3. A Haze Of Patriotic Fervor
4. Los Santos At Night
5. North Yankton Memories
6. The Grip
7. Mr. Trevor Philips
8. A Bit Of An Awkward Situation
9. No Happy Endings
10. His Mentor
11. (Sounds Kind Of) Fruity
12. Minor Turbulence
13. Chop The Dog
14. A Lonely Man
15. You Forget A Thousand Things
16. Impotent Rage/Am I Being Clear Now?
17. Fresh Meat
18. Therapy And Other Hobbies
19. Rich Man's Plaything
20. The Agency Heist
21. Hillbilly Crank Dealers' Blues
22. Welcome To Los Santos (Outro)
The Music of Grand Theft Auto V – Volume 3: The Soundtrack
1. Flying Lotus – The Kill (feat. Niki Randa)
2. Lee "Scratch" Perry – I Am a Madman
3. Jai Paul – Jasmine (Demo)
4. George McCrae – I Get Lifted
5. Kausion – What You Wanna Do
6. Charlie Feathers – Can't Hardly Stand It
7. Weirdos – Life of Crime
8. Mexican Institute of Sound – Es Toy
9. Joe Goddard – Gabriel (Soulwax Mix) [feat.Valentina]
10. Bootsy Collins – I'd Rather Be With You
11. Bob Seger – Hollywood Nights
12. Dan Croll – From Nowhere (Baardsen Remix)
13. Problem – Say That Then (feat. Glasses Malone)
14. Waylon Jennings – I Ain't Living Long Like This
15. Yellowman – Nobody Move, Nobody Get Hurt
16. Simple Minds – All the Things She Said
17. Toro y Moi – Harm in Charge
18. Hot Snakes – This Mystic Decade
19. Cashmere Cat – Mirror Mau