STAN, CARTMAN, KYLE AND KENNY WERE IN SYDNEY FOR ONE DAY ONLY
SYDNEY, Australia – To celebrate the 16th season of South Park, available on DVD now, Stan, Cartman, Kyle and Kenny were out and about in Sydney yesterday.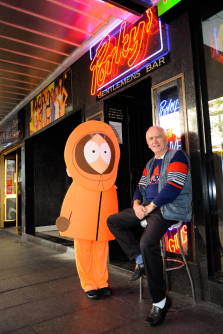 The four boys were denied entry to Porky's strip club in Kings Cross, but drowned their sorrows in a pie with peas at Harry's Café De Wheels. They followed the footsteps of Angelina Jolie and had a photo with the koalas at WILD LIFE Sydney Zoo, and practiced their Paris Hilton pose at Bondi Beach.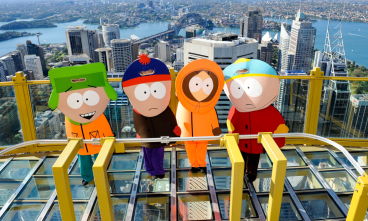 Stan, Cartman, Kyle and Kenny pretended not to be scared on the SKYWALK at the Sydney Tower Eye, before crashing a wedding under the Sydney Harbour Bridge. The day ended with Stan, Cartman and Kyle waiting for Kenny at St Vincent's Hospital Emergency.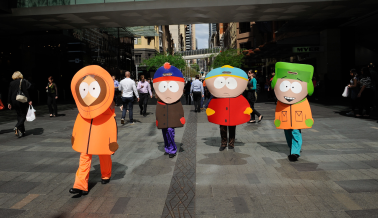 Over the past 16 seasons, the cult show has explored the most controversial topics and featured a who's who of popular culture.  From President Obama to OJ Simpson, Osama Bin Laden to Jennifer Lopez not to forget Justin Bieber, Michael Jackson and Oprah Winfrey. The 16th season is no exception, with current events top of the show's list. Already a winner of 3 Emmys®, South Park's 16th season covers everything from Kony 2012 to Honey Boo Boo, with this season earning the show a nomination for the 9th episode, 'Raising the Bar'.