29th August – Nintendo today introduces a new member to the Nintendo 3DS family – Nintendo 2DS*, which will arrive in Australia and New Zealand on 12th October 2013 with a SRP of AU $149.95/NZ $179.95**. Offering you additional variety and value in your handheld gaming options, the Nintendo 2DS is a streamlined version of the Nintendo 3DS that will play games available for Nintendo 3DS, as well as Nintendo DS in 2D.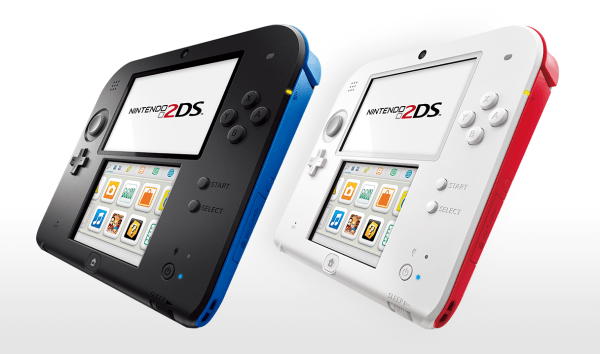 The Nintendo 2DS retains many of the same hardware features as the Nintendo 3DS including the same Nintendo 3DS gameplay controls, backwards compatibility with the vast existing library of Nintendo DS games, as well as wireless connectivity features such as access to Nintendo eShop as well as StreetPass and SpotPass functionality. However the console takes on a new distinctive fixed, slate-form design, and will play all packaged and download Nintendo 3DS games in 2D. The new console is designed as an entry point into, or a new way to enjoy the Nintendo handheld experience and will be available at launch  in two colour combinations, White + Red and Black + Blue, with a Nintendo 2DS Carrying Case (in either Red or Blue) that can be purchased separately.
The end of year games line-up for Wii U and Nintendo 3DS is going to feature a vast array of games coming exclusively to Wii U and Nintendo 3DS this year, ensuring all can enjoy a choice of some of the best known and most loved franchises Nintendo has to offer. From Pokémon to Donkey Kong, Mario to  Zelda, Nintendo will be offering unforgettable gameplay experiences in the months ahead.
Take a look ahead at some of the games and hardware bundles coming soon from Nintendo and third party publishers for Wii U & Nintendo 3DS.
Wii U Software
Publisher
Release date (2013)
Rayman Legends
Ubisoft
29th Aug
Just Dance 2014
Ubisoft
1st Oct
The Legend of   Zelda: The Wind Waker HD
Nintendo
5th Oct
Sonic Lost   World™ Deadly Six Edition

(Limited   Quantity)

Nintendo
19th   Oct
Skylanders SWAP Force
Activision
16th Oct
Batman: Arkham Origins
Warner Bros. Interactive Entertainment
25th Oct
Wii Party U + Wii Remote Plus (White)

(Limited Quantity)

Nintendo
26th Oct
Wii Party U + Wii Remote Plus (Black)

(Limited Quantity)

Nintendo
26th Oct
Assassin's Creed IV Black Flag
Ubisoft
31st Oct
Call of Duty: Ghosts
Activision
5th Nov
LEGO® Marvel Super Heroes™
Warner Bros. Interactive Entertainment
13th Nov
Watch_Dogs
Ubisoft
21st Nov
Mario &   Sonic at the Sochi 2014 Olympic Winter Games
Nintendo
Nov
Donkey Kong   Country: Tropical Freeze
Nintendo
Dec
SUPER MARIO   3D WORLD
Nintendo
Nov
Wii Fit U
Nintendo
2013
| | | |
| --- | --- | --- |
| Nintendo 3DS Hardware / Accessories | Publisher | Release date (2013) |
| Nintendo 2DS (White + Red) | Nintendo | 12th Oct |
| Nintendo 2DS (Black + Blue) | Nintendo | 12th Oct |
| Nintendo 2DS Carrying Case  (Red) | Nintendo | 12th Oct |
| Nintendo 2DS Carrying Case (Blue) | Nintendo | 12th Oct |
| | | |
| --- | --- | --- |
| Nintendo 3DS Software | Publisher | Release date 2013 |
| Etrian Odyssey™ IV: Legends of the Titan | ATLUS | 30th Aug |
| Shin Megami Tensei: Devil Summoner: Soul Hackers | ATLUS | 20th Sept |
| Harvest Moon: A New Beginning | MAQL Europe | Sept |
| Moshi Monsters Katsuma Unleashed | Activision | 16th Oct |
| Pokémon X | Nintendo | 12th Oct |
| Pokémon Y | Nintendo | 12th Oct |
| Sonic Lost World | Nintendo | 19th Oct |
| Skylanders SWAP Force | Activision | 16th Oct |
| Teenage Mutant Ninja Turtles | Activision | 23th Oct |
| BEYBLADE™: Evolution | Rising Star Games | 24th Oct |
| Batman: Arkham Origins Blackgate | Warner Bros. Interactive Entertainment | 25th Oct |
| Angry Birds Star Wars | Activision | 30th Oct |
| Professor Layton and the Azran Legacy | Nintendo | 9th Nov |
| LEGO® Marvel Super Heroes™ | Warner Bros. Interactive Entertainment | 13th Nov |
| Mario Party: Island Tour | Nintendo | Nov |
| Ben 10 Omniverse™ 2 | NAMCO BANDAI | Nov |
| The Legend of Zelda: A Link Between Worlds | Nintendo | Nov |
| LEGO Friends | Warner Bros. Interactive Entertainment | Q4 |
| Bravely Default | Nintendo | End of 2013 |