What we see Rocksmith 2014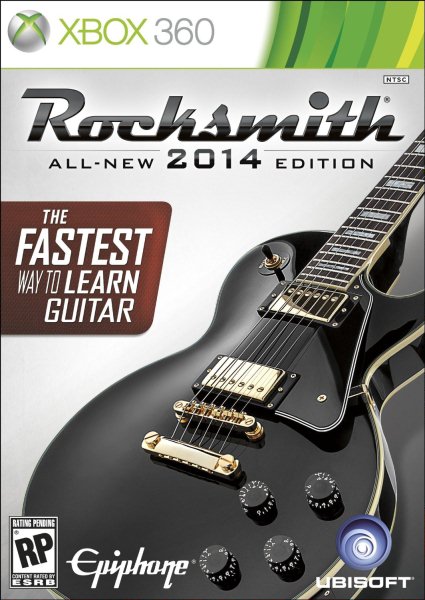 It's the Concert Stadium that Ubisoft built and they are making it even better with Rocksmith 2014 coming THIS year in time for Christmas.
The game has already been touted as the easiest way to learn guitar, and it is the most fun. Why not? In the privacy of whatever room you choose to break out your guitar and play in, there is no one there to judge.  You can feel safe at ease and go at your own pace as you learn some of your favorite songs. You can let out your inner fantasy of being a musical performer.
Rocksmith has had its share of annoying bugs, not the game stopping can't enjoy yourself kind; but the annoying please fix this kind.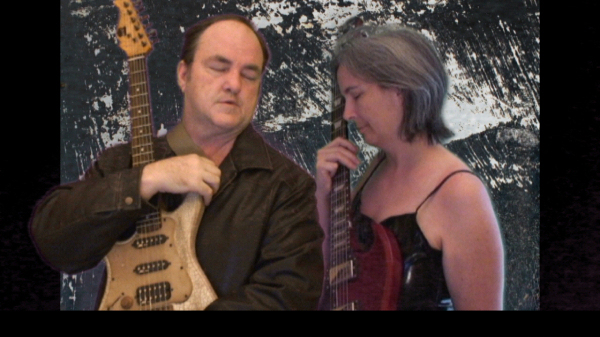 Edwin and Donna Millheim of Impulse Gamer Not part of Rocksmith 2014. Editorial photo only.
We look at the boards to see and feel the pulse of our fellow gamers just like any writer should. We have seen a few folks a bit perturbed, they feel that the new game is nothing more than an add on like bass. Though let's break that down shall we? Before we even talk about the new stuff in the game, the interface and the intriguing potential of the virtual backing band…. The new game comes with over 50 songs on disk. Now come on folks, do the math…if they wanted to they could have just as easily made those songs single DLC EACH… at the standard 3 bucks a pop? That's a lot of money if they did it that way. The HUGE value alone of that many new songs for the price of the new upgraded game is nice indeed.  At 2.99 per song at DLC pricing that would be U.S. 149.50
We do not know how well it plays yet; we have only seen what was shown at E3 and some of the Demo of the new virtual band or Session Mode as it's called. It LOOKS impressive. We try not to get overly excited when we are shown things, we feel the proof is more when it's in the gamers hands (Or reviewers hands) and how it plays and what the interface is like in the real world.
We will be diving into Rocksmith 2014 with a full review of all the inner workings and interface of the game, when we get our hands on it and when press is allowed to reveal what they know.
We have seen that there is talk of a Rocksmith 2014 pack with guitar again. Though nothing fully official has been seen if this is true, or what model of Epiphone will come with it.  We expect though that left hand players may be left out again since the first game that came with a guitar was for right hand players only. Such a pity…
What we see so far Ubisoft was thinking of the fan base that already has the game as well as enticing folks that have not tried the game out yet. In a thankful move Ubisoft has made the DLC songs that Rocksmith users already have compatible with the newer game. This includes the on disk songs from the first Rocksmith. From showing some loyalty to its customer base we applaud this move.
Keeping things fresh there will be over 80 lessons and interactive instructional videos built into the game. Of course Guitarcade is back as well. Placing minigames at player's fingertips adding some fun with finger dexterity, and speed exercises. More techniques are on the way, new tunings, and a mix of effects, amps and tones.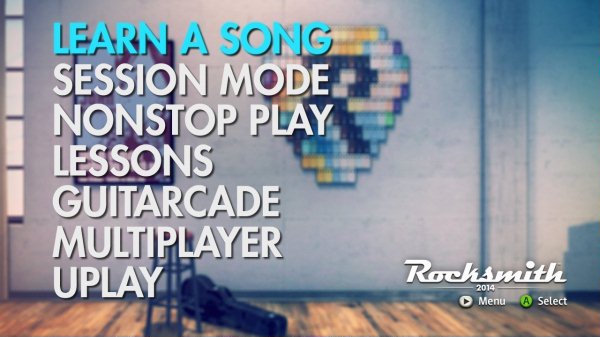 Even at the time of our musings in this article Ubisoft is still playing things a bit close to the chest. Making it seem like the different departments don't know what information they are letting out and when. As a consumer we also like to use the sign up options to be informed like so many fans of announcements.  So far the announcements have come not from emails that we signed up for… and not even in press releases….The information thus far has been either by Twitter or the facebook page. Even the official site is not updated with the new information gleaned from face book and Twitter posted by Ubisoft employees. Don't get me wrong I actually think it's great that companies are so hands on with the fans, but at least also use the sign up for email announcement s that I am sure more than a few people have signed up for.
Song wise we see some pretty exciting titles and bands already and this is not the whole list yet. These are on Rocksmith 2014 disk and are among 50 in all.
Aerosmith – Walk This Way
Alice in Chains – Stone
Bob Dylan – Knockin' On Heaven's Door
B'z – Ultra Soul
Oasis – Don't Look Back In Anger
The Smashing Pumpkins – The Chimera
Iron Maiden – The Trooper
Radiohead – Paranoid Android
The set list is off to a stellar start. What is to come we don't know yet. Here are some bands that we hope to see from the wider net they are obviously casting in regard to music…. And this is depending on licensing of course.
Again, these are just our thoughts and musings…these are NOT official….Since we have seen many of these bands and songs listed in the long list of the plastic toy guitar games,  it would be good to see them grown up in a game with real instruments. Heck even the toy rhythm games had the explicit lyric ones.
We may see them finishing up with some of the painfully obvious missing Nirvana songs. Like Come as You Are and Smells like Teen Spirit.
If they are savvy smooth they will also include both the most successful duo of all time Hall & Oates. Though not just with the basic 80's stuff. Sure we would love to be able to rock out to stuff like Maneater, Kiss on My List, and;  I Can't go for that (No can do) and Private Eyes…but the catalogue of songs from these guys is both inspired and full of unquestionably good songs that span time.
Kick ass songs such as Out of Touch, Sara Smile, and She's Gone would be a welcome mix. Add in things like Family Man, and Adult Education and Say it isn't so and you got some awesome songs …Bass and guitar fun.
Most of Daryl Hall's latest solo album "Laughing Down Crying" is a perfect example of tunes that guitarists would be hard pressed to not enjoy. Not to mention this was also the album that the musical world lost a true musicians musician.  Tom "T Bone" Wolk passed away before seeing this album finished.
Some of the other bands we would like to see come to Rocksmith 2014 in some way, would be listed here…or if they are in already…more of their songs…do you have a favorite? Of course you do.
Styx
Foreigner
Metallica
Black Sabbath
The Monkees
Kiss
Keel
Nine Inch Nails
Motley Crue
Billy Idol
Tenacious D
Alice in Chains
Jimi Hendrix
Pat Benatar
Poison
Joan Jett and the Black Hearts
Def Leppard
Aerosmith
This list is long of course and these are just a few that would make sense to see. Now the next question will be. In regards to DLC songs and song PACKS…will Ubisoft do the fan infuriating  slow drip feed of DLC to only a couple a month again? We hope not. For true inspiration and value we would love to see DLC available in the singles and maybe more incentives to buy whole packs and 7 or even 8 packs of single artist songs. What is obvious is that Ubisoft put some thought into the latest incarnation of features and listened to the fans and made some inspired surprises of their own. We look forward to getting our hands on it and checking it out and seeing how it plays and dig deep into the features for our review.