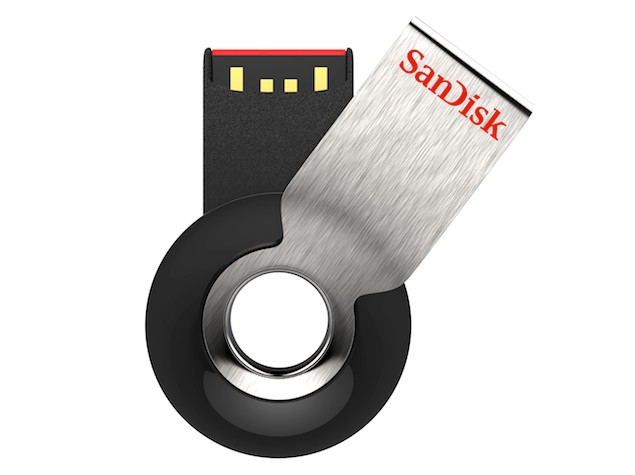 Sydney, Australia, June 3, 2013 – SanDisk Corporation (NASDAQ: SNDK), a global leader in flash memory storage solutions, has introduced the Cruzer Orbit™ USB flash drive, a versatile and stylish USB flash drive designed with a 360-degree swivel . The drive offers consumers the storage they need to carry libraries of digital content with them wherever they go, transfer files quickly and do so with style.
Transport and Share Your Data with Style and Convenience
Combining swivel design with pocket-sized portability, the Cruzer Orbit USB flash drive offers an easy and convenient way to store, transfer, and share your data. This flash drive features a protective cover that rotates to shield the USB connector from damage when it's not in use. With its compact form factor, the flash drive is ideal for data users who need easy, portable access to their most important files. Including a design that is both fun and practical, the Cruzer Orbit USB flash drive is built to revolve around your life on the go. 
High-Capacity Flash Drive Accommodates Large Media Files
Available in capacities up to 32GB*, this USB drive lets you carry your personal documents and favourite media with you. The drive is large enough to accommodate high-volume files such as videos, photos, music and office documents.
Simple, Drag-and-Drop File Transfer
Transferring files to the drive is easy: simply plug it into an available USB port and drag the desired files into the drive's folder. No additional software or drivers are required, so you can begin transferring and backing up your files immediately.
SanDisk SecureAccess Software Keeps Files Private
The Cruzer Orbit USB Flash Drive comes with SanDisk SecureAccess™ software**, which allows you to create a password-protected folder for your sensitive files. You are able to share your favorite media and USB flash drive while protecting your private documents from unwanted access.
Backup and Store Files Online
The Cruzer Orbit USB flash drive also offers online storage and backup***. This convenient and secure cloud storage service allows remote access to your online data anytime, anywhere from any web browser.
The Cruzer Orbit USB Flash Drive is available at The Good Guys, Myer and Bing Lee stores from the 31st of May, at a price point of $8.50 to $31.00 for 4GB – 32GB* storage.
* 1GB=1,000,000,000 bytes. Actual user storage less.
** Password protection is supported by Windows XP, Windows Vista, Windows 7, Windows 8 and Mac OS X v10.5+ (Software download required for Mac. See www.SanDisk.com/SecureAccess)
*** Offered by online storage provider. Registration and internet access required; terms and conditions apply.