Sydney, Australia – 19 Apr, 2013 – Cooler Master, an industry leading PC component manufacturer today announces the N series, a brand new series of compact mainstream cases. The N series brings liquid cooling support up to 240mm radiators and improved air cooling performance wrapped in subtle and simplistic designs.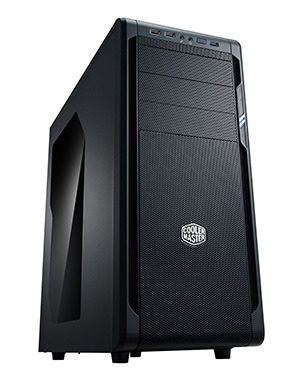 Compact – Simplistic – Cool
N series cases were designed with cooling performance in mind, especially liquid cooling. The full mesh front panels and a large amount of vents all over let air stream through the case with ease. The N300 supports up to 8 fans, including a 120mm vent on the all important side panel to keep high-end VGAs fed with fresh air, and support for two 120mm fans or one 240mm radiator on top of the case. The N500 supports up to 9 fans, adding a second 120mm slot to the side panel, and extends to top mounted vents to dual 140mm vents, including support for 240mm radiators.
HD7990 ready – Plenty HDD and SSD slots
Despite the compact designs, there's plenty of room to install extra long graphics cards, several ODDs, HDDs and SSDs, and still have space to route and hide cables. The N300 supports up to 320mm long VGAs and has a maximum capacity of 2 ODDs, 8 HDDs and an additional SSD slot. Thanks to its height the N500 supports 3 ODDs. It makes away with half the HDD slots to provide a direct stream of fresh air from the front panel to the VGAs. This also allows it supports over 400mm long VGAs and makes room for a dedicated tool-less SSD cage for 3 SSDs.

Modular Side Panel and Front IO
Both the N300 and N500 are available in 4 configurations – with or without a windowed side panel, and with two USB 3.0 ports (N2 edition) or with a single USB 3.0 port and two USB 2.0 ports (N1 edition). USB 3.0 Super Speed enables up to 10x faster file transfers and full speed charging of mobile phones (~1A).

Pricing and Availability
Manufacturer: Cooler Master
 Product Name

 MSRP
(case only)

 Availability

 N300
 AU$ 49.99
 Middle of April
 N500
 AU$ 74.99
 The 1st week of   May
Website: http://www.coolermaster.com.au
Distributors: Australia IT, Rectron, Direct Memory Access, and PB Technologies
About Cooler Master
Cooler Master was founded to provide the best thermal solutions to our customers worldwide. Since its establishment two decades ago, we continue to invest in product development in order to provide the leading-edge innovations to people and businesses. Cooler Master's enclosure technology line-up includes heat sinks and fans, chassis, power supplies, function panels and accessories. Cooler Master has its headquarters in Taipei, Taiwan, with global branch offices located in Europe, America and APAC, so that we can offer to our customers the best service in time. For more information on Cooler Master, please visit www.coolermaster.com.au and http://www.facebook.com/coolermaster