The Hobbit: An Unexpected Journey, set to launch on DVD and Blu-rayTM in Australia from May 1st, will be Warner Bros. Home Entertainment's first title in Australia and New Zealand to be released with UltraViolet.
UltraViolet is an all-new way to collect, access and enjoy your movies and TV shows. It allows consumers to access their digital library from the cloud,  instantly streaming or downloading their movies on a wide variety of devices including PC, Mac, Android and iOS. Its purpose is to enhance the consumer experience of digital movie ownership through added flexibility (multiple platforms), portability (take all your movies with you) and safety/security.
The Hobbit: An Unexpected Journey on UltraViolet:
All The Hobbit: An Unexpected Journey Blu-rays and DVDs will be specially marked as including UltraViolet. Look out for the purple UltraViolet band across the top of the packaging, the stickers on the front and UltraViolet information printed on the rear of the packaging. Future titles that include UltraViolet will be marked in a similar fashion.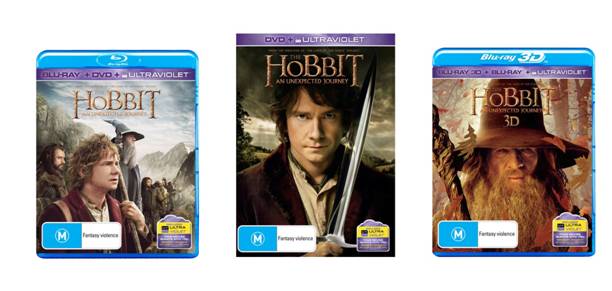 Each of these specially marked DVDs and Blu-rays will include a free UltraViolet code displayed on a leaflet that will be enclosed within the packaging. The code can then be redeemed online through UltraVioletportals such as Flixster.com.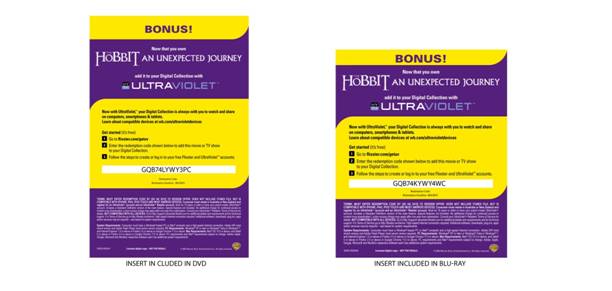 On May 1st, when The Hobbit: An Unexpected Journey launches on DVD and Blu-ray, Flixster will be one of a few UltraViolet (www.Flixster.com) portals available to consumers in Australia and New Zealand. There will be a number of other UltraViolet portals launching throughout 2013.
For The Hobbit: An Unexpected Journey, customers can go to www.flixster.com/getuv where they will register or log in to their Flixster account. They will then also be automatically prompted to register/connect their UltraViolet account where their UltraViolet library will be stored. This is a simple process. Very little information is required to register and the UltraViolet account will be accessible via any future UltraViolet portals as well as Flixster.
Once the customer is in their Flixster account they enter their redemption code on the leaflet.
The Hobbit: An Unexpected Journey will then be added to the customer's UltraViolet account or "locker". This means that the UltraViolet Cloud identifies that the customer owns the title and will make it available to them wherever they are – allowing them to stream it on their PC, Mac, Android or iOS device or download and store it in the Flixster app (available on Android and iOS devices) for offline viewing.
The Hobbit: An Unexpected Journey is Warner Bros Home Entertainment's first release with UltraViolet in Australia and New Zealand but there are already plans include UltraViolet across upcoming releases such Cloud Atlas and Jack The Giant Slayer as well as Television and Children's titles.
UltraViolet has been available in the USA since October 2011. There are currently nearly 9,000 movies and television titles available with UltraViolet in the US, from studios such as Warner Bros, Fox Entertainment Group, Lionsgate, NBC Universal, Paramount Pictures and Sony Corp and more than 11 million UltraViolet accounts have already been created worldwide.
Roger Clarke, Managing Director of Warner Bros Home Entertainment Group says, "UltraViolet is a fantastic consumer proposition and a key initiative for us moving forward. The Hobbit: An Unexpected Journey is the perfect title to be launching with in Australia and New Zealand and we are already looking ahead to adding UltraViolet to all our major releases this year".