News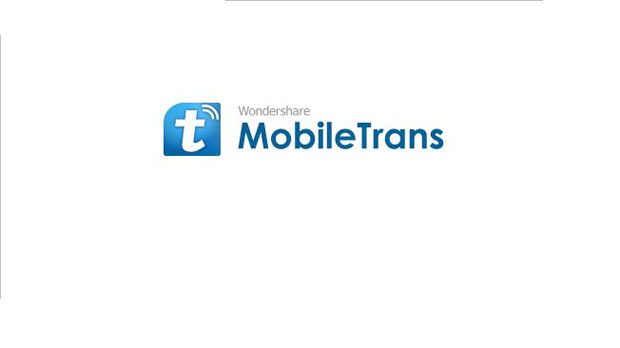 Published on August 21st, 2017 | by Tony Smith
WonderShare MobileTrans Review
Summary: WonderShare MobileTrans is a very easy to use phone to phone transfer program with backup and restore capabilities as well.
If you've just upgraded to a brand new phone or you're wanting to backup your data, MobileTrans from WonderShare may be the solution that you're looking for. This very easy to use software package from WonderShare does just that! This includes transferring information from one phone to another (e.g. photos, musics, contacts, SMS, apps), including different operating systems (e.g. iPhone to Android), the ability to back-up your phone plus restoring your phone should something happen.
Given that smartphones are part of our lives now, most people use their phones to take photos and if you don't backup to the cloud and should you lose or break your phone, your photos may be lost forever. So by using MobileTrans, you can perform all these functions by just a few clicks of the button and no computer experience is necessary. Furthermore, MobileTrans not just does internal backup files but it even allows for iTunes, Kies, Blackberry, iCloud and OneDrive to name a few of the options.
Installation
The installation process of MobileTrans was very easy and once we downloaded the app, it installed in just a few clicks. Best of all, this program is available as a trial program with limited functionality. However the full version which reviewed costs $29.95 for one-year that includes 5 phones. It also comes with a lifetime license for $39.95 that includes 5 phones or there is a lifetime family license for up to 10 phones. I'm not sure how that is a lifetime as most phones have a 2-year life span ;)
Once installed, we were ready to use the program. So as you can see from the interface screenshot below, it looks very simple to use and includes the following options;
Phone to Phone Transfer
Restore from Backups
Back-up your Phone
Erase your Old Phone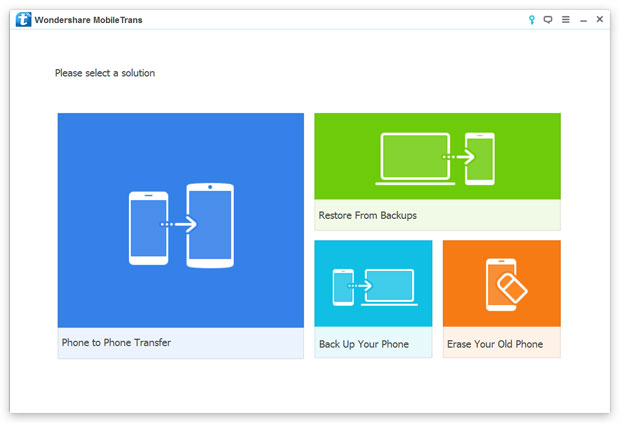 So with just one click, you're almost ready to go. Even though there is an option to erase your old phone which can be done from the phone itself, it is still very handy to have, particularly if you have just transferred your information to a new phone. We tested the program in moving data from a Motorola G4 to the computer which allowed us to move our contacts, text messages (SMS), calendar, call logs, photos, music, videos, apps and even app data. The only tricky aspect was enabling USB debugging on the phone but once again the program shows you how to do this. We then moved the data back to a Motorola G5 Plus with no issues whatsoever!
If you do get stuck, WonderShare include an online tutorial but we had no problems and there is online support well. Furthermore, phone to phone transfer works well as does the erase your old phone feature.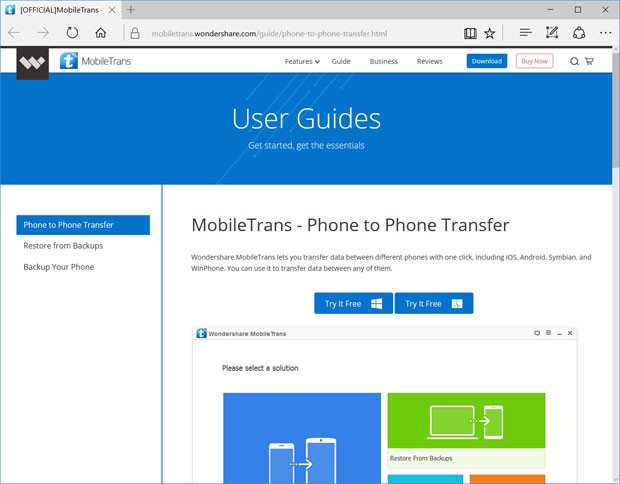 Final Thoughts?
If you're looking for an easy way to transfer information from one phone to another and even with different operating systems, you really can't go pass MobileTrans from WonderShare. Not only is it easy to use but it does the job well.
For more information, please visit https://mobiletrans.wondershare.com/
Features