Comics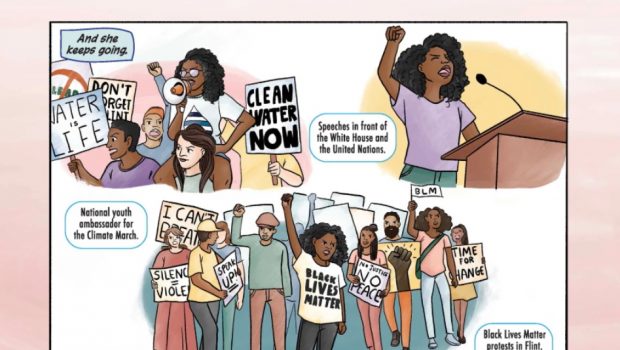 Published on September 27th, 2021 | by Tim Chuma
Wonderful Women of the World (2021) Review
Summary: Although meant for younger readers I would recommend this to anyone who wants to find out more about inspiring women from around the world you may not have heard of.
While not directly related to Wonder Woman's 80th anniversary this book is definitely inspired by it collecting real life stories of inspiring women throughout the world. This is an update of the Wonderful Women of History section that used to run in Wonder Woman comics when they were first released.
I have read books like this before and the women in this do seem a lot more diverse and surprisingly not all people from the USA which has happened in some books.
I have heard of some of these people but not all of them which is always what you want with something like this as it is educational as well as diverse and there is a reason why the authors and artists chose to cover the people they did.
There are certainly a lot of people working on this book and this is a perfect opportunity to become acquainted with their work and give them a follow on social media if you like what you see here.
Due to there being so many excellent profiles in this it is hard to choose my favourite out of all of them but what say the top three in no particular order are Naomi Watanabe for the art style, Mari Copeny as it has her hugging President Obama and Marsha P. Johnson for the brick.
Maybe this is best read in chapters so you can have a rest after each story and look up more about them. I did stop and look up some more about some of the people featured and you will want to look up the people involved in producing the book at one point.
I would recommend this to the younger people in your life and also anyone who wants to hear more stories about inspiring women and maybe some they have never heard of before.
Well worth your time and it will reward you for sticking through to the end even if you are more into some of the biographies than others.
Book details:
Imprint: DC Comics Children's
Published: 30 November 2021
Format: Paperback
Pages: 200
ISBN: 9781779503787
Sections:
Introduction – Laurie Halse Anderson
Beyoncé – Writer: Mikki Kendall / Artist: A D'Amico
Edith Windsor – Writer: Amanda Deibert / Artist: Cat Staggs
Francisca Nneka Okeke – Writer: Sheena Howard / Artist: Laylie Frazier
Greta Thunberg – Writer: Kami Garcia / Artist: Igzell
Judith Heumann – Writer: Marieke Nijkamp / Artist: Ashanti Fortson
Khatijah Mohamad Yusoff – Writer: Amanda Deibert / Artist: Hanie Mohd
Keiko Agena – Writer: Sarah Kuhn / Artist: Lynne Yoshii
Leiomy Maldonado – Writer: Magdalene Visaggio / Artist: Alexis Williams
Malala Yousafzai – Writer: Son M. / Artist: Safiya Zerrogui
Marcia Barbosa – Writer: Corinna Bechko / Artist: Anastasia Longoria
Mariana Costa Checa – Writer: Melissa Marr / Artist: Marcela Cespedes
Mari Copeny – Writer: Olugbemisola Rhuday-Perkovich / Artist: Sharee Miller
Marsha P. Johnson – Writer: Jadzia Axelrod / Artist: Michaela Washington
Naomi Watanabe – Writer: Jodi Houser / Artist: Michiums
Ruth Bader Ginsburg – Writer: Lilah Sturges / Artist: Devaki Neogi
Ellen Ochoa – Writer: Cecil Castellucci / Artist: Carina Guevara
Serena Williams – Writer: Danielle Paige / Artist: Brittney Williams
Teara Fraser – Writer: Traci Sorell / Artist: Natasha Donovan