Collectibles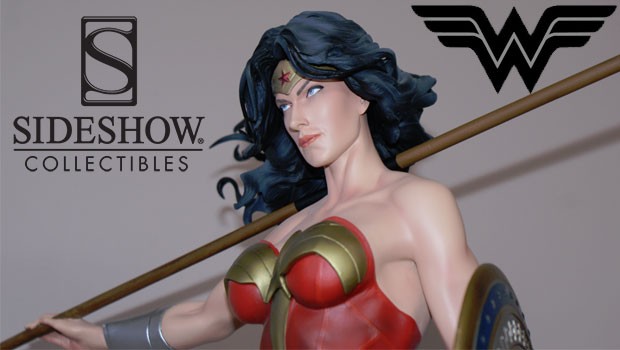 Published on March 9th, 2015 | by Andrew Bistak
Wonder Woman Premium Format Figure Review
Summary: The Wonder Woman Premium Format Figure is another perfect statue from Sideshow Collectibles and is the perfect Wonder Woman statue... ever!
Wonder Woman Premium Format Figure
Company: Sideshow Collectibles
Type: Premium Format Figure
Cost: $399USD (March 2015)
Reviewer: Andrew Bistak
Sideshow Collectibles have just released their next Premium Format Figure for DC Comics that is the character Wonder Woman or Princess Diana of Themyscira that truly challenges the spirit of this fictional character. Scaled at the Premium Format Figure size, Wonder Woman measures at a Herculean height of 64.7cms (25.5″), a width of 53.5cm (21″) and a length of 27.9cm (11″) which easily makes this one of the most stunning Premium Format Figures to date. The figure also comes with an ancient Greek Helmet and was designed by Kris Anka, Zane Yarbrough and Frank Pepito with the final piece sculpted by Steve Schumacher.
Although the figure is purely based on DC Comics' Warrior Princess, there is an element of actress Gal Gadot who will be playing Wonder Woman in the upcoming Warner Bros movies. This is not to say that the sculpt looks like Gal Gadot but rather the colours of the statue are very muted and earthy in their appearance. As a result, this gives the statue a much more realistic appearance opposed to some of the shiny and more colourful characters that have been released by Sideshow Collectibles.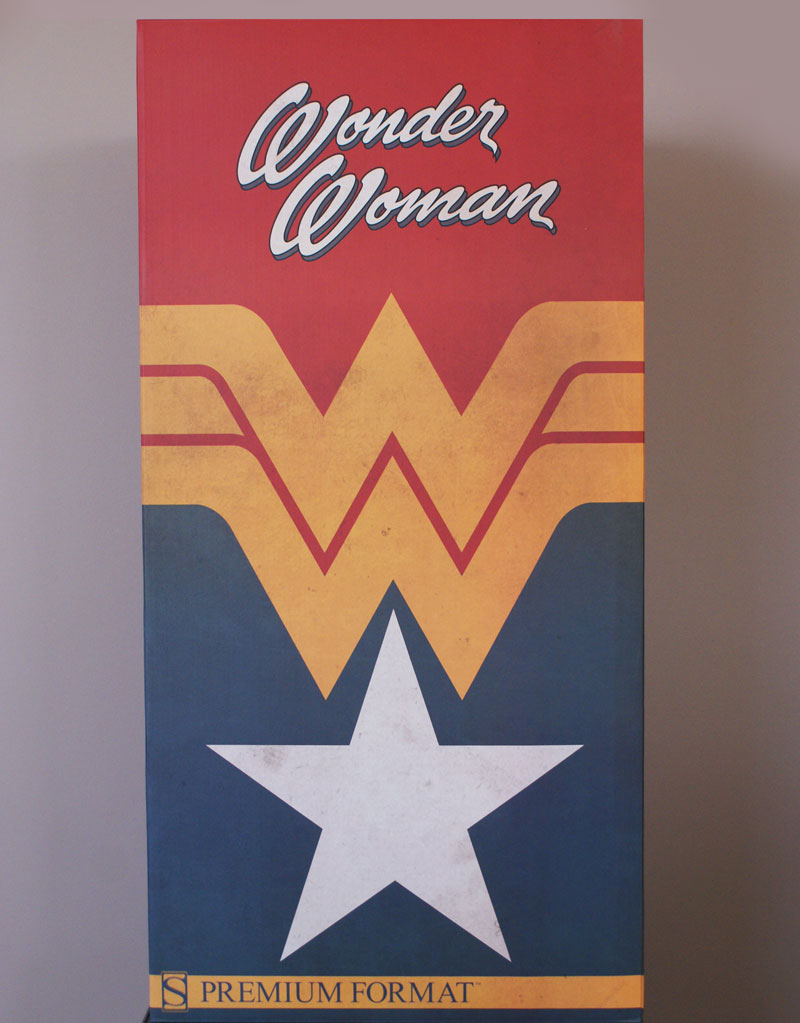 Given that, the figure seems to be a pre New-52 Wonder Woman as she is sporting the more classic outfit opposed to the to Brian Azzarello and Cliff Chang version… not that this is a bad thing. However with that said, this figure is definitely channelling her inner Goddess of War as was seen in the relaunch of DC Comics' Wonder Woman in November 2011.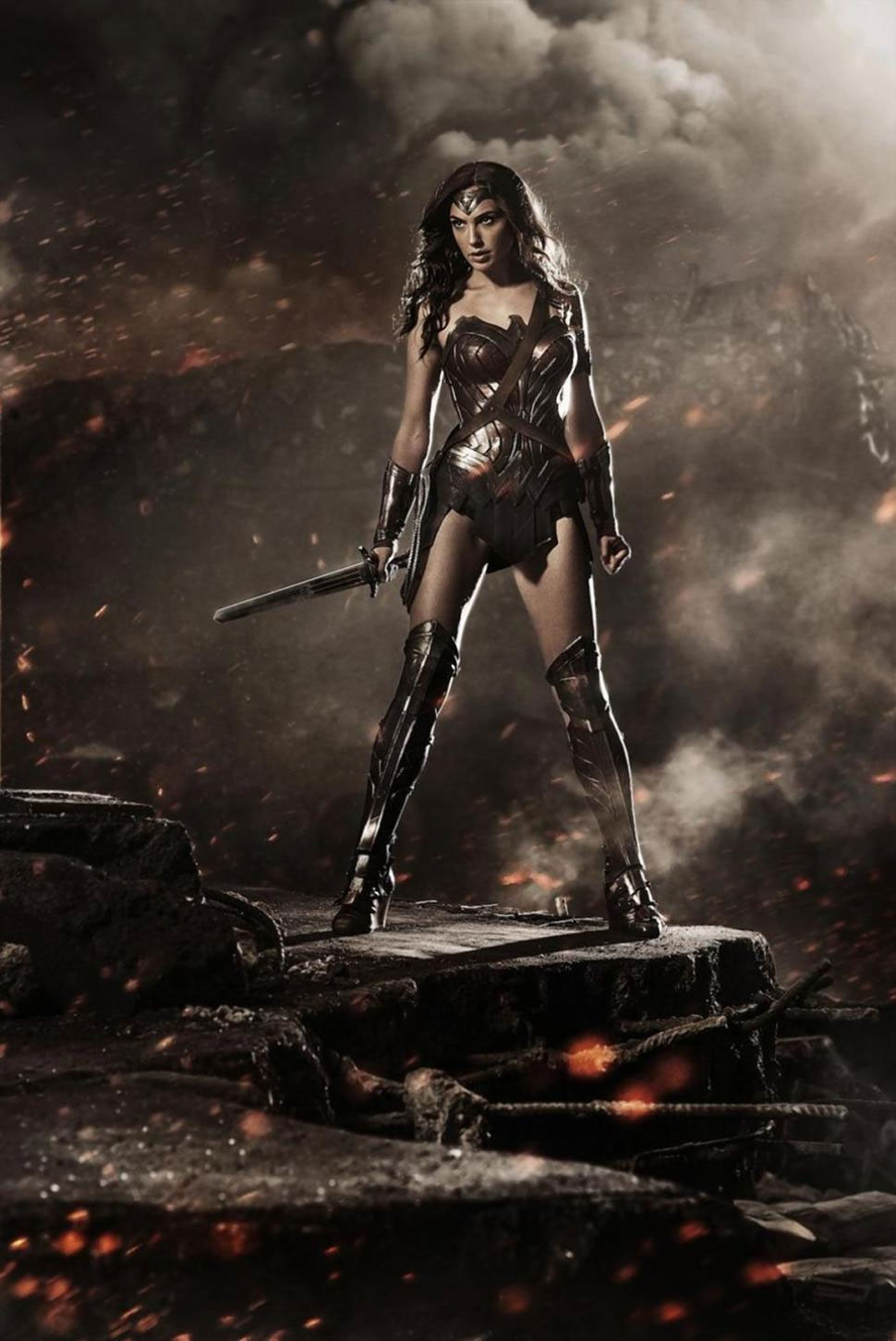 The Premium Format Figure Wonder Woman is also limited to a run of 3500 and is quite heavy with a product weight of 6.8kg (15lbs). Sideshow Collectibles also do their best to ensure that this figure is packed quite well as it comes with two boxes, depending on where it is purchased. One is an external cardboard box for additional protection and then you have the figure box that is packed with Styrofoam. In terms of assembly and given the cost of the figure, you do need to show a little care when you open up the statue and assemble this true piece of art.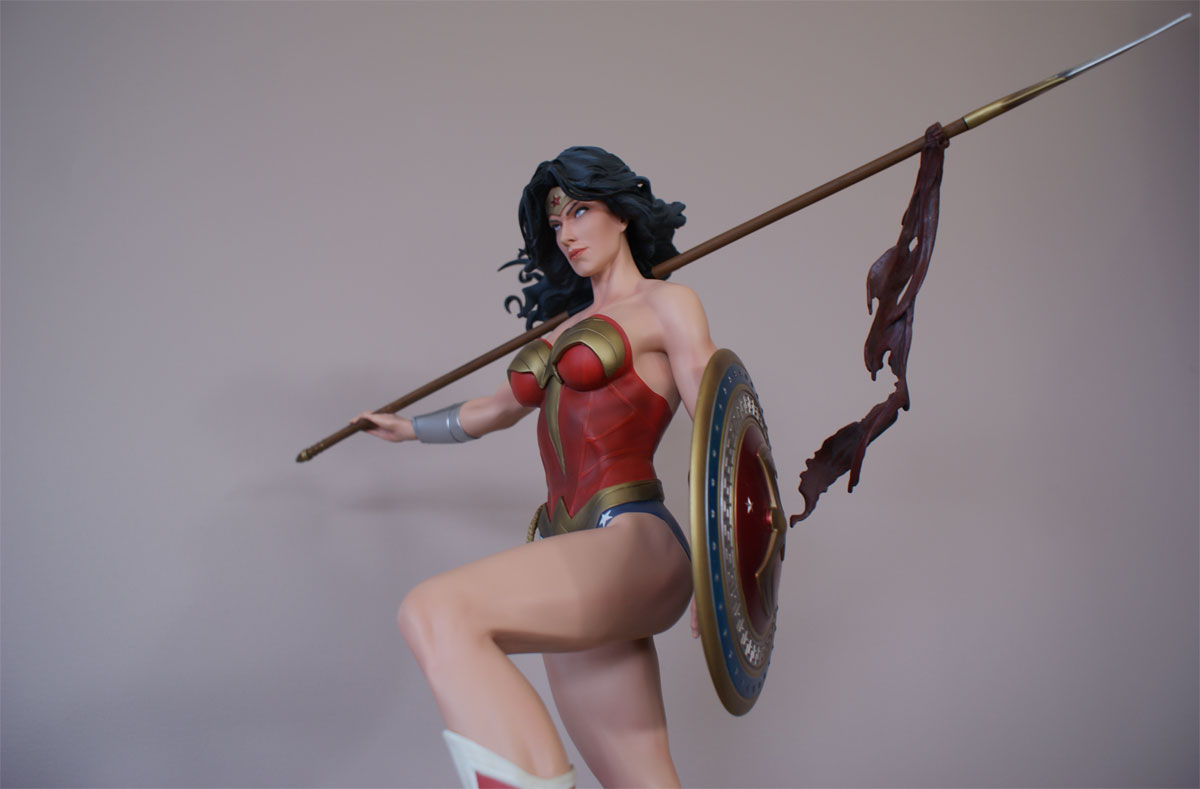 Once opened, the statue must be assembled and this includes her hair, spear and shield. I did have some issues in getting her hands/arm to attach but after some careful tweaking and pushing, I did manage to connect her shield which did require a bit of force and also her spear which rests along her back.
However the first step is to install the shield and then attach the figure to the statue base. Once attached, you can then attach the hair and the spear. When assembled, this is easily one of the most amazing statues from Sideshow Collectibles that I own, especially the pose and also her don't mess with me attitude. It's perfect and how Wonder Woman should look!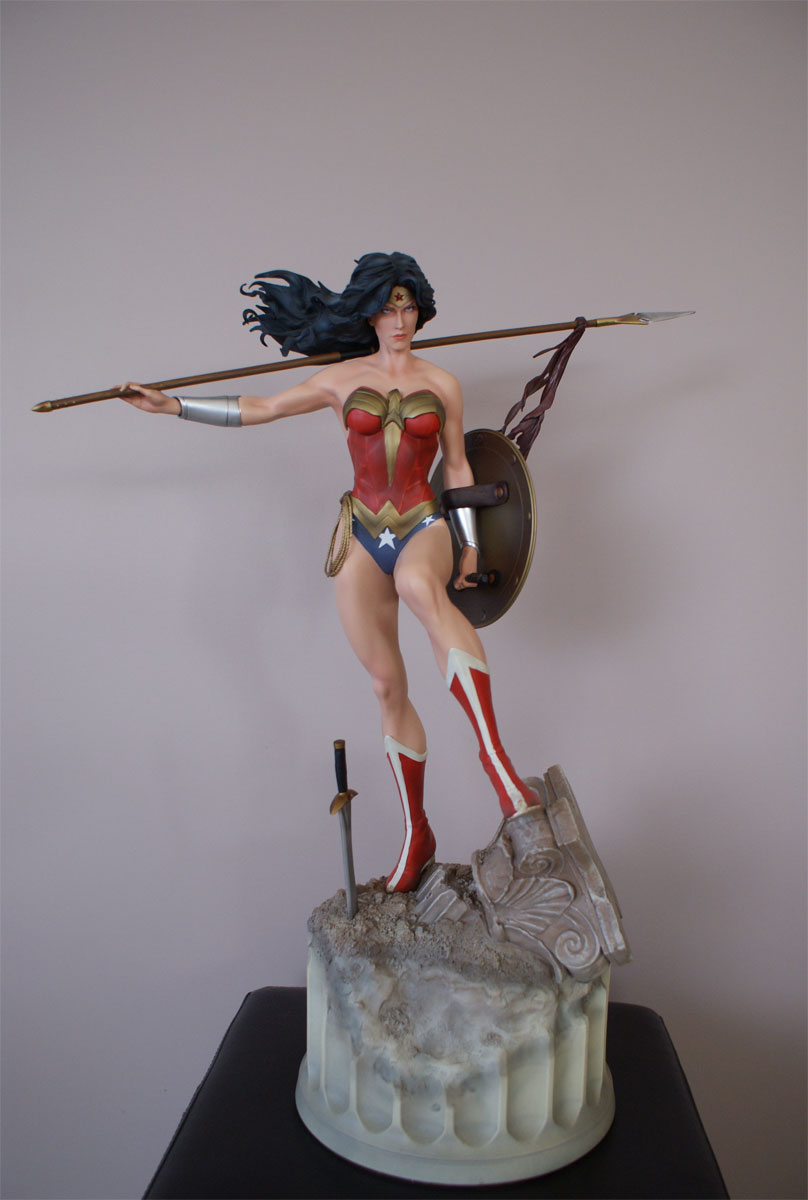 The muscle definition and feminine form of this Wonder Woman statue is perfect, especially on her back which is just ripping with power. Kudos to the designers and the sculptor! Another highlight of the statue is the shield itself that actually has more colour than the figure itself which gives it this metallic-like appearance. The sword and spear are a little muted as well but it looks like Diana has been in war, especially with the ripped cloth hanging from the spear itself.
I also like the flowing hair that gives the statue a sense of movement and you could also imagine the wind on the battlefield. To compliment the Wonder Woman mythos, Sideshow Collectibles have added her magic lasso on her right side that is clipped to a belt buckle. The lasso is not static as it can moved slightly. There is also an emphasis on her golden Eagle inspired breastplate, her Wonder Woman belt and the tiara which give the illusion that they are made from gold. Her uniform also has a good sense of 3D as well.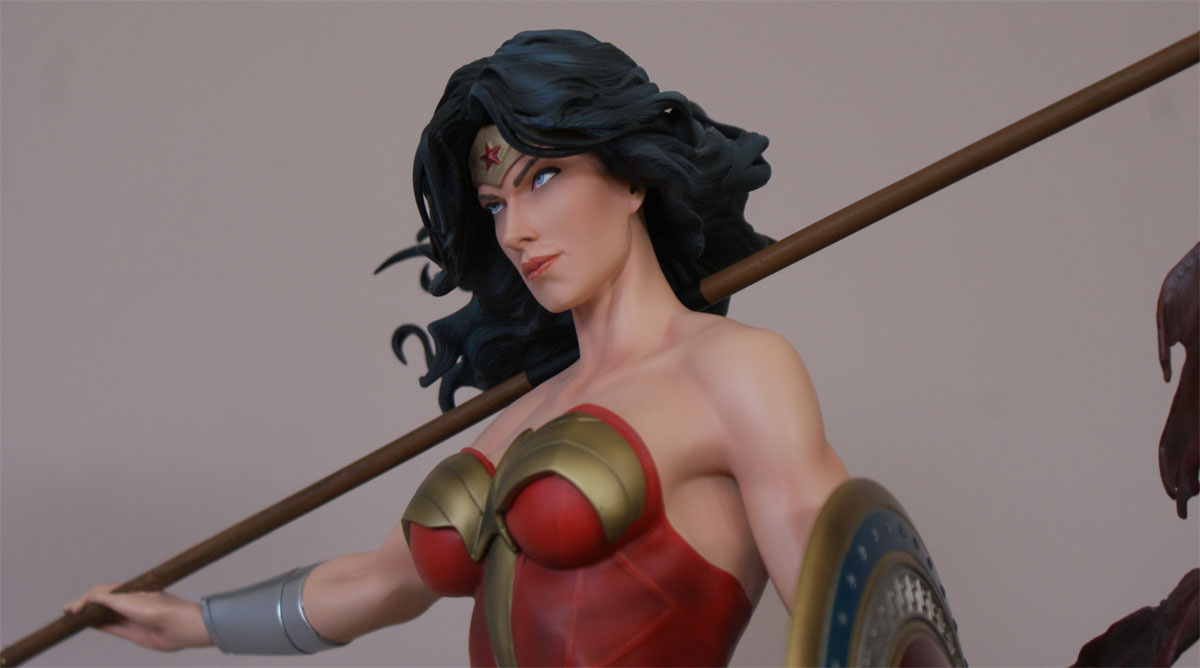 Last but not least is the face sculpture that is perfect, not only is there an exuberance of femininity but her strong features make her appear more heroic, determined and as mentioned, someone not to cross. Add in the perfect body that is attached to this Greek inspired base and it's almost like Wonder Woman is part of the Greek Pantheon of Gods and would make the perfect statue to anyone's home or office. Just be warned that you do need some decent space for this Premium Format Figure because of its height and its weight.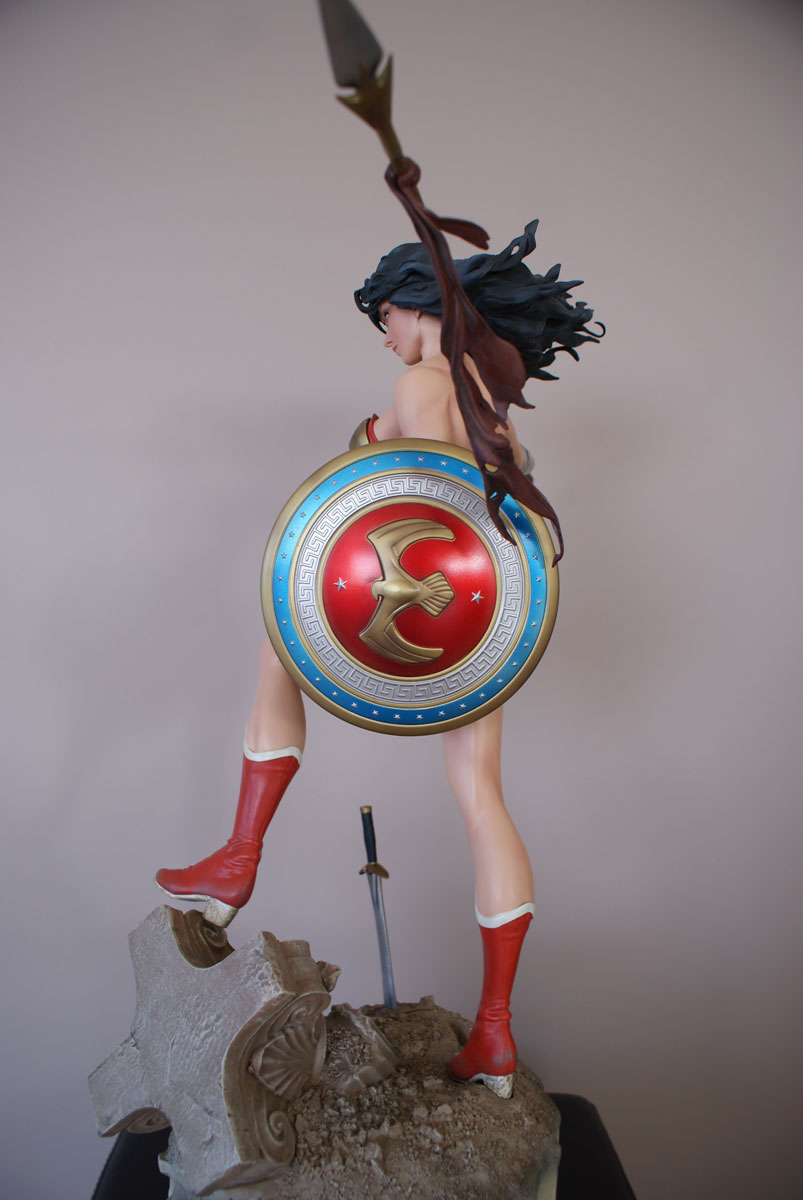 Final Thoughts?
There's a reason why Sideshow Collectibles are the number one creators of collectibles and the Wonder Woman Premium Format Figure is no exception to that rule. It's perfect in a number of ways and I love how the designers and sculptor have given the statue a more real-world appearance by giving her muted and earthy colours. So if you're a fan of high quality figures and more particularly DC Comics than this product is definitely a must have collectible for your room that comes at a RRP of $399AUD.
Highly Recommended!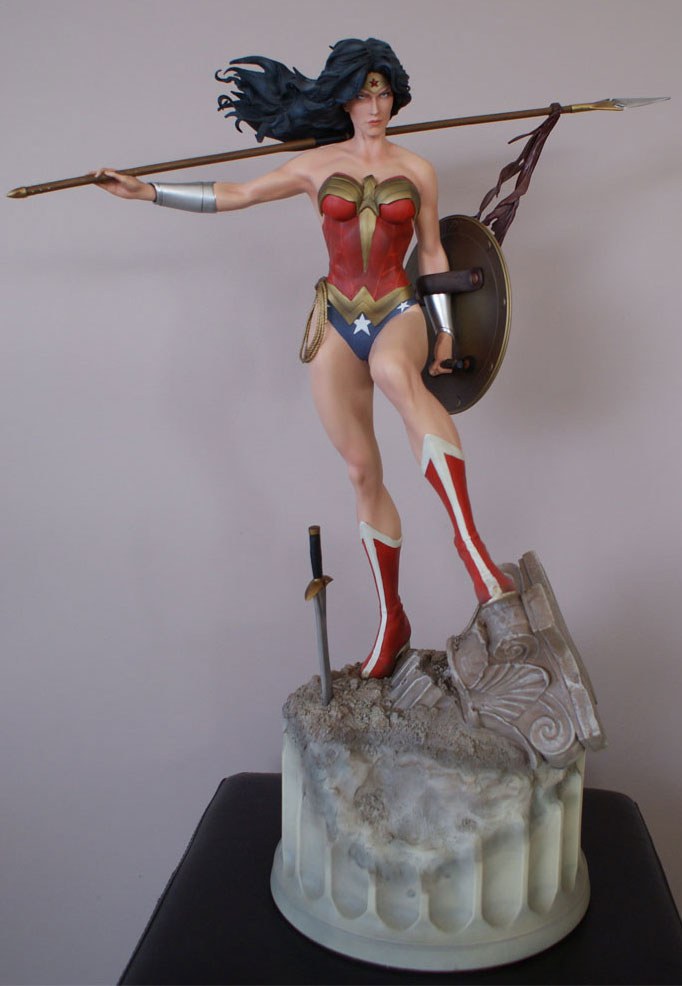 Product Summary
Joining her powerful allies of the Justice League, Sideshow Collectibles is proud to present the magnificent Wonder Woman Premium Format™ Figure.
Handcrafted with austere beauty and fierce determination, Princess Diana of Themyscira dons her iconic costume of stars and stripes, sworn to protect the world and uphold her mantle as Wonder Woman. Granted divine superhuman powers and superior combat skills, the warrior princess is ready to gracefully accept any challenge, armed with her golden Lasso of Truth, indestructible bracelets, and tiara. She carries a long spear across her shoulders, and her iconic shield grasped firmly at her side – but above all, she carries the Amazons' message of peace and justice.
Fans of the mythic DC Comics superheroine are sure to find the Wonder Woman Premium Format™ Figure an essential addition to their collection
For more information, please visit http://www.sideshowtoy.com/collectibles/dc-comics-wonder-woman-sideshow-collectibles-3001151/
For Australians, the figure is also available through Pop Cultcha at http://www.popcultcha.com.au/
Product Details
Expected to Ship: March 2015

License: DC Comics

Scale: Premium Format™ Figure

Manufacturer: Sideshow Collectibles

Product Size: 25.5″ H (647.7mm) x 21″ W (533.4mm) x 11″ L (279.4mm)*

Product Weight: 15.00 lbs (6.8 kg)*

Dimensional Weight: 37 lbs*

Int'l Dim. Weight: 51 lbs*
Product Sku: 3001151

UPC: 747720217454
Artists:
Kris Anka (Design)
Zane Yarbrough (Design)
Frank Pepito (Design)
Steven Schumacher (Sculpt)
Kat Sapene (Paint)
Sideshow Collectibles Design and Development Team
Wonder Woman Premium Format Figure Gallery