Comics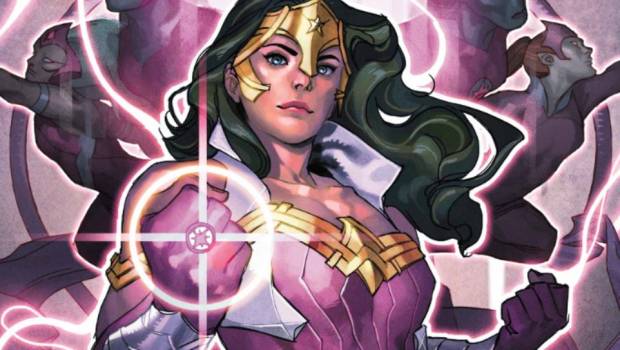 Published on June 11th, 2018 | by Andrew Bistak
Wonder Woman Annual #2 Review (2018)
Summary: Wonder Woman Annual #2 returns Diana to her Star Sapphire days!
The Wonder Woman Annual #2 was a fun diversion from the main series and is written by James Robinson and illustrated by Marc Lamming that sees Diana summoned by the Star Sapphires to battle an ancient foe as the planet of "love" (aka Zamaron) is threatened.
With its inspiration drawn from the current Dark Gods storyline, we learn about about this new character called Karnell, a once mortal now turned into a god. However with this dark pantheon leaking through the universe, Wonder Woman with the help of the Star Sapphires manage to defeat Karnell in a truly spectacular fashion, particularly with the larger than life panels by Lamming.
As this is the post-Rebirth universe, we also learn that the events of Blackest Nights is still in continuity and that the Dark Gods were affected by what also occurred in Dark Nights Metal. It's also interesting to see the new Justice League as well which nicely rounds out this comic.
Final Thoughts?
Wonder Woman Annual #2 is a continuation of the Dark Gods story, however it's great seeing Diana in a different environment, more particularly the world of Zamaron and home of the Star Sapphires. Robinson, although cliched at times successfully manages to link this story to the broader universe that is backed by the beautiful art of Marc Laming.
Gallery