Comics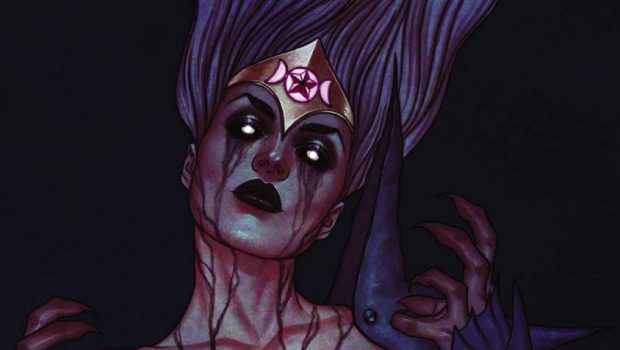 Published on October 24th, 2018 | by Andrew Bistak
Wonder Woman #57 Review (The Witching Hour Part 4)
Summary: Wonder Woman #57 brings forth The Exorcist as Diana faces the decision she made to embrace the powers of Hectate
In the previous issue, we saw Wonder Woman embrace the power of the Goddess of Magic Hectate, however her plan to use her power against this deity has failed as Diana is now a servant of this nefarious creature. Wonder Woman #57 opens up with Diana in a strange dream where she meets Witchfire who died from the Sisterhood of the Sleight Hand. We also discover that Manitou Dawn and Black Orchid are also in this strange land, however they have not awakened from their nightmare yet. It is here Diana learns that due to her heritage, she may be able push back against Hectate
Elsewhere John Constantine and Zatanna are trying to save the world as magic is being re-written and to make matters worse, John discloses that his cancer has returned after exhausting his power at the Oblivion Bar. However he receives a much needed pep talk by his former lover Zatanna who believed that an exorcist isin order. The comic also returns us to the Parliament of Trees as Black Orchid is using the powers of Hectate to destroy these protectors of the Green. Further compounding the situation, Detective Chip and Man-bat are facing the wrath of Manitou Dawn, however as a twist of Fate, she is challenged by those done wrong by the Sisterhood of the Sleight Hand led by Traci 13.
As we return to a possessed Wonder Woman, Zatanna and John Constantine attempt an exorcism on the three women controlled by Hectate and while John boldly states that the magic of Earth compels you, things go from bad to worse in moments as the issue ends with Witchfire theorising that Wonder Woman may actually now be dead. Wow what a cliff-hanger and once again writer James Tynion IV builds a bold issue with some great character development and world-building. The pacing works well as does the dialogue and when matched with the amazing art of Emanuela Lupacchio, she complements the the words of Tynion with dynamic and emotional panels.
All in all, another decent issue from James Tynion IV and co.
Gallery