Comics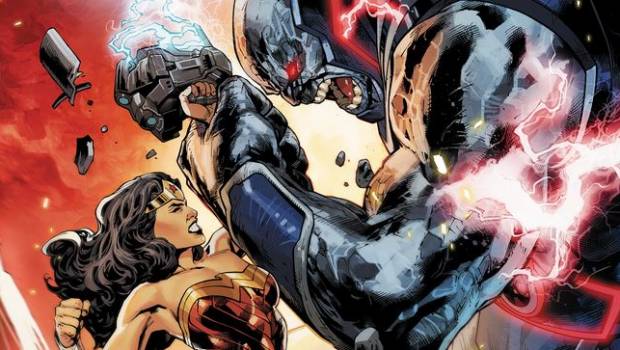 Published on April 11th, 2018 | by Andrew Bistak
Wonder Woman #44 Review
Summary: Wonder Woman #44 continues the epic story of this Amazonian princess vs. Darkseid!
Darkseid — you… MANIAC!
– Wonder Woman
… is how Wonder Woman #44 opens as Princess Diana of Themyscira uses all her might to punch the New God and former ruler of Apokolips, Darkseid. Grail, the daughter of Darkseid attempts to fight Wonder Woman in order for her father to finish his plan, however is intercepted by Diana's twin brother, Jason. While Darkseid teleported half of A.R.G.U.S. to an ancient temple in the Amazon rain forest, his furies are stealing the relics in order to fuel this dark lord's plan.
I recall, you took an eye of mine, once.
– Darkseid
We also learn that Grail and Jason were once allies and lovers as a battle ensues around them with Steve Trevor and his soldiers from A.R.G.U.S. fighting for dear life. Furthermore, Darkseid's plan almost comes to fruition as he opens a portal to Themyscira for Grail to create the ultimate army for her father, parademon Amazonians. Needless to say, it appears that our heroes are up the stream without a paddle.
We have to win this!
– Steve Trevor
I really enjoyed this issue that had this summer blockbuster feel to it with some spectacular art by Emanuela Lupacchino who helps bring James Robinson's story to life. Robinson has a great grasp on all the characters involved, particularly Wonder Woman and her antagonist Darkseid. At times, the dialogue is a little clucnky but for the most part, Robinson creates an epic story with some of the greats of the DCU.
Check it out!
… You're Darkseid's servants!
– Grail
Gallery