Comics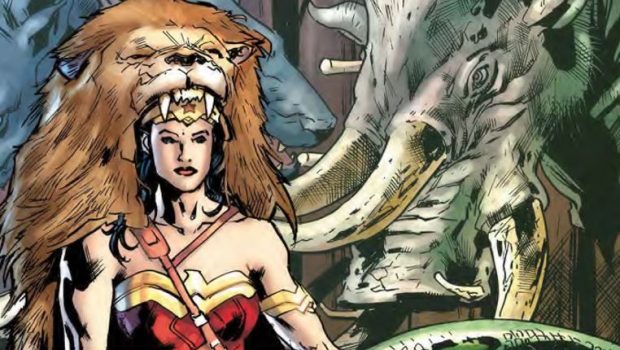 Published on October 11th, 2017 | by Andrew Bistak
Wonder Woman #32 Review (The Treasures of Hercules)
Summary: Wonder Woman #32 is driving towards something big in the world of Diana and her allies.
One of the best writers in comicdom (James Robinson) delivers his own interpretation and twist on Wonder Woman as his current arc picks up from the Paris catacombs. Under the streets of Paris, Steve Trevor, his A.R.G.U.S. soldiers and Wonder Woman encounter a Parademon invasion but before we learn of how this came to be, the story starts four hours earlier at the A.R.G.U.S. command centre.
Here Wonder Woman is trying to decipher what killed her brother Hercules as an autopsy is being performed on this fallen god. Diana also discovers that the body of Hercules has been tainted by the energies of the Apokolips and she believes that this is the work of the villainous Grail. To make matters worse, the scientist performing the autopsy then shows Diana and Steve a room full of dead bodies who were killed by the same energy… which deepens the mystery.
A.R.G.U.S. also steer Steve and Diana to Paris as there's been a spike in Apokolipsian energy and in parallels to the Wonder Woman movie, this threat is promptly ended by the Princess of Themscyra. Robinson then returns the reader to Oregon where Wonder Woman is formally given the estate of Hercules by his lawyer Mr Hooper. Wonder Woman is then given an emotional letter by her half-brother Hercules about being his heir and more importantly that her twin brother Jason is alive and well.
Robinson delivers another enjoyable issue from start to finish and I'm really liking his interpretation on Wonder Woman and her universe. He successfully links this story back to elements from the New-52 and the current Rebirth universe as the mystery deepens around Grail, Darkseid and her twin brother Jason. Furthermore, artist Sergio Davila draws a spectacular Wonder Woman and his art just jumps at you. He creates some emotional and dynamic panels that is very well suited to this character's universe and the interesting story by James Robinson.
Final Thoughts?
The Children of the Gods arc continues in spectacular fashion that definitely makes this an event story for Wonder Woman and I for one cannot wait until Diana comes face to face with Grail and perhaps even Darkseid himself.
Recommended!