Comics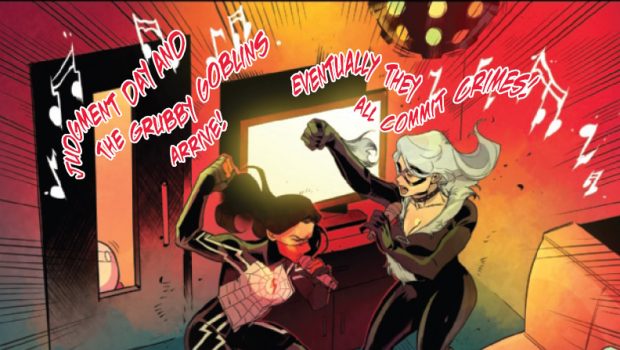 Published on March 26th, 2023 | by Tim Chuma
Women of Marvel #1 Review (2023)
Summary: An interesting collection of stories and great way of finding out about a lot of creators if you want to follow up on their work
Featuring stories including Jennifer Walters/She-Hulk, Black Cat, Silk, The Wasp, America Chavez, Kate Bishop, Photon, Ms Marvel by all women creators this is the latest instalment of Marvel's inclusivity series.
There is a framing story of Jennifer Walters arguing the defence in a trial and each of the stories is an different deposition. The stories are pretty much stand alone and you don't really need to know much about the characters to get into them which makes it easier to recommend.
I enjoyed all the stories but my favourite would have to be Black Cat and Silk being attacked my Mysterio as he didn't like their singing at the karaoke booth. His punishment is to be tied up and listening to them sing.
There are some articles in between the stories and profiles of the creators at the end if you want to find more about them. This would be great if you want to find out more creators and then have a pointer to their work afterwards.
I would recommend this one if you want something a bit lighter than the usual superhero stories or are a fan of these characters or creators.
Comic details:
Writer: Charlie Jane Anders, Rebecca Roanhorse, Victoria Ying, Melissa Flores, Shawnee Gibb, Shawnelle Gibbs
Artist: Carola Borelli, Jodi Nishijima, Stacey Lee, Giulia Gualazzi, Erica D'URSO
Colourist: Ruth Redmond, Brittany Peer, Rachel Rosenberg, Giada Marchisio
Cover Artist: Erica D'URSO
Publisher: Marvel
Published: March 22, 2023