Games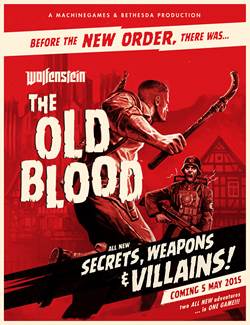 Published on May 14th, 2015 | by admin
Wolfenstein: The Old Blood now available in stores across Australia and New Zealand!
Wolfenstein: The Old Blood, the standalone prequel to the critically acclaimed first-person action-adventure shooter Wolfenstein: The New Order, is available now in store across Australia and New Zealand on Xbox One, PS4 and PC for AUD $39.95 / NZD $39.95. The adventure, which spans eight chapters and two interconnected stories, features the hallmarks of MachineGames – thrilling action, immersive story and intense first-person combat.
The year is 1946 and the Nazis are on the brink of winning World War II. In an effort to turn the tide in the Allies' favour, B.J. Blazkowicz must embark on an epic, two-part mission deep within Bavaria. Part one of Wolfenstein: The Old Blood – Rudi Jäger and the Den of Wolves – pits BJ Blazkowicz against a maniacal prison warden as he breaks into Castle Wolfenstein in an attempt to steal the coordinates to General Deathshead's compound.  In part two – The Dark Secrets of Helga Von Schabbs – our hero's search for the coordinates leads him to the city of Wulfburg where an obsessed Nazi archaeologist is exhuming mysterious artefacts that threaten to unleash a dark and ancient power.  
The Old Blood is also available via  Xbox Live, PSN, and Steam.
For more information about Wolfenstein: The Old Blood please visit http://www.wolfenstein.com.