Games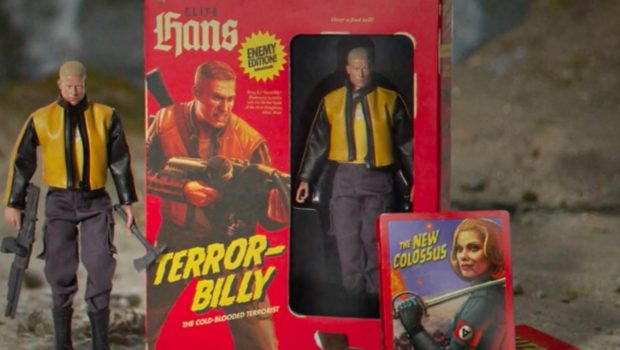 Published on June 23rd, 2017 | by Admin
Wolfenstein II | E3 announce trailer
Bethesda have just released a new cutdown version of Wolfenstein II: The New Colossus' E3 reveal trailer!
Developed by the award-winning team at MachineGames, Wolfenstein II: The New Colossus sends you to Nazi-controlled America where you'll embark on an exhilarating adventure to free the world from the evil empire's stranglehold.
You are BJ Blazkowicz, aka "Terror-Billy," member of the Resistance, scourge of the Nazi empire, and humanity's last hope for liberty. Fight back against the Nazis in iconic locations such as small-town Roswell, New Mexico, the flooded streets of New Orleans, and a post-nuclear Manhattan. Equip an arsenal of badass guns, and unleash new abilities to blast your way through legions of advanced Nazi soldiers, cyborgs, and über soldiers in this definitive first-person shooter. Only you have the guts, guns, and gumption to return stateside, kill every Nazi in sight, and spark the second American Revolution.
Wolfenstein II: The New Colossus, the highly anticipated sequel to the critically acclaimed first-person shooter Wolfenstein: The New Order, will be available worldwide on October 27, 2017 for PlayStation 4, Xbox One, and PC. We will also release the Wolfenstein II: The New Colossus Collector's Edition, which includes a 1/6 scale 12-inch action figure of the game's Nazi-killin' hero BJ Blazkowicz, equipped with an arsenal of accessories, the eagerly anticipated game inside an exclusive metal case, and a 9″x14″ Blitzmensch poster.
Check out the Collector's Edition trailer here: https://www.youtube.com/watch?v=dIfiYVQRFSY&feature=youtu.be  
For more information about the game please visit wolfenstein.bethesda.net.