Comics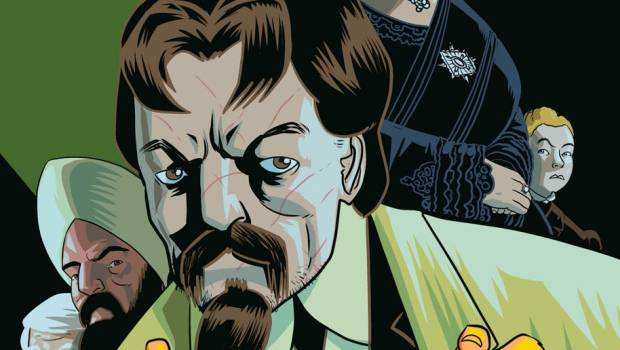 Published on May 23rd, 2018 | by Dana Folkard
WITCHFINDER: THE GATES OF HEAVEN #1 & 2 REVIEW
Summary: Sir Edward Grey is back with another thrilling adventure!
Occult advisor to the Queen, Sir Edward Grey, is back with another mystifying Witchfinder tale, which delves into the paranormal underground of Victorian Gothic London. Penned by the legendary duo, Mike Mignola and Chris Roberson, with art by the talented D'Israeli and Michelle Madsen, this team of creatives join forces to spin Witchfinder: The gates of Heaven, another compelling chapter in the Hellboy universe.
This tale begins in London 1884, where we see Sir Edward Grey doing what he does best: investigating paranormal encounters. Random ghost sighting have been occurring around London, with ancient artefacts disappearing with each new sighting, sometimes accompanied with a strange death. After a personal invitation arrives from the Royal Palace, summoning him to attend an urgent meeting with the Queen, Grey finds himself tangled up in an underground supernatural/scientific organisation, who call themselves, The Foundry. Grey then finds himself swept up in an investigation filled with mysterious artefacts, ancient technologies, a mad scientist and an encounter with his old enemy, The Heliopic Brotherhood of Ra.
It's so very good to have Sir Edward Grey back with one of his paranormal adventures. There is always a wonderful sense of intrigue and mystery surrounding a Witchfinder story, and for me most of the fun comes from the suspense and lurking sense of unease. I'm also a sucker for Victorian Gothic horror, and I guess that a lot of the appeal with a Witchfinder story comes from the era and location that these stories are set. There is something wonderfully spooky about Victorian London, summoning imagery of streets blanketed in fog, midnight seances, secret societies and the glow of candlelight in empty mansions. Thankfully for those, who like me, have a love affair with this genre of horror, will find that The Gates of Heaven abound in these classic horror tropes. Yay!
One thing that catches my attention with this story is the level of detail that we see. One of my favourite things about period stories is when topical slang is used in the dialogue and banter between characters. Expect to see plenty of characters saying all kinds of colourful curses and lots of blimey's. Grey's banter is excellent, and I really love his moody quips and no-nonsense way of talking to people. You really get a sense of the kind of guy he is, and if you're familiar with previous arcs, you'll understand why he is this way. Speaking of characters, we some familiar ones make an appearance, but also some new and interesting ones as well. I'm looking forward to seeing more of these new characters and what they will bring to the story.
With the new arc, comes a new standout artist drawing this Witchfinder adventure. I've always loved D'Israeli's art, finding his style to be truly unique and original. I think his art fits perfectly with this story, capturing the Victorian aesthetic wonderfully. I especially love how highly animated the expressions are on the characters, making many of their reactions almost appear like they have come straight out of a period horror film. There is quite a lot of heavy inking throughout this story, which does a great job at emphasising dimly lit rooms and faces lit by candlelight. Michelle Madsen is once again the colourist for the series, providing a dark and moody palette that captures the eerie ambience of the narrative. I quite like how the colouring works alongside the heavy inking to gives a clever effect of light and perspective. It works really well and makes for some compelling imagery.
Overall, I think that the new arc is off to a solid start, with clever writing and lovely art coming together in a cohesive way. The story is setting itself up to be another intriguing tale of mystery and suspense, and I can't wait to see how the new characters will be fleshed out.
I'm giving this issue 5 out of 5 stars!
---
COMIC DETAILS
CREATIVE TEAM: Mike Mignola, Chris Roberson, D'Israeli and Michelle Madsen
PUBLISHER: Dark Horse Comics
GENRE: Supernatural/Horror
PUBLICATION DATE: May 23, 2017
REVIEWER: Dana Folkard