Comics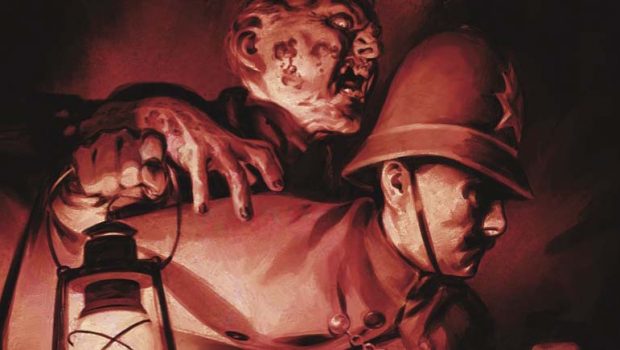 Published on November 29th, 2016 | by Dana Folkard
WITCHFINDER: CITY OF THE DEAD #4 REVIEW
Summary: Sir Edward Grey courts damnation as he tries to save London and his Queen.
The dark forces that threaten to invade London are gaining strength and growing in power right under Sir Edward Grey's nose. As Grey seeks answers to unlock the mystery of the underground temple and it's connection to Giurescu, time is ticking away as a fate far worse than death lurks ever closer. The manhunt to find Giurescu is on!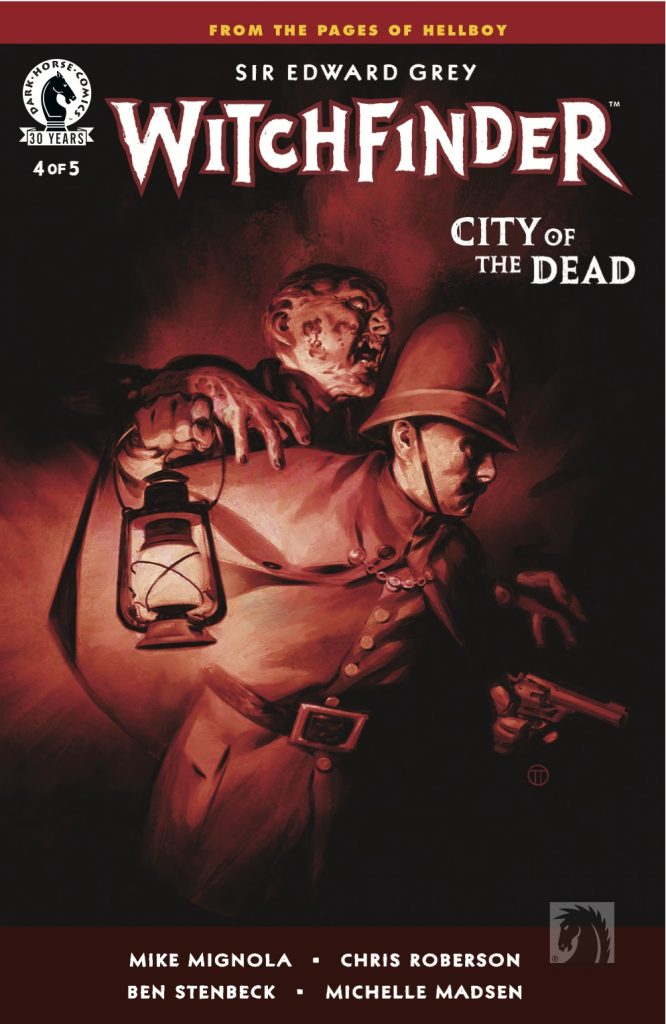 Witchfinder: City of the Dead #4 delves into the London underground, as we explore it's many tunnels, caves and hidden crypts looking for Giurescu and his hidden army. We begin this issue right where we left off in #3, Grey and company are surrounded by a group of menacing and hostile snakes in the underground temple. After fighting them off, they narrowly escape as the entrance to the temple comes crashing down, sealing it off from them for good. The threat is all too real for Grey and he calls for the assistance of the entire police force to aide him in the search for Giurescu. Whilst the police force delves deep under London, Grey seeks answers above ground, investigating the charcoal rub that Miss Goad took of the strange carvings from the temple. Grey is convinced that Giurescu is in league with a much more dangerous and powerful force and that the answers to this are hidden within the temple and its carvings. Desperate times call for desperate measures, as Grey decides that he must take matter into his own hands. The question is, will he beat Giurescu at his own game?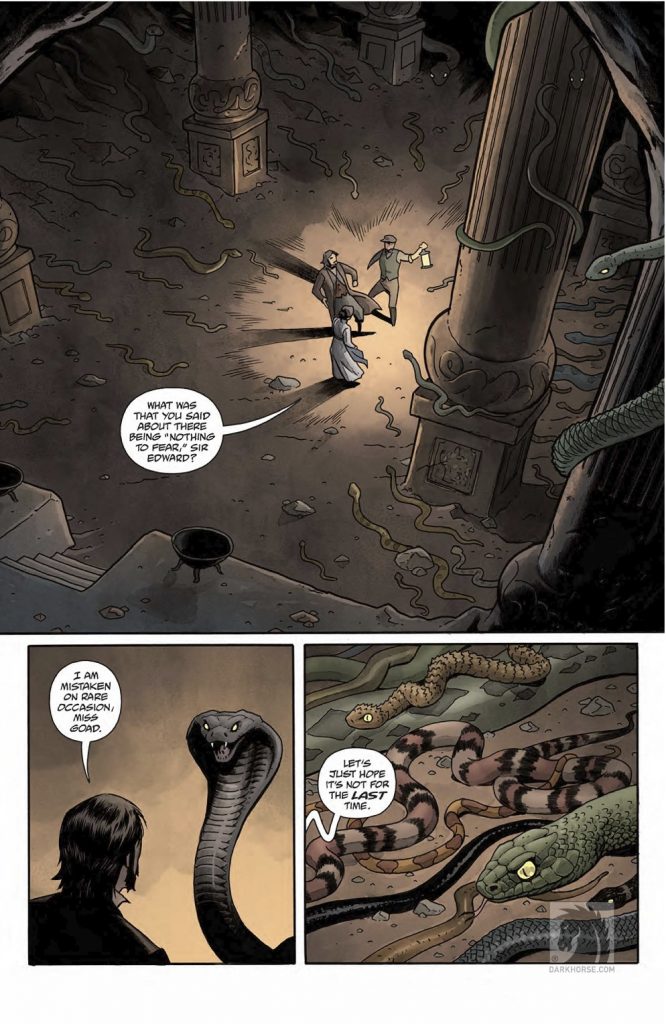 Mike Mignola and Chris Roberson have increased the overall tone of anxiety and fear with this issue. There is a real sense of desperation within Grey and it feels like panic is starting to set in, as he hurriedly tries to find Giurescu. I rather enjoy the contrast of Grey's internal monologue compared to his direct speech. He is always full of witty dialogue and comebacks that are very Victorian and British in the way that they are delivered. Even during the moments where he is in immense danger, it isn't unusual to hear Grey address his enemy in a gentlemanly way or describe his weapon of choice so eloquently. Grey internal monologue reveals a clever and calculating man but the wit and humour are replaced with fear and loathing. Grey is clearly concerned and you can't help but sense his feeling of powerlessness over the entire situation.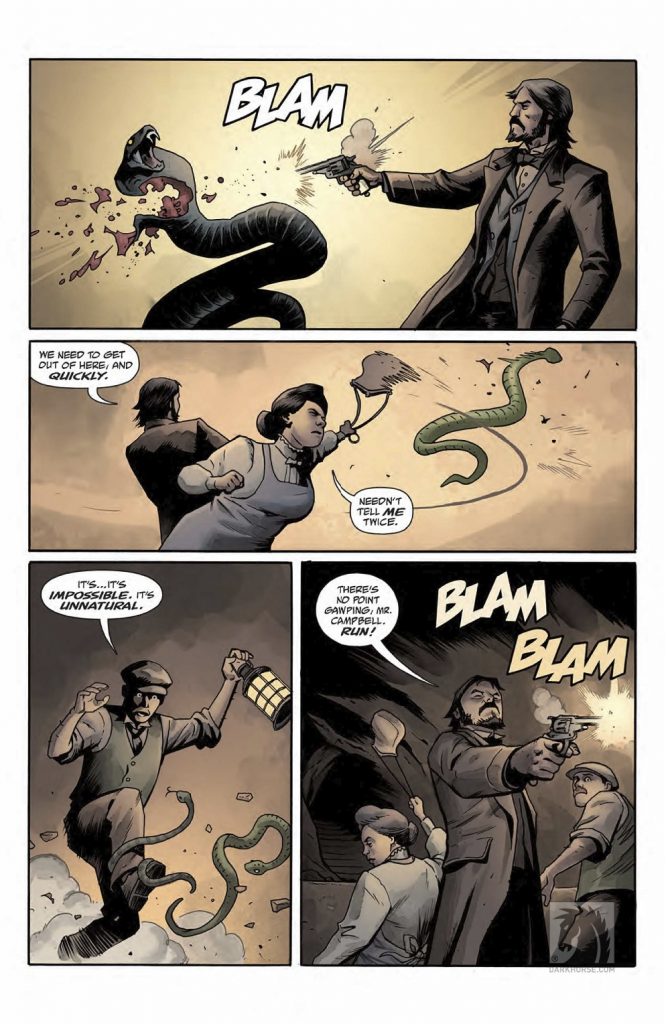 Ben Stenbeck's art is wonderfully grim in this issue. We see many austere settings, from the dreary tunnels and vaults to the dark and haunting streets of London during the night. It's spooky as all hell and he does an excellent job at capturing a ghostly and sinister side of Victorian London. There is always a lot of detail in Stenbeck's panels and no space goes to waste. A lot can be revealed from taking the time to look and search for hidden clues, which often reveal little snippets of information relating to the story. Stenbeck also captures movement really well, with the feeling of fluidity during many of the action and scenes. Colourist, Michelle Madsen, reinforces the overall gritty look of London. It looks and feels dark and haunting with a muted colour palette. I also find that the muted colour palette is effective is highlighting the moments when we see pops of colour, like the piercing eyes of Giurescu or the warm glow of Grey's lamp.
Witchfinder: City of the Dead #4 delivers us another spine tingling instalment to this uncanny story. The mood is tense and filled with a sense of unease, which matches Grey's concerned and troubled mind. I'm excited to see how this story will end and what will happen to Grey as he courts damnation and tries to save London and his Queen.
I'm giving this issue 4 out of 5 stars!
Comic Details
Title: Witchfinder: City of the Dead #4
Publisher: Dark Horse Comics
Creative Team: Mike Mignola, Chris Roberson, Ben Stenbeck, Michelle Madsen
Reviewer: Dana Folkard