Comics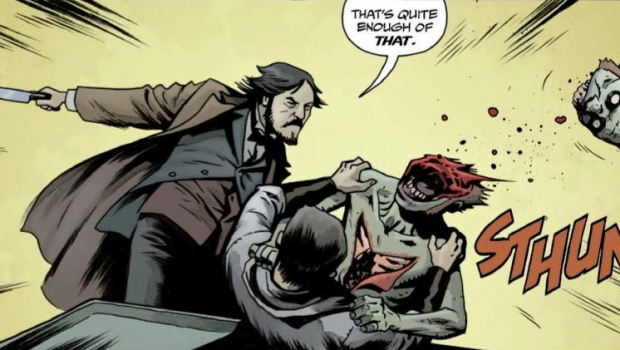 Published on August 16th, 2016 | by Dana Folkard
WITCHFINDER: CITY OF THE DEAD #1 REVIEW
Summary: This issue has laid the foundations for a dark and chilling story that I believe will appeal to many
4
Another chilling and mysterious case
We see the return of the curious Sir Edward Grey in Witchfinder: City of the Dead #1 with yet another tale of the strange and uncanny events that occur when you're the occult advisor to the Queen. Writers Mike Mignola and Chris Roberson, along with artist, Ben Stenbeck, have joined forces again to bring us a dark and mysterious tale that reads like it's come straight from the pages of a Penny Dreadful.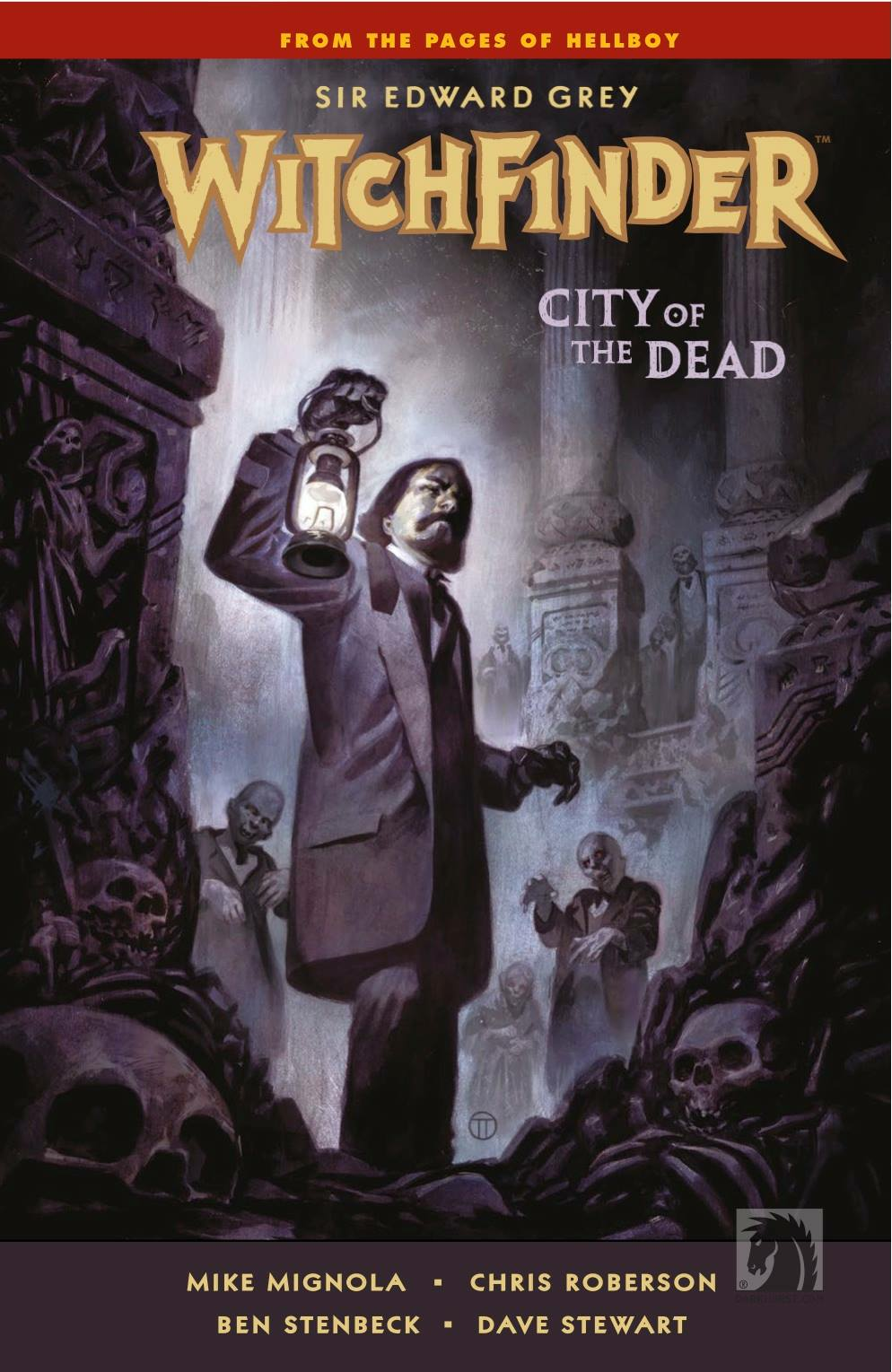 Our story begins in 1882 in London, during excavation work on the train station under the Tower of London. A pit is discovered that leads to a peculiar temple-like structure that possesses a deep sense of dread and foreboding. I actually wouldn't have been surprised to see some sort of Book of the Dead or the Necronomicon sitting there in the centre of the room on a dais. The mood and tone is set and from here the story progresses rather quickly as we join Sir Edward Grey on a puzzling case involving unpleasant encounters with flesh-eating corpses that are plaguing the streets. Grey also confronts his old enemy, August Swain, from the Heliopic Brotherhood of Ra. Naturally tensions are high as Grey's history with the Brotherhood has resulted in personal and tragic losses, which will be something he'll never forgive or forget.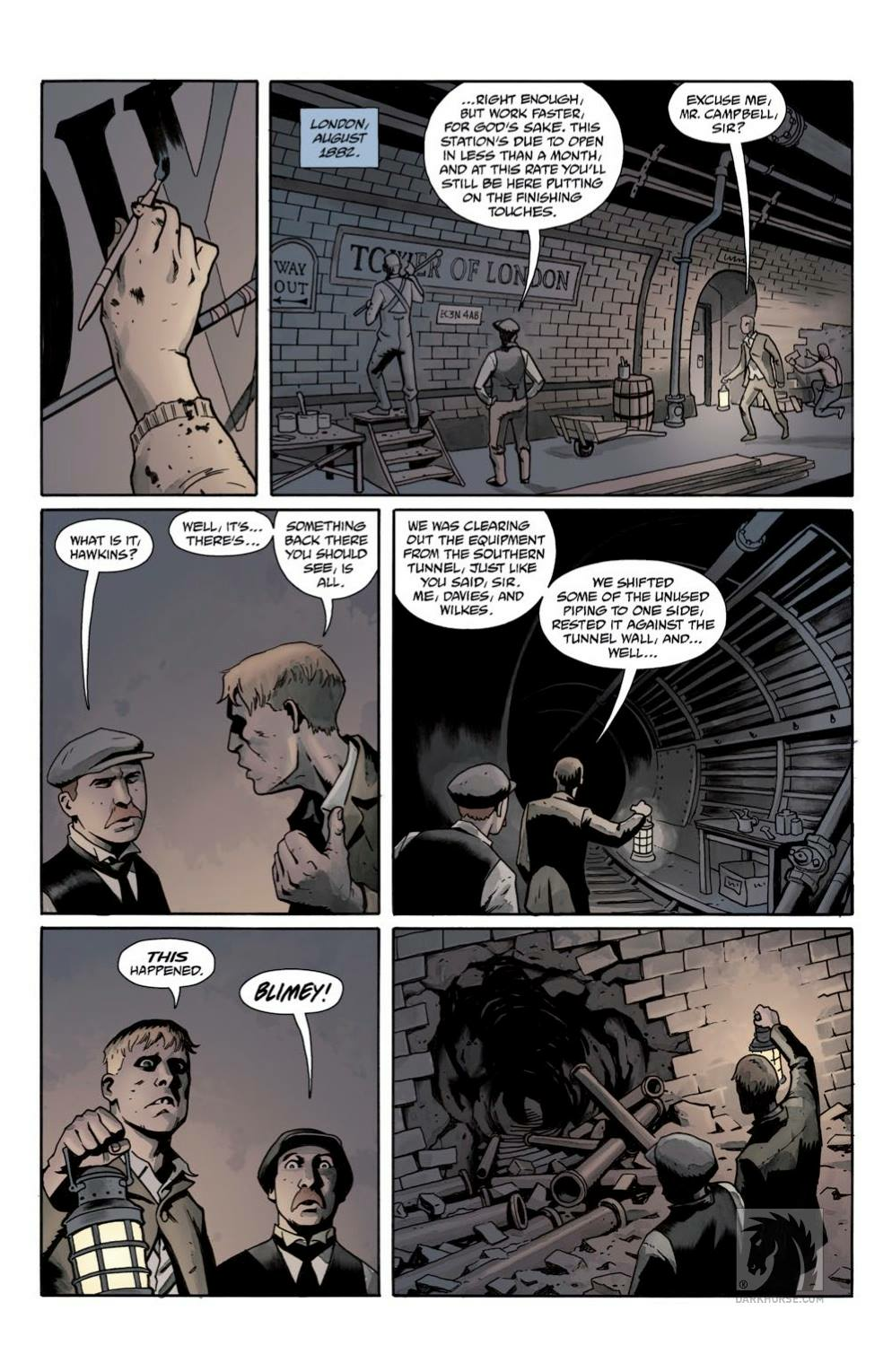 This is the first time that we see Mike Mignola and Chris Roberson come together to co-write a Witchfinder series. If you're a fan of Hellboy or the BPRD then any Witchfinder story is going to appeal to you, as it's kind of a predecessor to those series and there is a lot of lore and mythology littered throughout its pages. It'll also appeal to anyone who loves a good ol' Victorian era tale of horror and suspense…and who doesn't love a story like that? There is a real richness that comes from reading a Witchfinder story, as it's cleverly written, full of history and lore with bucket loads of eldritch horror and references to pulp horror stories. In this issue we get to see a much more troubled Sir Edward Grey, who is wary and distrustful of his fellow man. By this point he has seen and experienced some traumatic encounters and personal losses. He is naturally suspicious of those around him and is quick to question people's motives and actions, even those that are trying to help him. It's always interesting to see Grey's private reflections, as I believe that they reveal a lot about the character. He is complex and guarded and after years of solving some of the greatest and most disturbing mysteries, appears almost weary and apathetic. Mignola and Roberson have left us a lot of unanswered questions and loose ends, which in a way makes it feel like we have a lot of future detective work to do with Grey. I'm intrigued and want to know more about the mysterious underground temple and its link to the reanimated corpses. I have my suspicions but I'll just have to wait and see.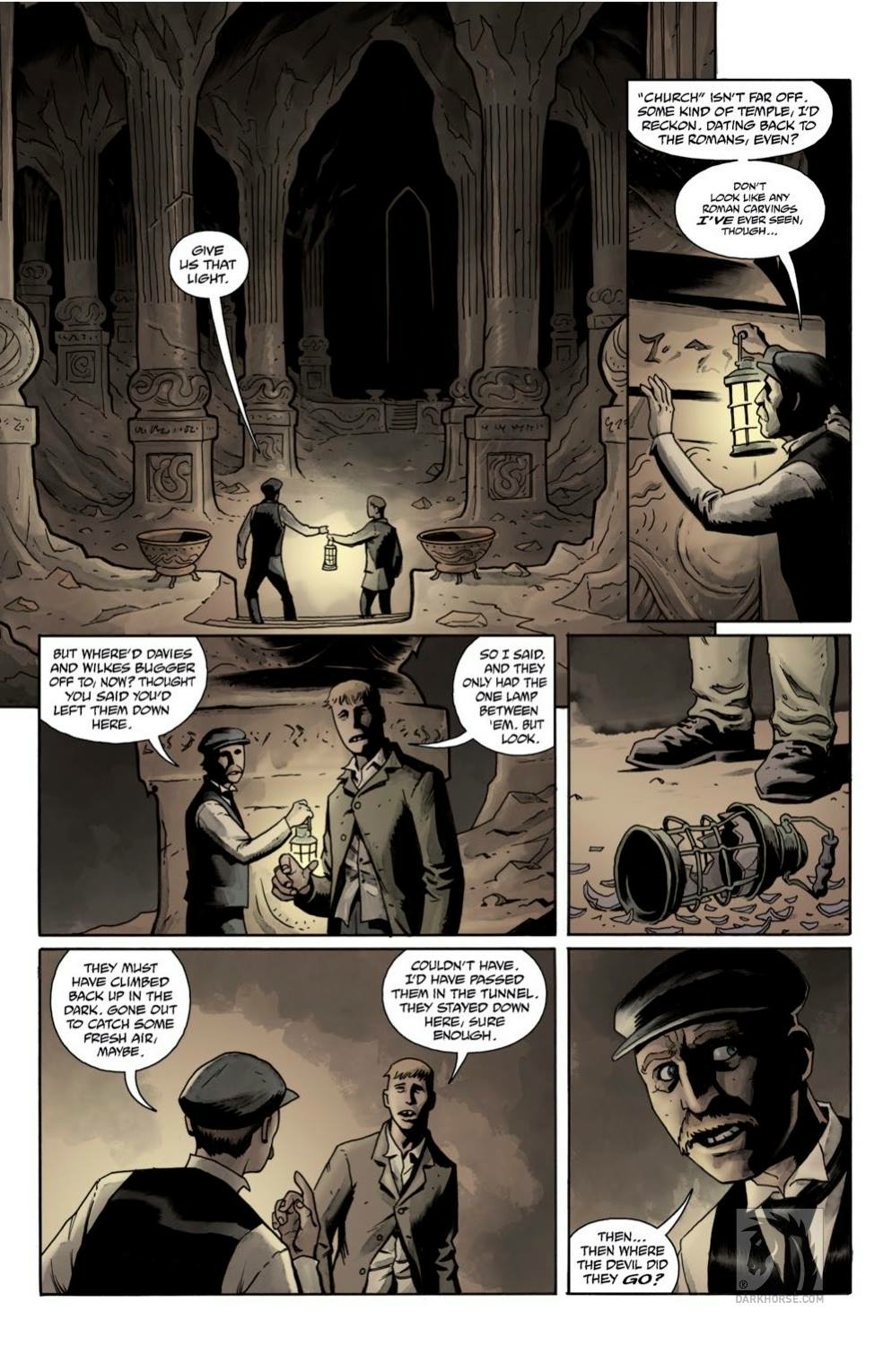 Ben Stenbeck was the original Witchfinder artist and it's great to see him return once again to the series, drawing Sir Edward Grey and his dark Victorian London. He has an ability to set a very unsettling and atmospheric mood to the story. This is often achieved through many of the haunted and grotesquely detailed faces that he draws. We can see the stress and anxiety in these faces and it cements the whole tone from an emotional perspective. Stenbeck is also excellent at drawing a Victorian world that is set in a supernatural setting .You really feel immersed in a world of haunting gothic architecture, dreary streetscapes and foggy graveyards…just what you expect to see from any Victorian ghost-story. Colourist, Michelle Madsen, also does a lot to heighten the overall eerie and ghostly tone of the story. She uses a lot of dull and muted colours and there really isn't much in the way of bright colours to break through this. It's very clever and effective and amps up the spooky ambience.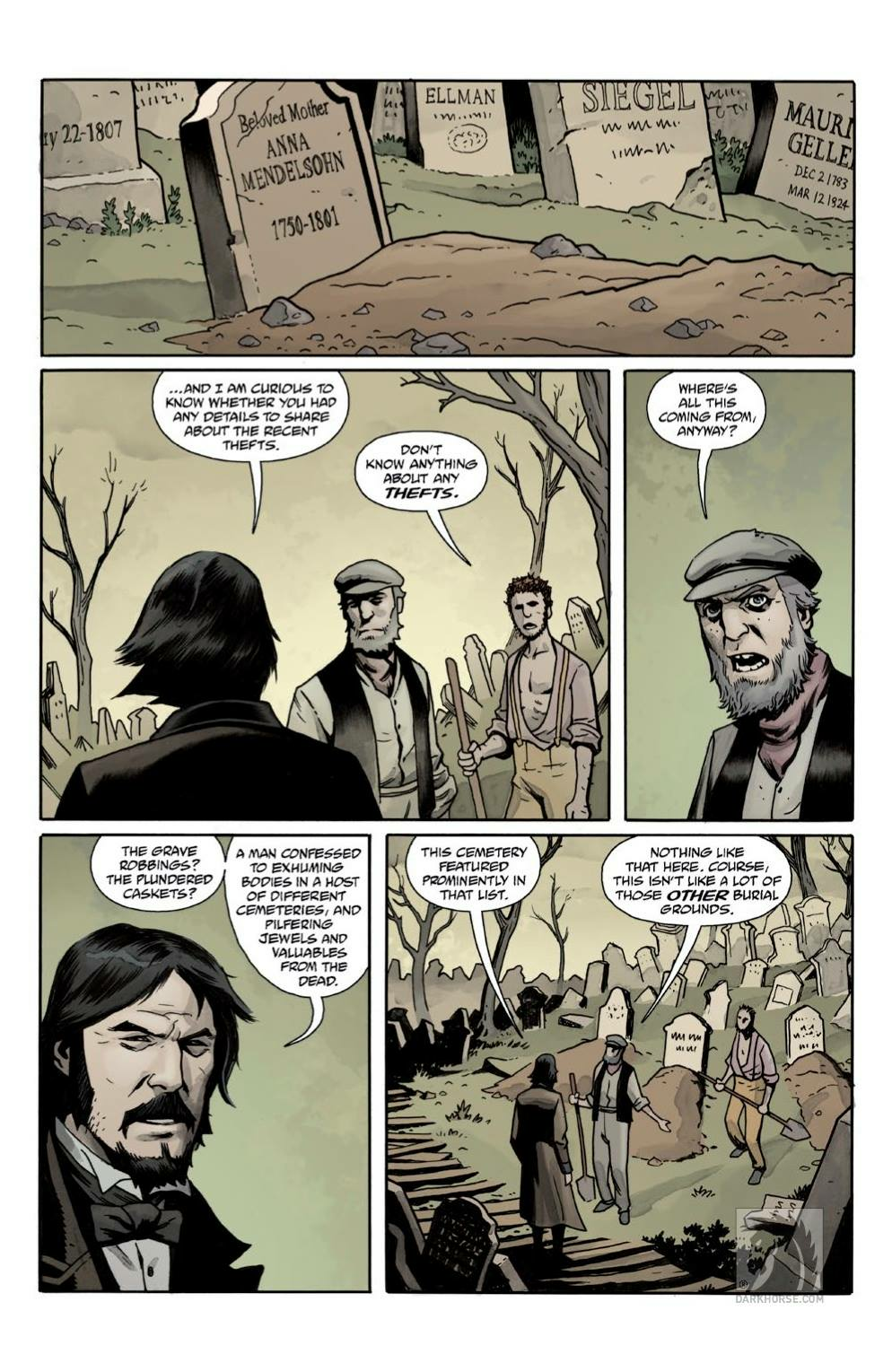 If you love a story set in Victorian era London about flesh-eating corpses, occult detectives and practitioners of the dark arts, framed in a Lovecraftian way, then Witchfinder: City of the Dead is the series for you. Issue #1 has laid the foundations for a mysterious and gripping story that I believe will appeal to many. I'm looking forward to seeing where it is going to go and how these guys are going to "flesh out" this story of the undead!
I'm giving this issue 4 out of 5 stars!
Comic Details
Title: Witchfinder: City of the Dead #1
Publisher: Dark Horse Comics
Creative Team: Mike Mignola, Chris Roberson, Ben Stenbeck, Michelle Madsen
Reviewer: Dana Folkard