Comics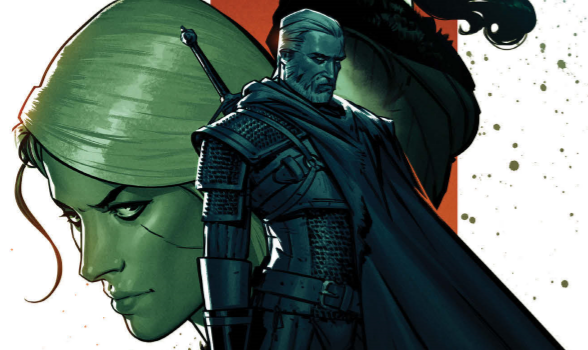 Published on June 2nd, 2017 | by Dana Folkard
THE WITCHER: CURSE OF CROWS TPB REVIEW
Summary: A dark tale filled with interesting plot developments and lovely art that will satisfy any Witcher fan.
4
Engaging and compelling!
Delve into the wild world of The Witcher, with this dark tale about cursed monsters, bitter revenge and tragic tales of loss and regret. Join Geralt as he ventures on a quest where he learns that the past can come back to haunt you in more ways that one. The Witcher: Curse of Crows TPB collects all five issues of this miniseries by writer Paul Tobin, artist Piotr Kowalski and colourist Brad Simpson in one complete collected volume.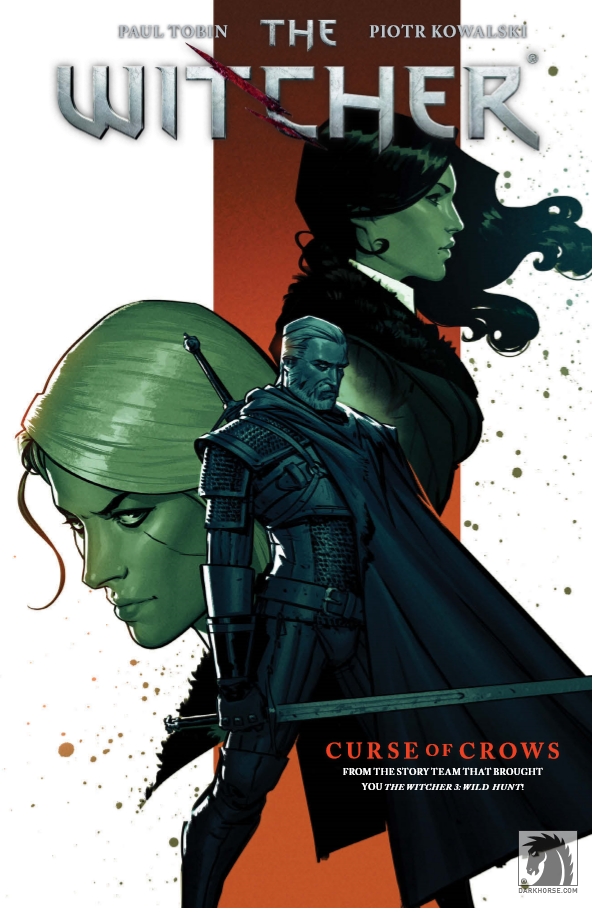 We begin this story following Geralt and Ciri as they make their way to the city of Novigrad to investigate a monster contract. Along the way they encounter all manner of beasts, ranging from bumbling trolls, a man who poses as a Leshen, nekkers, werewolves and a rather crafty doppler. After a few days and multiple stops at bathhouses, Geralt and Ciri finally make it to Novigrad, where they meet with Priestess Maerlina, who is the owner of a bathhouse that was recently attacked by an aggressive monster. After gathering information from Maerlina, Geralt and Ciri agree to take on the contract to catch a cursed creature called a Striga. Once they agree on a price, Maerlina requests that they also keep an eye out for her troubled son, who just so happens to be able to shapeshift into a crow whenever he fancies. Geralt and Ciri soon discover that not everything is as it seems, as this isn't your regular monster contract. Filled with flirtatious encounters, heroic feats, monster slaying, tragic curses, regretful decisions and lessons learnt from foolish mistakes, this is one quest filled with unexpected turns.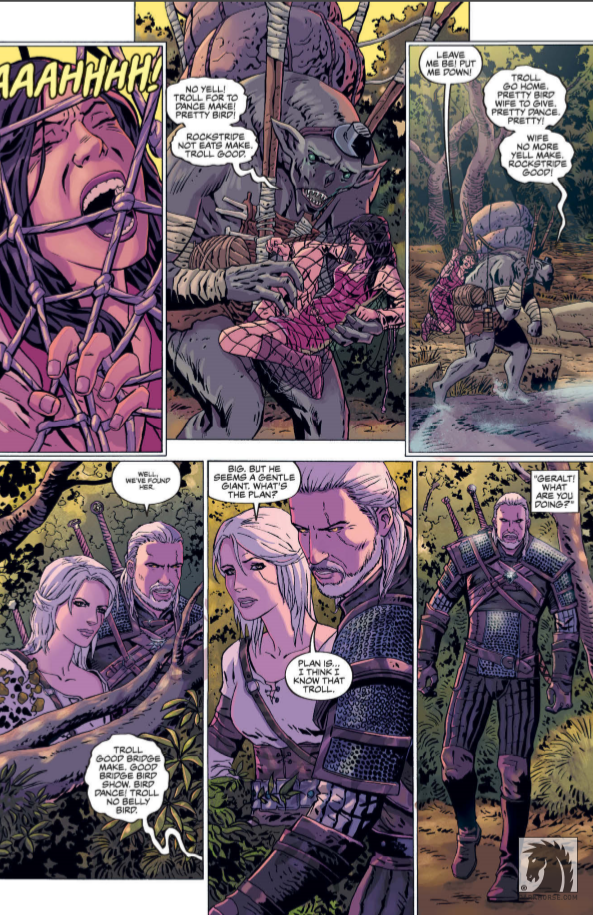 Paul Tobin weaves an exciting and engaging tale that feels like it has come straight out of the world of The Witcher. Tobin has done an excellent job at capturing the true essence of these much-loved characters. The story is clever and well thought out, with an interesting and tragic origin that fits in perfectly in this war-ravaged world. Delving into a well-established world, with a lot of history and lore and pre-existing characters is an immense task but I credit Tobin for executing a story that feels both genuine and authentic. I also appreciated that the main focus of this story, the Striga contract, directly relates to the old games, and hearing Geralt recount his first battle with the beast was like being retold an old story that I haven't heard in a long time. Overall, this is a dark and gritty story with incredibly sad and tragic things that occur throughout, however, it is cleverly balanced with a lot of light humour and comic relief that never feels forced or out of place. I'd describe it as a dry and somewhat sarcastic tone, which reflects Geralt and his unique brand of humour perfectly. I also enjoyed seeing Yennefer make an appearance, as I find her cynical and mocking attitude to be a personal highlight, especially when she is having an exchange with Geralt. Their banter is funny, and for me Tobin captured their tumultuous and confusing relationship exactly as it should be.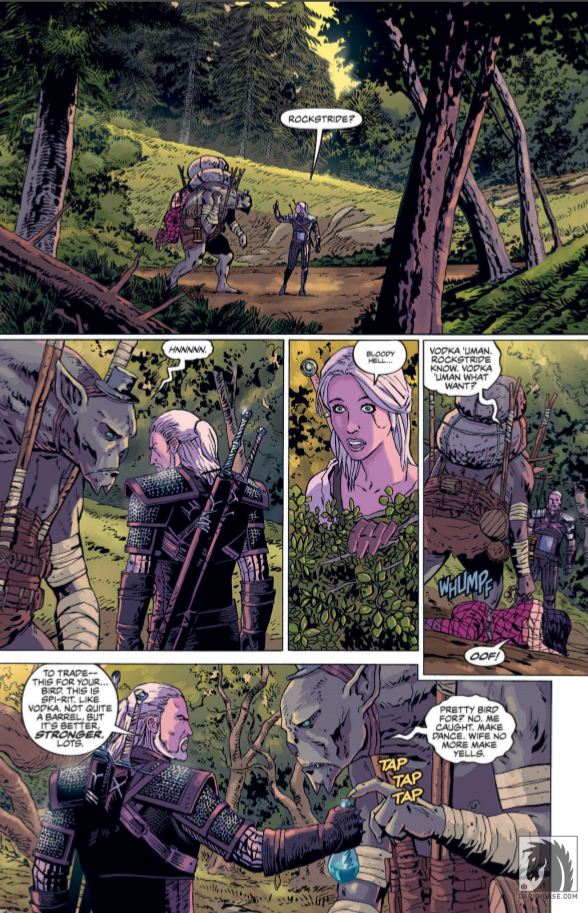 The art by Piotr Kowalski is both dynamic and compelling. There is a grittiness to his art that helps to establish the dark and intense tone of the story. I enjoyed seeing characters I've come to love, drawn and reimagined in Kowalski's style. He brings a fresh perspective, without changing the aesthetics of this world and the characters that we've come to know and love. I particularly enjoyed seeing the wonderful variety of monsters and vile creatures, and I felt that he captured the dark and evil nature of these beasts so well. I should also mention his wonderful action sequences that oozed epic swashbuckling appeal. There is a sense of movement during these scenes that flows in an effortless way. Colourist, Brad Simpson, effectively heightens the overall mood of the story. There is also a wonderful sense of light that is achieved through the colour palette, whether it be the early morning light coming in through the window of a dusty tavern or a glowing red sunset reflecting over the water. I also thought that the muted colouring used during the flashbacks was clever in establishing that these scenes were set in the past.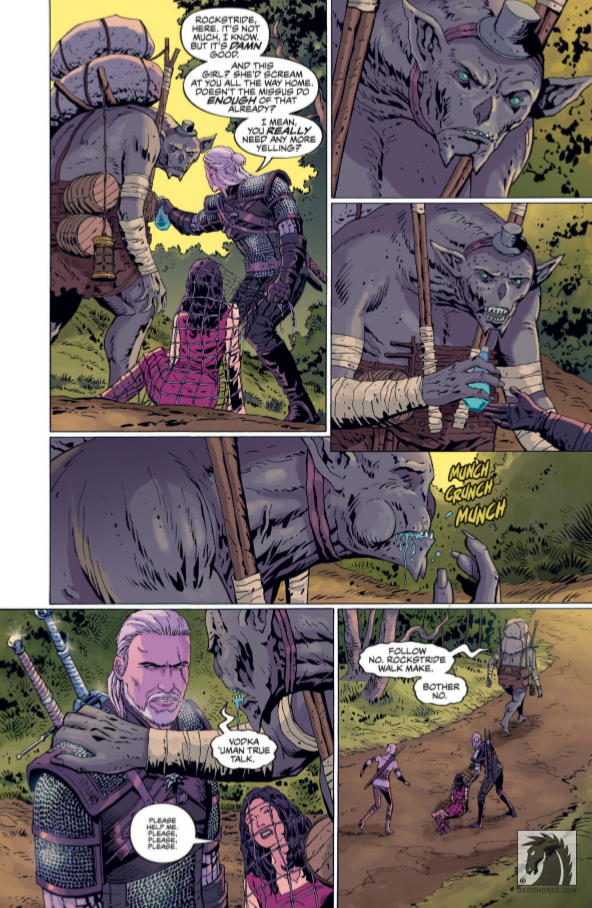 Overall, I enjoyed chasing monsters on this wild adventure with Geralt and Ciri. The story was engaging and had a few interesting plot developments, and the narrative kept its momentum with some exciting twists. The art is compelling and full of energy, matching the pace of the story as it progresses. As a Witcher fan and a huge lover of Geralt, I found this story to be faithful to this world and the characters that inhabit it, delivering an engaging and exciting read.
I'm giving this TPB 4 out of 5 stars!
---
TPB DETAILS
CREATIVE TEAM: Paul Tobin, Piotr Kowalski and Brad Simpson
PUBLISHER: Dark Horse Comics
PUBLICATION DATE: June 21, 2017
REVIEWER: Dana Folkard