Films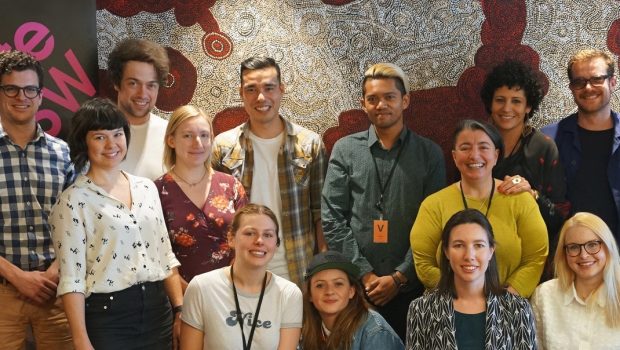 Published on October 11th, 2017 | by Damien Straker
Wintergarden Pictures' First Project Receives Create NSW Funding and SBS Deal
New independent film production company, Wintergarden Pictures, is off to a stellar start as it celebrates its inaugural success after NSW Minister for the Arts Don Harwin and SBS announced the founding trio, Tim Spencer, Joshua Longhurst and Rosie Braye, as one of six emerging filmmaking teams chosen to create short films that will air as part of the broadcaster's coverage of the 40th anniversary celebration of the Sydney Gay and Lesbian Mardi Gras Festival in 2018.
The recipients of this year's Create NSW Generator: Emerging Filmmakers Fund (GEFF) celebrate LGBTQIA+ diversity through a wide scope of themes. Wintergarden Pictures' selected script, Cherry Season, explores themes of sexuality, identity and community in rural Australia, presenting a unique perspective on LGBTQIA+ issues in small communities as it follows a young woman faced with conflicting notions of isolation, conformity and responsibility.
Summer has arrived in Shantelle's hometown of Young, NSW. Between stacking the shelves with cherries and scrolling through women on Snapchat, there doesn't appear to be much going on in her life. But when she discovers her wayward teenage sister, Tamara, posting nude pics online, Shantelle must hunt her down and, with the help of a callow workmate, stop Tamara crossing a dangerous line.
An ambitious project representing sexual, gender, cultural and socio-economic diversity, Cherry Season is directed by award-winning gay-identifying filmmaker Joshua Longhurst (Oasis). Joshua was born and raised in Young, NSW in which the film is set and where it will be shot on location. This project marks the first time he will examine his roots in a cinematic story. It is written by Green Room Award-winning writer Tim Spencer (Oasis) and produced by Rosie Braye.
Joshua says, "We are honoured to be counted amongst an impressive group of GEFF recipients this year. I am thrilled to be returning to my hometown of Young to tell a story that is deeply personal, yet relatable. Particularly in the current climate, I feel passionately about representing diversity and intersectionality on screen. It's an ambitious project and I have a wonderfully talented team to support my vision. I can't wait to get started."
Strangerland (2015) director Kim Farrant will mentor Joshua in the journey to direct his second short film. Bringing a wealth of experience, Kim comments, "I was so impressed by Joshua's talent and potential and am delighted to be mentoring him for this project. I love both filmmaking and giving back to up-and-coming directors so it's a joy to support Joshua's growth and immense passion as an emerging filmmaker to watch. I connected with his sensitivity with the subject matter in this very poignant story. I look forward to offering guidance at this exciting time in Joshua's career."
Sophia Zachariou, Director Sector Investment at Create NSW, says, "The pitch from Wintergarden Pictures was well presented and delivered an original and beautifully conceived LGBTQIA story calling on semi-autobiographical accounts of bigotry and the decisions young people make to find their tribe. We were really impressed by the focus and ambition of the team and feel that Cherry Season will be a fantastic stepping stone for all three key creatives to solidify their talents."
As part of the GEFF initiative, Create NSW has signed drama, factual, entertainment and comedy production company CJZ (Gruen, House of Bond, House of Hancock, Go Back to Where You Came From) as Executive Producers.
Toni Malone, Head of Production, adds, "A passionate, talented team of emerging filmmakers, a fantastic story about young LGBTQIA people in regional Australia… and cherries. What more could we ask? We're thrilled to be supporting the Wintergarden team in their GEFF project and can't wait to see this story come to life."
Cherry Season is the first project for Wintergarden Pictures, with several others currently in development. Upcoming projects include Ding Dong I'm Gay, a multi-platform comedy series exploring the surreal world of contemporary gay relationships, directed by Skit Box's Sarah Bishop (Wham Bam Thank You Ma'am) and written by Tim Spencer and Zoe Norton Lodge (The Checkout). Also written by Tim, Wilco is a short film set in 1942 about a gay man with a mobility disability who must learn how to survive when his carer and secret lover is conscripted to World War II. Directed by 2016 GEFF recipient Laura Nagy (Bodies), Wilco stars Daniel Monks (Pulse) in the lead role.
Cherry Season will screen on SBS and SBS On Demand in 2018.
To support this project, tax-deductible donations can be made at:
australianculturalfund.org.au/projects/cherry-season-short-film
facebook.com/wintergarden.pictures.au
instagram.com/wintergarden_pictures