Comics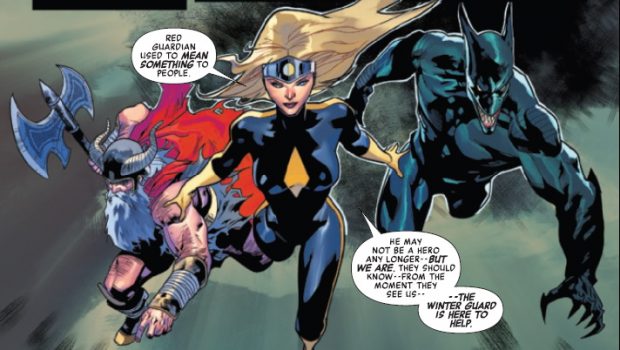 Published on October 4th, 2021 | by Tim Chuma
Winter Guard #2 (2021) Review
Summary: Still close enough to the start of the storyline you can pick it up easily. Worth a look if you heard about this group from the Black Widow movie and want to know more.
The continuing adventures of the Winter Guard, the Russian version of the Avengers who are searching for the Red Guardian who has apparently "gone rogue" and is now causing problems for them since they have to operate under the radar.
There was some things that happened before this, but as it is still close to the beginning of this particular storyline you can pick it up as you go along.
This would be worth a look if you saw the recent Scarlet Widow movie and want some more of the adventures of the Winter Guard as mentioned in that movie. The Winter Guard are relatively new in terms of Marvel superheroes and hopefully this means they will get some more of their own adventures on screen in the future. Russia has already made a movie or several about Russian superheros so it might be moot.
There is a giant bear in this named Ursa if you like bears and also the other members of the team all get their moment to shine during this story.
I would recommend this one if you are interested in a new story about the Winter Guard or heard about them in the recent movie.
Comic details:
Writer: Ryan Cady
Penciler: Jan Bazaldua
Cover Artist: Antonio Infante
Publisher: Marvel
Published: September 29, 2021