Games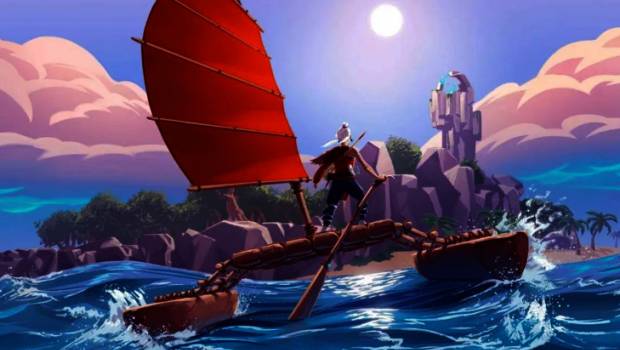 Published on August 28th, 2020 | by Alex Novus
WINDBOUND OUT NOW: EXPLORE FORGOTTEN LANDS
Deep Silver's new indie IP Windbound is today available for digital download on the PlayStation®4 computer entertainment system, Xbox One, the all-in-one games and entertainment system from Microsoft, Nintendo Switch™, Google Stadia and PC – via Epic Games Store and Steam.
To coincide with the launch, Deep Silver is releasing a six-minute developer diary-style trailer, which features gameplay and interviews with key members of the development team, 5 Lives Studios, giving the inside scoop on how Windbound was made.
"Creating Windbound has been an unforgettable experience – through both calm winds and turbulent seas," said Mitchell Clifford, Co-Founder and Lead Animator at 5 Lives Studios. "We're thrilled for players to finally embark on their journey alongside Kara and explore the mysteries of the archipelago. These are just the first steps into the world of Windbound, and there are exciting things on the path ahead."
This launch video kicks off a three-part Dev Diary video series. What makes this world so special? Who is Kara? What inspired the whimsical soundtrack? The Dev Diary series explores all of that and more, featuring the people who spent over three years lovingly crafting every pixel of the game: the 5 Lives Studios dev team. Visit @WindboundGame social every Friday as the studio share how Windbound came to be from the first sketch on a piece of paper, to the game that it is today.
Global Press Preview Quotes:
GamesRadar: "There's a lot of promise here, with Windbound proving to be a beautiful looking survival game with a lot of heart."
GAMINGbible: "'Windbound' is basically Zelda meets 'Moana' and we're here for it."
GIGA: "Windbound is a meditative Zelda-like that you shouldn't miss."
Hobby Consolas: "We had a really nice time playing Windbound . So much so that time flew by and we were left wanting to continue exploring and discovering the mysteries of their world."
IGN: "Windbound is here to blow a breath of fresh air into a genre which feels like it is sinking."
Screenrant: "Deep Silver's upcoming Windbound is a gorgeous survival game with slight rogue-like aspects, featuring island exploration, combat, and boat travel."
Shacknews: "The Legend of Zelda meets the best of survival games in this gorgeous new adventure that'll have you begging for more."
WCCFTech: "Windbound is a beautifully contemplative trek to another world."
Windbound is a beautiful rogue-like third-person survival-crafting RPG-adventure, fuelled by hunting, exploration and crafting. The player assumes the role of Kara who has been shipwrecked on an unknown land and must learn to adapt and survive, while solving the mysteries of a series of forgotten islands.
Windbound takes the survival genre in a new direction, focusing on nomadic hunting and exploration, together with custom boat building and an immersive tactile sailing experience. The game provides endless replayability options thanks to the procedural world, dynamic wildlife and modular boat crafting.
 Story:
The forbidden islands are calling, unlock their secrets.
Shipwrecked alone on an uncharted island, explore, adapt and navigate the land and perilous seas to stay alive.
As Kara, you are a warrior, caught at sea in a fierce storm, adrift from your tribe. Thrown from your boat, at the mercy of the turbulent waters, you are tossed on to the shores of the Forbidden Islands, a mysterious paradise.
With no boat, no food or tools, just the will and skill to survive, uncover this beautiful island's rich resources. Craft tools and weapons to hunt and defend yourself against nature itself with its wild and fantastical creatures.
Whilst exploring further islands and the scattered ruins across their lands, secrets of the past and glimpses of the future are revealed. Unravel the mystery behind them all and you may find more than just your way home. 
Feature set:
Uncover the Secrets Within
Embark on a personal journey and discover the history of the idyllic Forbidden Islands; each holding the key to a mystery and unexpected revelations. 
Explore As Far As The Eye Can See 
Head towards the horizon, advancing across the islands, each with their own diverse wildlife, landscapes and challenges to face. 
Live Off The Land
Scavenge the islands' untamed terrain for resources that you can use to craft a full range of tools and weapons to hunt wildlife and upgrade your boat. You must set sail when resources become scarce. 
Build Your Perfect Seacraft
Your boat is your key companion on this journey, carefully craft your own custom sailing vessel to take on the treacherous waters, traversing from one island to the next. Design your boat to battle tempestuous winds, monstrous waves, and deadly sea creatures.
For more information about Windbound, please visit one of the following official sites:
Website: www.windboundgame.com           Twitter: www.twitter.com/WindboundGame
Facebook: www.facebook.com/WindboundGame Instagram: www.instagram.com/windboundgame