Comps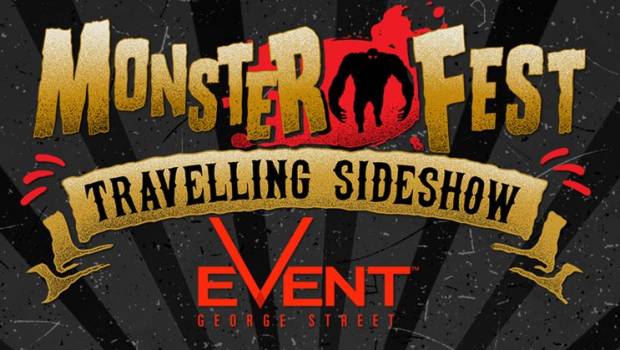 Published on February 26th, 2018 | by Admin
Win a VIP Pass to MONSTER FEST TRAVELLING SIDESHOW Sydney for Friday March 9 – Sunday 11th
Monster Fest Travelling Sideshow Sydney comes to Sydney with an impressive line-up of fresh horror to terrify audiences with. With 9 films screening over three nights, Monster Fest's Sydney Sideshow promises some sleepless nights for horror fans!
The Festival opens on Friday the 9th with the Australian Premiere of THE STRANGERS: PREY AT NIGHT, the long-awaited sequel to the terrifying 2008 smash hit THE STRANGERS. THE STRANGERS: PREY AT NIGHT sees a family of three arrive at their holiday destination only to discover it is completely abandoned – and quickly find themselves terrorised by a group of three remorseless masked killers. Adam McDonald's unsettling PYEWACKET, a slow-burn occult thriller that follows a frustrated, angst-ridden teenage girl who awakens something in the woods after naively performing an occult ritual to evoke a witch to kill her mother.
On Saturday 10th the day begins with a matinee screening of a classic teen romp with a retrospective screening of Fred Dekker's cult classic, THE MONSTER SQUAD. Dekker's loving celebration of Universal Monsters and everything eighties pits a bunch of kids known as THE MONSTER SQUAD head-to-head with a legion of ghouls who are in search of a powerful amulet with which to rule their world. That evening there is the world premiere of LIVING SPACE. From first-time feature filmmaker Steven Spiel comes this supernatural chiller about a young couple who are forced to take shelter in an isolated, seemingly-abandoned farmhouse – then battle malevolent forces under the command of an undead Nazi general for their very survival! Including familiar faces like Georgia Chara (WENTWORTH), Leigh Scully (HOME & AWAY) and Andy McPhee (SONS OF ANARCHY), LIVING SPACE is one of the most exciting Australian genre films of 2018. This is followed by the Sydney Premiere of writer/director Luke Shanahan's debut feature, RABBIT, a gripping psychological thriller that Birth.Movies.Death declares has the makings of a contemporary fairy-tale.
Sunday is a packed day opening with prolific Australian genre filmmaker Daniel Armstrong's TARNATION. Winner of 'Best Australian Film' at MONSTER FEST 2017, TARNATION is a manic cabin-in-the-woods styled comedy/horror loaded with possessed cultists, penis bugs, a demonic unicorn and a zombie kangaroo! Next up is MONSTER FEST 2017 'Golden Monster' award-winner, COLD HELL, helmed by Oscar-winning director Stefan Ruzowitzky. This giallo-infused action/thriller sees a young woman team up with a police officer to stop a serial killer after witnessing her neighbour's brutal murder. Followed by another fine slice of international horror with HOUSEWIFE, winner of MONSTER FEST 2017 'Best Director' and the sophomore effort of Turkish director Can Evrenol, the man behind 2015's outrageously demented BASKIN. Like Evrenol's previous effort, HOUSEWIFE is absolutely brimming with fantastic gore and practical special effects, meaning this is definitely not for the faint hearted!
The final film for MONSTER FEST TRAVELLING SIDESHOW is a MYSTERY MOVIE, it's top secret, so hush-hush in fact that can't say much more than you'll be among the first in the world to see this film its Sydney debut. Also related to MONSTER FEST are the pre-screening of Eli Roth's remake of DEATHWISH starring Bruce Willis as a father out for justice and the 4k restorations of George Romero's masterpiece NIGHT OF THE LIVING DEAD.