Hardware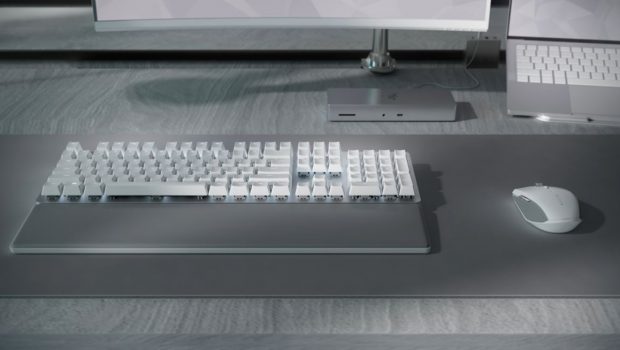 Published on November 5th, 2021 | by Admin
WIN AT WORK WITH RAZER'S NEXT-GENERATION PRODUCTIVITY SUITE
Razer™, the leading global lifestyle brand for gamers (Hong Kong Stock Code: 1337), today unveiled three new additionsto its Productivity range with the new Pro Click Mini wireless mouse, the Pro Type Ultra wireless keyboard, and thePro Glide XXL mouse mat. The new Pro range featuresmulti-device wireless connectivity, extended battery life,and a quieter sound profile. Coupled withRazer's expertise in producing high-performance, durable,ergonomic hardware, the new Pro range deliversthe ideal work, home office, or mobile peripherals for today's flexible workspace locations.
As people continue to work from home, high-quality keyboards and mice have become more important to increaseproductivity and ensurea smoother, faster workflow. The new Pro range from Razer features the latest in hardwareand software technology, honed fromRazer's years of experience producing pro-level gaming devices.Combiningindustry-leading ergonomic designs with modern, sleek styling and high-performance gaming technologies, the Pro range delivers the comfort, battery-life and precision toenable users to win at work.
"Today's workspace can be anywhere –in the office building, at home on the dining table, on the train or in the air,"says Alvin Cheung, Senior Vice President of Razer's Peripherals Business Unit. "Regardless of where the user is, Razer's Pro range has workflow-enhancing features for every task and situation, from non-distracting silent click mouse switches through to all-day-comfort soft-touch keycaps, allowing users to work effectively wherever they are."
Razer Pro Click Mini
With a sleek, compactform factor,the Pro Click Mini has been designed to easily fit into any bag, briefcase, or backpack, for use on-the-go, but is just as well suited for everyday desktop and workstation use.Using silent, tactile switches, rated for up to 15 millionclicks, the Pro Click Mini delivers maximum productivity with minimum sound for a distraction-free experiencein the office, coffee shop, train or at home.
Connectable to up to 3 devices via Bluetooth,and a fourth with the 2.4 GHz dongle, the Pro Click Mini can be used to control multiple devices without the need toconstantly pair and unpair each time. UsingRazer™ HyperSpeed Technology via the supplied 2.4 GHz dongle, the Pro Click Mini delivers an industry-leading fast, reliable, and lag-free wirelessconnection to desktop or laptop PCs.
At the heart of the Pro Click Mini is the Razer 5G Advanced optical sensor, providing incredibleaccuracy, improving efficiency in tasks demanding precise control.Thenew Razer™HyperScrollwheel can switch between Free-Spin and Tactile scrolling modes for quick and easy navigation of large documents and webpages, while the 4-waytilt-click functionallows for easy horizontal scrolling and movement.With an additional 7 fully programmable buttons for ease of use in multiple applications, the Pro Click Mini is a versatile, capable mouse, perfect for the demands of modern office work.
For more information on the new Razer Pro Click Mini, click here.
Razer Pro Type Ultra
Refined and improved through community feedback, the Razer Pro Type Ultra is the next generation of Razer's Pro series of keyboards, bringing a quieter, more luxurious typing experience to the office space. With silent mechanical switches, rated for up to 80 million presses, the keycaps feature a soft-touch coating forall-day typing comfort. A plush leatherette wrist rest provides further support and eases potential wrist strain throughout the day.
With support for both Bluetooth andRazerHyperSpeed Wireless, the Pro Type Ultra can be connected to 4 devices simultaneously,with a single button press easily switching between connected devices. With over 200 hours of battery life, and in-use cable charging, the Pro Type Ultra is the ultimate productivity keyboard for the modern office.
Both the Pro Type Ultra and Pro Click Mini are supplied with the Razer™ Productivity Dongle,allowingusers to connect both devices to a single dongle, freeing up an essential USB port but maintaining the fast, lag-free Razer HyperSpeed Wireless connection for both devices.
For more information on the new Razer Pro Type Ultra, click here.
Razer Pro Glide XXL
Completing the new lineup of Razer's productivity peripherals, the Pro Glide XXL is afull desk width,soft mouse matand the ideal companion to the Pro Click mouse.With atextured micro-weave surface, for highly accurate mouse tracking, bonded to a high-density rubber base layer, the Pro Glide XXL provides a cushioned surface across the width of the desk, to increase comfort and minimize fatigue. The Pro Glide XXL is the perfect complement surface for the Pro Click Mini and Pro Type Ultra, giving a defined, professional look to theworkspace with increased mouse control and comfort.
For more information on the new Razer Pro Glide XXL, please click here.
ABOUT THE RAZER PRO CLICK MINI
Silent Mechanical Mouse Switches with 15 million button life cycle
Sleek and compact design
4-Way Razer™ HyperScroll Tilt Wheel with free-spin and tactile modes
Multi-host connection for up to 4 devices
7 independently programmable buttons
Razer™ Productivity Dongle
Connectivity: Razer™ HyperSpeed 2.4GHz wireless + Bluetooth®
Battery Life: Up to ~725 hours on Bluetooth® and up to ~465 hours on 2.4 GHz wireless
Razer™ 5G Advanced Optical Sensor with true 12,000 DPI
DPI stages are adjustable on Synapse 3 (DPI stages: 400 / 800 / 1600 (default) / 3200 / 6400)
Onboard DPI storage (up to 5 DPI stages)
Up to 300 inches per second (IPS) / 35 G acceleration
1000 Hz polling rate
Razer Synapse 3 enabled
Approximate size: 100.2 mm x 62.7 mm x 34.1 mm
Approximate weight: 88g with 1x Alkaline AA battery; 111g with 2x Alkaline AA batteries
ABOUT THE RAZER PRO TYPE ULTRA
Ergonomic Design with plushleatherette wrist rest
Razer™ HyperSpeed Wireless Technology
Razer™ Productivity Dongle
Razer™ Yellow Mechanicalswitches. Linear and Silent
Durability up to 80 million keystrokes
Fully Programmable keys, Macro capable
Bluetooth and Wireless connectivity for up to 4 devices
White LED backlit keys
Battery life: Up to ~214 hour without back-lighting onBluetooth® and ~207 hours on 2.4Ghz wireless, or up to ~13 hours Bluetooth®and2.4Ghzwith back-lighting on full brightness
10 Key Rollover
Razer Synapse 3 enabled
ABOUT THE RAZER PRO GLIDE XXL
Increased size for greater coverage
Textured micro-weave cloth surface
Thick, high-density rubber foam
Cushioned surface for long-term comfort
Anti-slip rubber base
Dimensions: 940x410x3mm
PRICE &AVAILABILITY
Razer Pro Click Mini: $139.00 AUD / $159.00 NZD
Available: Selected Retailers and Channel Partners
Razer Pro Type Ultra: $279.99 AUD / $299.99 NZD
Available: Selected Retailers and Channel Partners
Razer Pro GlideXXL: $52.00 AUD / $59.00 NZD
Available: Selected Retailers and Channel Partners