Events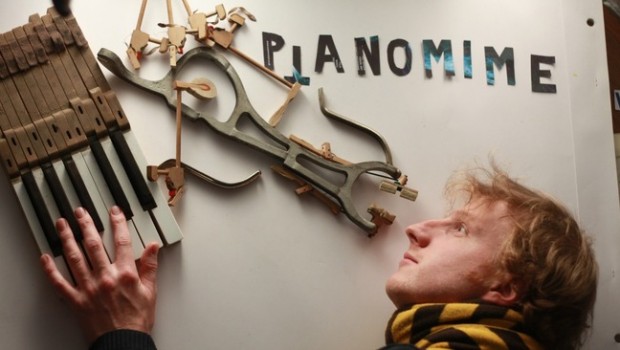 Published on January 9th, 2014 | by admin
WILL PICKVANCE: ANATOMY OF THE PIANO – FEBRUARY TOUR ANNOUNCED
A SWEET, FANCIFUL, COMICAL AND CHARMING HISTORICAL   LESSON
Pianist, composer and all-round entertaining guy, Will Pickvance   is coming to Australia to dissect the piano for his audience's listening   pleasure from 12th to 23rd  February 2014.
Playing the piano and exaggerating the truth, Pickvance takes   his pupils on a historical anatomy lesson in Anatomy of the Piano, a lab of sorts   whereby he dissects the physical, emotional and spiritual anatomy of the   instrument, and explores the relationship between piano and pianist: both   equally temperamental, both largely redundant without the other.
The sweet, fanciful and sometimes comical style of Anatomy of the   Piano exudes an intellectual charisma as Pickvance   takes audiences on a historical anatomy lesson and traces the piano's   ancestors all the way back to Neanderthal caveman times to suggest that an   Upright and Grand may have actually copulated to create a Baby Grand.
"Very funny, this man is the Will Pickvance   of his generation"– DYLAN MORAN
"Brilliant pianist, charming host" – THE   SCOTSMAN
"Exquisitely charming and woozily surreal one man show" – THE   QUOTIDIAN TIMES
"An exceptionally talented pianist with a quirky demeanour" – THREE   WEEKS
"Will Pickvance   comes across like a music teacher whose marriage has fallen apart, causing   him to retreat into a childlike obsession with his piano" –   FESTMAG
Nominated for the 2013 Brighton Fringe Emerging Talent Award   with Anatomy of the Piano, Pickvance, aided only with his   trusted and beloved piano, will deliver the show in what he describes as a   "one-man pantomime alternative: part piano recital – part horse-play".
In the stand-up-come-classical-concert-come-medical lecture of   Anatomy of the Piano, Pickvance delivers a performance   that will lift spirits and is undoubtedly one of the most original offerings   this year!
7pm, Wed Feb 12
7 Macquarie Place Circular Quay
8pm, Saturday Feb 15
Darwin Entertainment Centre
6:30pm, Feb 19 – 23
Carson Place off Little Collins St