Books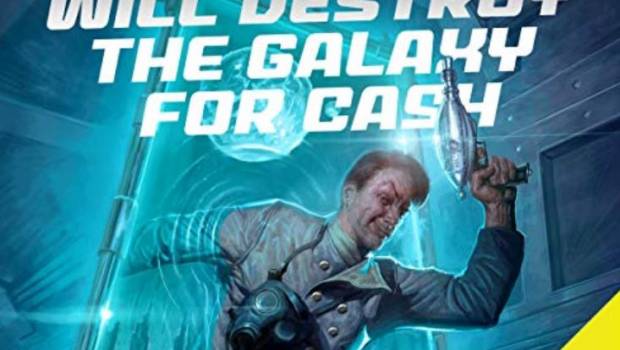 Published on January 6th, 2020 | by Dan Lix
Will Destroy the Galaxy for Cash Review
Summary: An irreverent space comedy that follows the adventures of a star pilot trying to get out of the career of star piloting.
Will Destroy the Galaxy for Cash is a sci-fi comedy book by Yahtzee Croshaw. Star pilots were once brave pioneering heroes who fought epic battles against the inevitable super villains that arose out in the blackness of space. Their golden age came to a crashing end with the advent of quantum tunneling, a type of teleportation that tied the galaxy together and made it altogether a more accessible place.
The protagonist from the first book, Will Save the Galaxy for Food, returns. Now calling himself Dashford Pierce, the story opens with him trying to book a spot on a deep space research expedition and leave behind the life of a star pilot forever. The problem is they're full up on star pilots, and what they really need to enlist are scientists.
Opportunity knocks and Dashford finds himself plunged back into the role as renowned star pilot, adventurer and author Jacques McKeown, enlisted as part of a daring heist alongside a professional thief with a quantum tunnel wrist attachment, and a reformed super villain who has sworn off cyber enslavement.
From start to finish, this book is an absolute delight. The setting reminds me very much of Venture Brothers, but instead of boy adventurers and super heroes it focuses instead on the exciting era of star piloting. Once heroes of the galaxy now share marital bliss with their former nemeses, and sinister super villains now attend support groups where they share their feelings.
It's all narrated in the typical irreverent tone for which Yahztee Croshaw is known. This book drew me in and is one of those stories I just didn't want to end. I wanted to know what was going to happen next. I was invested in the life of Dashford Pierce, Jacques McKeown, or whatever his name actually is.
Fortunately, plenty of space has been left open for the next leg of the journey and I can't wait to find out what happens next. Looking forward to the third book in the series! I can't recommend this book enough.
At present, Will Destroy the Galaxy for Cash is only available as an audio book.