Blu-ray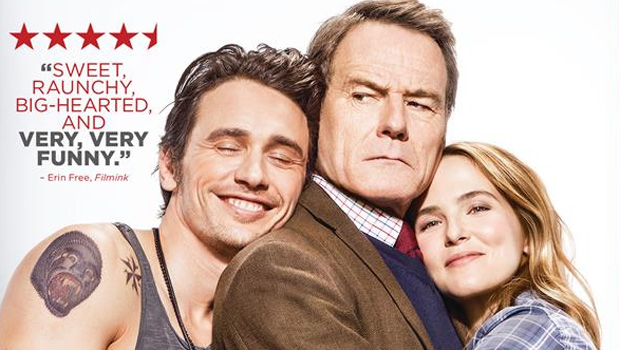 Published on April 14th, 2017 | by James Wright
Why Him? Blu-ray Review
Summary: James Franco and Bryan Cranston deliver a very amusing comedy in Why Him? on Blu-ray
From director John Hamburg of I Love You, Man comes "Why Him?" which stars the awesomely funny James Franco and equally entertaining Bryan Cranston about a story about a father's daughter getting involved in the wrong man and wanting her hand in marriage. This man in question is Laird Mayhew (Franco) who has become romantically involved with Stephanie (Zoey Deutch) and unbeknown to her parents Ned (Cranston), Barb (Megan Mullally) and their son Scott (Griffin Gluck), they get invited to the mansion of Laird where they discover that this unstable billionaire wants to marry their daughter and as a result, she's left college but even worse, this man is a douche.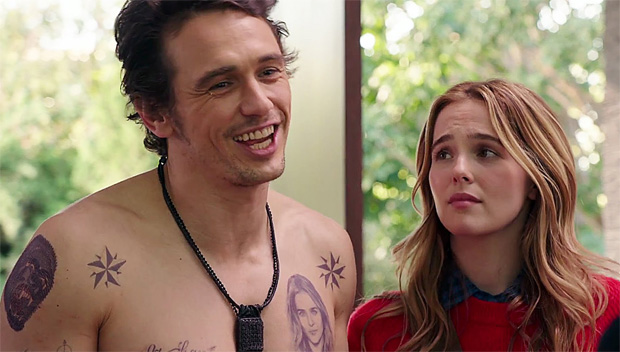 So while Laird tries to win the approval of his girlfriend's parents, Ned does everything in his power to stop this marriage from going forward as he tries to dig up the dirt on this loveable idiot. Sure, Why Him? is a little clichéd and over the top at times but the story is actually quite funny and there's some hilarious moments in the film such as Laird cracking inappropriate jokes to Scott to those crazy fights between Laird and his 'manservant' Gustav (Keegan-Michael Key) that is very reminiscent of Peter Seller's Pink Panther. Furthermore, Franco has some hilarious lines in this story and if you can't handle crude language, you might want to find your laughs elsewhere.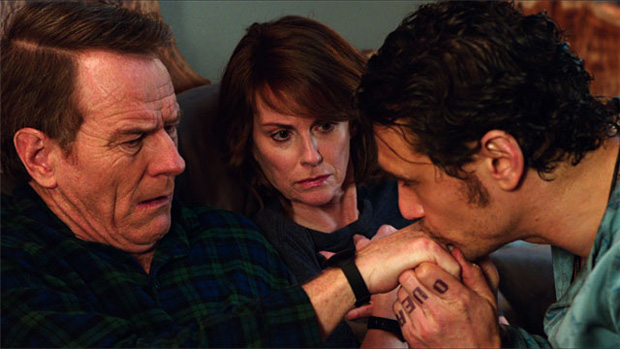 To complement the story, Why Him? boasts an exceptional cast and apart from the main contenders (James Fraco, Bryan Cranston, Zoey Deutch and Megan Mullaly) who are brilliant, other stand-out actors include Mary Pat Gleason, Cedric the Entertainer, Keegan-Michael Key and the very funny Kaley Cuoco who does the voice of Laird's computerised personal assistant Justine. So when matched with the outrageous plot, Why Him?  is an amusing movie that works on most levels, although it does seem to struggle at the end before the predictable finale. There's even some great cameos by Elon Musk, Gene Simmons plus Paul Stanley and all in all, it seems like the entire crew and cast are having the time of their lives!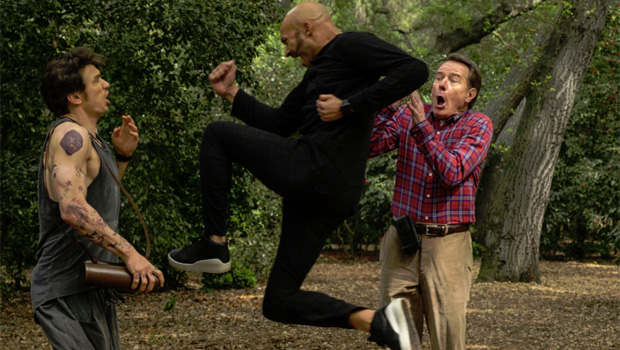 Video, Audio & Special Features
Well presented on Blu-ray with exceptional video and audio quality, Why Him? boasts an assortment of amusing special features from behind the scenes featurettes to audio commentary and some great deleted scenes and a highly funny gag reel. So there's plenty to be found on this release that will keep most people entertained long after the film has finished.
Why Him? Gag Reel
47 Minutes on the Can
Why Gustav?
Barb Fleming: America's Mom
Lou The Entertainer
Richard Blais: Twisted Chef
Deleted Scenes
Gallery
Audio Commentary by John Hamburg (Director/Co-Writer), Ian Helfer (Co-Writer) and William Kerr (Editor)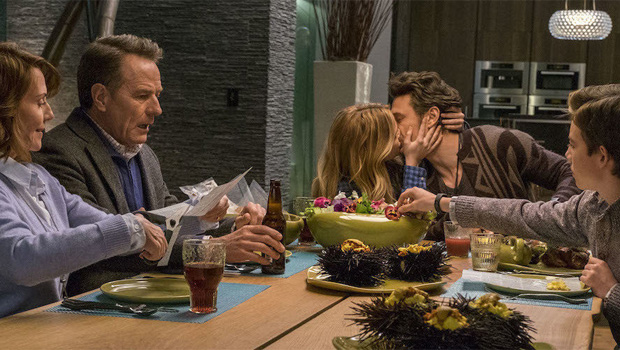 Final Thoughts?
Why Him? is a comedy of epic proportions that is not only ridiculous but somehow keeps itself from falling apart which may be from the high calibre of actors involved. Sure, the story and characters are a little crazy and at times annoying but Why Him succeeds at creating a relatively feel-good comedy about an over protective father and a crazy boyfriend. So if you missed at the cinemas, now's the time to check it out on Blu-ray and DVD from 19 April 2017.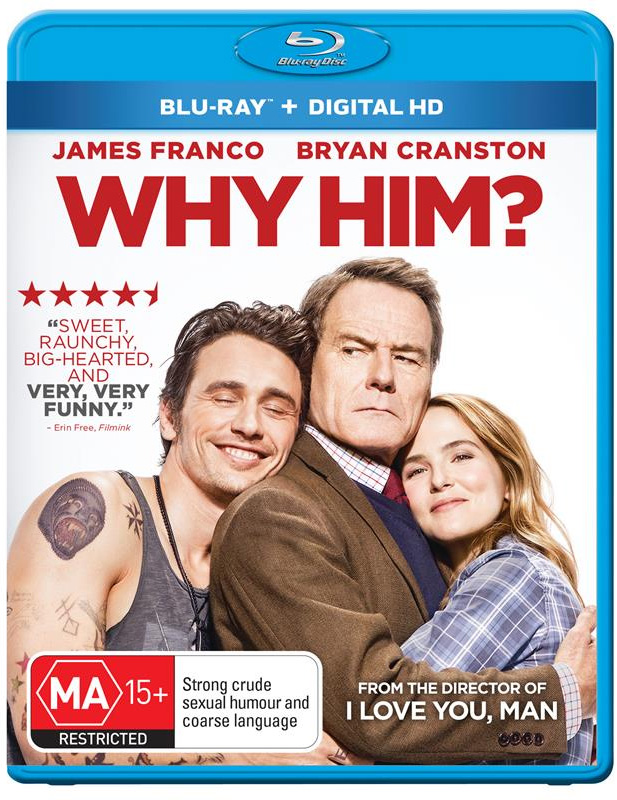 Blu-ray Details
Director – John Hamburg
Actors – James Franco, Bryan Cranston, Megan Mullally, Zoey Deutch, Cedric the Entertainer, Griffin Gluck, Keegan-Michael Key
Film Genre – Comedy
Label – 20th Century Fox
Audio – English (DTS-HD 7.1)
Subtitles – English for the hearing impaired
Running Time – 111
Aspect Ratio – 1.85:1
Region Coding – B (Blu-Ray)
TV Standard – HD
Rating – MA15+
Consumer Advice – Strong crude sexual humour and coarse language
Year of Release – 2016
Primary Format – Movies/TV – Blu-Ray