Films
Published on October 20th, 2014 | by Damien Straker
Whiplash – Film Review
Reviewed by Damien Straker on October 20th, 2014
Sony presents a film by Damien Chazelle
Produced by David Lancaster, Michel Litvak, Jason Blum and Jason Reitman
Written by Damien Chazelle
Starring: Miles Teller, J. K. Simmons, Paul Reiser and Melissa Benoist
Music by Justin Hurwitz
Cinematography: Sharone Meir
Edited by Tom Cross
Running Time: 106 minutes
Rating: MA15+
Release Date: October 23rd, 2014
Reality television shows like The X-Factor and American Idol have created a culture of humiliation where it is as fun to watch people fail stardom as it is to discover the next great talent. But the behaviour of J.K. Simmons's character in Whiplash is so extreme and over the top it would make Simon Cowell wilt in disbelief. Imagine an episode of The X-Factor where Redfoo repeatedly slaps one of his contestants in the face or Ronan Keating lays down a homophobic slur. That said, the vision of Delta Goodrem in previews of The Voice screaming at young children "I need you on my team!" and telling kids they're mega stars amplifies the pressure and expectations placed on young people to be successful today. The stakes are higher than before because technology like the Internet and Youtube has increased the volume of global talent and shortened the waiting time. With his second feature film Whiplash, writer-director Damien Chazelle addresses the culture of fear and expectations he suffered firsthand. As a drummer in a high school jazz orchestra, his anxiety grew from not playing for fun but necessity. He was isolated by a desire to succeed and pushed by the encouragement of his school conductor, which became the basis of a short film and this feature produced by Jason Reitman.
Chazelle draws from his own experiences but also the story of jazz musician Charlie Parker, who used humiliation to shape his career. At sixteen, Parker played poorly one night and had a cymbal thrown at him, which embarrassed him but motivated him to become a legend. The cymbal is mild compared to Whiplash. Miles Teller (The Spectacular Now, Divergent) plays Andrew, a shy introverted jazz drummer playing at an east coast music conservatory who is given a chance to perform in the company of conductor Terence Fletcher (Simmons). The other students look older and heavier and several are African American, subtly conveying Andrew's distance from them. Fletcher is a crackpot, the music equivalent of R. Lee Ermey's drill sergeant from Full Metal Jacket. He swears at his students, insults them, intimidates them and breaks them. The insults are achingly funny and cruel but the humour leaves little room for plausibility and realism. How has this behaviour gone unnoticed and is the American education system competitive enough to allow students to be bullied into perfection? Seeing Fletcher's methods build fear and uncertainty into the students is still fascinating. A fine sequence sees him trial three students at once on the drums, including Andrew, and the slightest imperfection makes him repeatedly interchange them.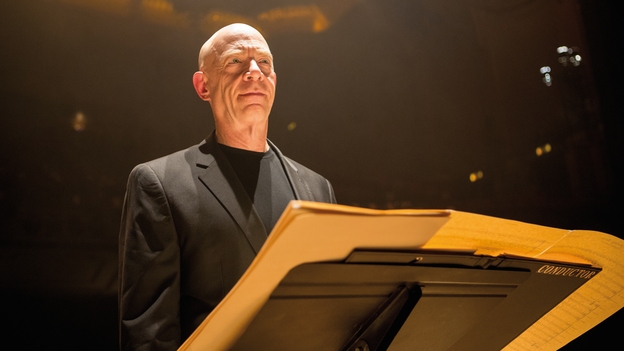 Under a miniscule budget of three million dollars, the technical aspects impress. The jazz music is toe-tapping and spectacular and the way the camera compliments the performance scenes by gliding between instruments is confident. The film is also purposeful in creating mood and feeling with the dim lighting and shadows resembling the appearance of a jazz club. At the beginning of the film, a long shot frames Andrew playing in a room at the end of a corridor, which underscores his isolation and loneliness. The camera zooms into his space and reverse cuts to Fletcher standing in the doorway, typifying the arc of Andrew overcoming his aloneness through the arrival of his mentor. One fault is parts of the story have undergone heavy editing. Andrew's inner life, his relationship with Nicole (Melissa Benoist) a girl he builds the courage to ask out, is sidelined and fragmented and a scene where we see his sporty family and relatives doesn't soar because there's little context of these family members besides his dad (Paul Reiser), a failed writer. These cuts haven't affected J.K's Simmon's brave take no prisoners performance. Through films like Juno and the video game Portal 2, Simmons's gift is effortlessly melding rage and comedy. By playing serious here, no winking, Fletcher is colossal and fearsome and darkly comic. Small gestures, like high-fiving a little girl before he enters class, help humanise Fletcher as a performer himself. The power of Simmons is so great he overshadows the timidness of Miles Teller, who had more expression in The Spectacular Now but the physicality of his performance, including playing the instruments, should not be overlooked.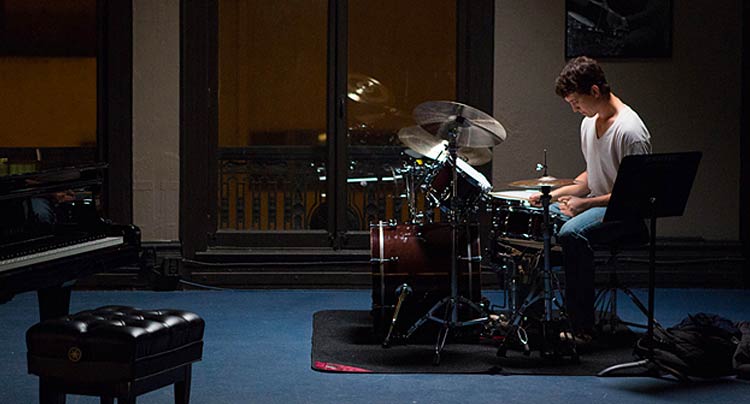 Whiplash looks to distinguish itself from similar rags to riches underdog stories by posturing as an assault on the subject of mediocrity itself. Late in the story, Fletcher signposts his true intentions, explaining how his methods push students as far as possible, believing complacency is damaging to the quality of a performance. Is Fletcher going too far or is he agreeable given the disposability of pop culture today? But the film isn't breaking new ground with its themes and its ending. Its resolutions, like an unstoppable drum solo, are a cover version of the American Dream and a toast to durability. Whiplash is a conventional sports movie and Fletcher, the archetype of the brutal coach or mentor, proves students can sustain their individualism and have the tenacity to overcome pain and reach their potential. On top of Fletcher's tactics, scenes like one involving a car crash strain the believability of Andrew's endurance test. Chazelle says "greatness at any cost" is fundamental to the American character. By channelling his own story, using an actor who looks like him, he is justifying to himself that the pain was worth experiencing. But the liberal ideology of Whiplash, like individualism and willpower, doesn't strengthen the film's realism, it reveals fantasy. The film is based on Chazelle's life but is fiction because reality is realising not everything is possible if we're willing to try. Real life is failure, a concession even reality television has made.
Summary: The film is based on Chazelle's life but is fiction because reality is realising not everything is possible if we're willing to try.